There are a lot of Pickup truck bed cover companies out there. But which one is the best? That's what we're here to find out. We're going to compare two of the most popular brands, Roll N Lock and Retrax.
Both of these brands offer a lot of features that truck owners love. They're both easy to install, easy to use, and they keep your belongings safe and dry.
Let's start with a brief overview of each company. Roll N Lock was founded in 1992 and has been making high-quality truck bed covers ever since. Retrax was founded in 1996 and has been focused on making top-of-the-line retractable truck bed covers.
Roll N Lock vs Retrax
The main difference between Roll N Lock and Retrax is that Retrax's covers are a bit cheaper than Roll N Lock's, but we think that the extra cost is worth it for the better quality and style that you get with Roll N Lock.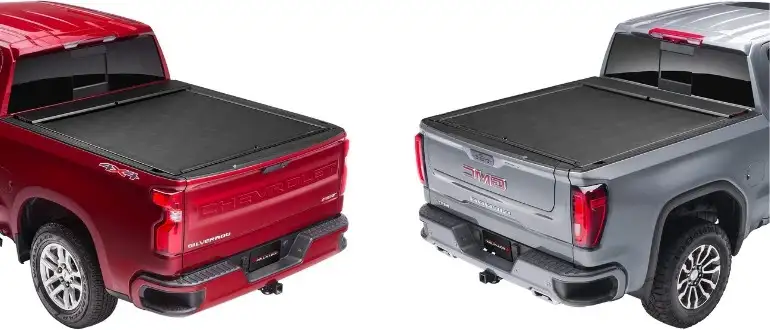 Overall, we can't say that which is better for you. Because every cover has its specialty. Besides, some people prefer the Roll N Lock because it is easier to open and close. And it is also less likely to get caught on things. 
However, the Retrax is more durable and can hold up to more weight. Ultimately, it is up to the individual to decide which cover is better for them.
Difference Between Roll N Lock And Retrax
Difference In Cargo Capacity
Excellence in cargo capacity with Retrax Trax Rail system. This is a special feature of this cover which includes a T-slot rail on top of the truck bed cover.
Moreover, this system allows users to mount accessories and almost double the cargo capacity.
Now let's look at the Roll-N-Lock, it comes with the most compressed canister and maximizes cargo capacity.
Its canisters sit only seven ¼ deep. Moreover, the Roll-N-Lock model features aerodynamic housing lids for improved truck bed space.
Built Material and Strength
Retrax is made with matte black aluminum and it has a very sturdy cover and is extremely strong. Moreover, you may know that aluminum is best for a truck bed cover. 
Even, this is considered the main ingredient. Also, this cover is very strong and ensures one protection from external adversity.
On the other hand, the Retrax cover is capable of holding up to 500lbs when delivered.
Roll-N-Lock is a cover made of vinyl-over-aluminum. It comes with a contour hinge design for extreme safety. Moreover, this cover is an aluminum cover mixed with a kind of plastic. 
Which ensures strength and a smooth appearance at the same time. On the other hand, it has an aluminum molded bed that can hold up to 350 pounds.
Read More: Best Weather Stripping For Tonneau Cover 
Difference In Weather protection
Retrax is great for weather protection, whether it's sun, snow, or rain. Moreover, this cover comes with a scratch-resistant matte black finish. Which can protect your truck bed from the scorching sun and UV rays. 
Even, there are two drain tubes to remove water from the canister. Overall, the design of this cover is sealed with foam to protect the interior from dust and moisture.
On the other hand, the roll-n-lock material is mastered, and vinyl aluminum is considered an angel for weather protection. But it does not have any extra features to protect your truck bed from external adversity. However, this cover itself is strong enough.
Locking Mechanism and Security
The Retrax cover is ideal for latching on any position. Moreover, all users can also carry large loads covered by opening this cover with a tailgate.
In addition, the lid of this cover hides the latch which makes it quite impossible for any potential risk.
On the other hand, roll-n-lock can be locked in four positions with a ratchet system latch. This latch is completely locked with a tailgate. And as well as providing additional security with the aluminum undercarriage.
Read More: Best Tonneau Cover Protectant And Cleaner
Installation
Talking about the installation process, installing the Retrax cover is a bit of a hassle. This is because you will need a helper to properly align its sidebars and it may take some time as well.
In contrast, the roll-n-lock cover is very easy to install. Moreover, it offers a clamp-on track feature. Which ensures stress-free installation in less time. A user can only install it by following the manual guide.
>> Access Lorado Vs Truxedo Lo Pro
Which Is Better: Roll N Lock or Retrax
Considering all the above information, we can say that: RetraxPro MX tonneau cover is the better option.
Because it is made from heavier-duty materials and has a locking system to prevent unauthorized access. It also has a low-profile design that allows you to use your truck's bed for storage.
The Roll N Lock is a good option if you are looking for a retractable truck bed cover. But it does not have as many features as the Retrax.
It is made from heavy-duty vinyl and has a sealed ball-bearing roller system. But it does not have a locking system to prevent unauthorized access.
>> Can You Use A Tonneau Cover With Rambox?
FAQs Roll N Lock And Retrax Tonneau Cover
Are Retrax Bed Covers Well?
Some people may find Retrax bed covers to be a good investment, while others may not. Ultimately, it is up to the individual to decide whether or not a Retrax bed cover is right for them.
Are Gator And Retrax The Same? 
Gator and Retrax are not the same. Retrax is a company that makes truck bed covers, while Gator is a company that makes all-terrain vehicles (ATVs)
Final Thoughts
Both Roll N Lock and Retrax are great tonneau cover brands. They both have their pros and cons. But in the end, it comes down to personal preference.
If you are looking for a tonneau cover that is easy to use and provides great security, then the Roll N Lock is a great option.
However, if you are looking for a tonneau cover that is low-maintenance and durable, the Retrax is a better option.