Gator Trax and Retrax are two of the most popular tonneau covers in the world. They are immensely popular and known for their sturdy build and value for money.
However, while buying one for your truck, you might get confused. 
You might think, which one to choose between GatorTrax vs Retrax?
The GatorTrax has LEXAN build, while the Retrax is built with aluminum polycarbonate. Both have a moderate setup time of 30 mins. However, you cannot use the whole bed if you use the Retrax cover. Moreover, the GatorTrax features better security than the Retrax cover. But it comes at a higher price.
That will be for the short recap. We will get into the matter in detail. Spare us a few minutes to know every aspect.
Let's begin.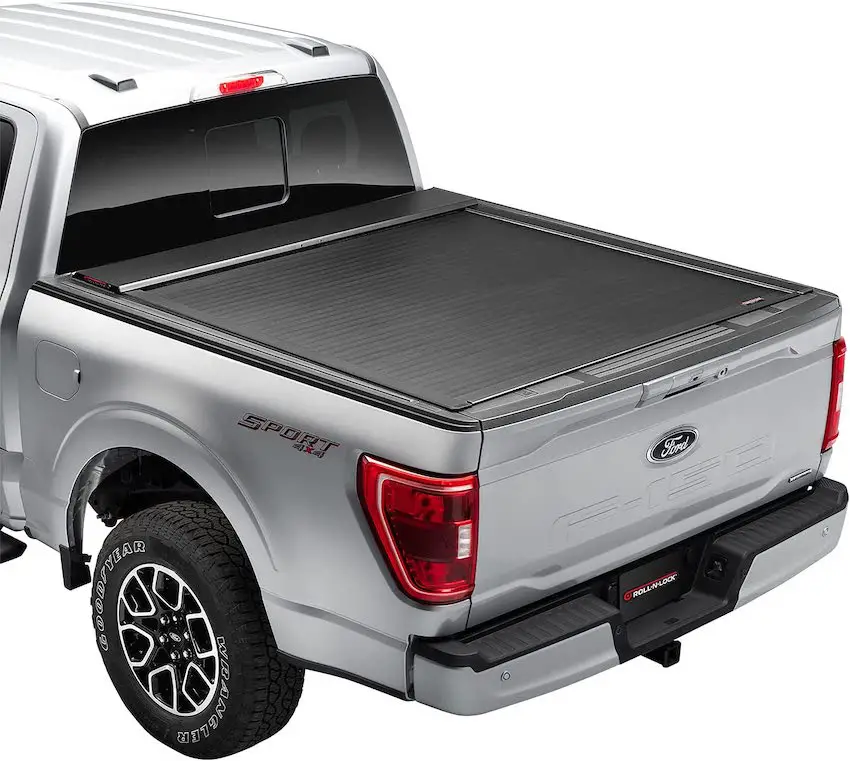 Gator Trax Vs Retrax: Quick Comparison
Both covers protect against water and dust, but they are distinct in many ways and offer different advantages.
| | | |
| --- | --- | --- |
| Features | Gator Trax | Retrax |
| Material  | LEXAN Material | Aluminum, Polycarbonate |
| Finish  | Gloss/Matte Black | Matte |
| Installation Time  | 30 Minutes | 30 minutes to 1-hour |
| Usability  | Can Use the Whole Bed  | You cannot use the whole bed |
| Security Feature | Marine Grade Lock with simple key mechanism, water resistant upto 5 feet  | Marine Grade Lock  |
| Price | $1,995.00-$2,187.00 | $1099-$2799 |
Now let's move on to the main discussion.
Gator Trax Vs Retrax: Key Differences
Tonneau covers can shield cargo from damage or boost fuel efficiency. Regarding truck covers, most drivers choose between Retrax and Gator Trax. 
So, it's understandable that people shopping for a new pickup truck would find it difficult to decide between these two. Let's compare and contrast Retrax and Gator Trax to see what differentiates them.
Material 
The majority of Retrax covers are made from aluminum, but a polycarbonate series is also available. The polycarbonate series is more resistant to the sun's rays, while the aluminum series provides a more robust feature.
Covers for the GatorTrax Electric are made of LEXAN, a lightweight and impact-resistant plastic. LEXAN is a material that is used for both bulletproof glass and aircraft windows.
These covers are sturdier than Retrax ones, but they also weigh more. Because vinyl sheeting is resistant to scratches, your cover will retain its pristine appearance for a very long time.
Regarding construction quality, both firms provide premium solutions using only the finest components. You can choose a cover based on its other qualities and the functions it serves.
Winner: The GatorTrax will win this for durability and longevity.
Finish 
The matte finish of Retrax covers prevents the accumulation of dust and lint. Furthermore, matte finishes offer a more organic appearance. 
The Gatortrax offers both a matte and gloss finish for the user. This adds to their variation of covers.
One of the biggest differences between the Gator Trax and Retrax is that it uses a single layer of polycarbonate, whereas Retrax uses two layers. This makes Retrax slightly more durable.
Gator Trax has less durability than Retrax because it's made with a single layer. This means if you drop your skateboard on its side and push against the edges without bending them back. Like when you're trying to do some trick. 
Winner: The Retrax cover will have an advantage on this one for its organic build.
Installation Time 
Installation time matters the most when it comes to DIY projects. You will always want a cover that you can install properly within a short amount of time.
Here the GatorTrax outshines its competitor. You can install it properly within 30 mins, whereas the Retrax cover can take up to 60 mins. Hence. The Gatortrax will edge out the competition.
Winner: The GatorTrax will win this one for the low setup time.
Usability 
Usability is another major factor when it comes to tonneau covers. You will want to use most of the truck bed for your purpose.
The Gator Trax wins here too. You can use the whole bed for your purposes. However, the Retrax cover does not have this luxury. The Folding mechanism eats up some of the space in the bed.
Winner: The GatorTrax will edge this one out too. It has better usability and more bed space.
Security Feature
Their security feature is marine-grade locks and seals. This means that you can keep water out of your bed. This also keeps thieves out as well!
Both covers have security features built into them to prevent theft of your belongings. But Gator Trax offers 2 additional security features beyond what Retrax has.
First, you can lock it with just a simple key twist. Second, it's water resistant up to 5 feet deep (1 meter). And thirdly, and this is especially important if you're traveling abroad, the Gator Trax cover is also TSA-approved!
Their security feature is that they use marine-grade locks and seals to keep water out of your bed, which also keeps thieves out. This is because if you have a waterproof mattress cover on your bed and nothing else. Then no matter how hard someone tries, they won't be able to get in there because it's sealed tight with a lock.
At the end of the day, you want your truck bed to be safe. You don't want to risk having some thieves steal your belongings and then sell them on Craigslist for a quick profit. 
This is why Gator Trax and Retrax offer integrated cable locks designed to secure the tonneau cover and other accessories like cargo boxes or even other vehicles if necessary (you can use the same lock on multiple items). The cable lock attaches directly to one of their patented steel locks tested by independent third-party laboratories at over 100 pounds per square inch of pressure!
Winner: The Gatortrax will win this one because of its two unique features.
Price
How much will you pay? The price of your cover should be a significant factor in your decision. Is it worth paying more if it means getting something that lasts longer and offers more features?
If it comes to price, the GatorTrax is one the expensive side. It comes to the sub-par $2000 price range. But it provides a military-grade lock system with better bed space. The build material also justifies the higher price point.
However, the Retrax Pro is a good alternative if you want a cheap but effective solution for the tonneau covers. It provides a similar experience to the GatorTrax at a lower price point.
Winner: The Retrax cover will win this for its lower price point.
So, Which One Is Better For You?
LEXAN is used in the construction of the GatorTrax cover. This is used in military-grade equipment and is more durable than the competitor.
On the other hand, Aluminum polycarbonate is used to construct the Retrax cover.
Both require an average of thirty minutes to get set up. But the Retrax cover may take up to 60 minutes if you are DIYing the project.
Moreover, if you use the Retrax cover, you won't have access to the entirety of the bed like the GatorTrax cover. The folding mechanism chews up some space in the bed.
In addition, the GatorTrax cover provides a higher level of safety than the Retrax cover. However, this comes at a more significant price point. 
If money is not a problem, you can undoubtedly go for the GatorTrax. It has more premium features than its competitor.
However, If you want a cheaper alternative with similar features, pick the Retrax pro. It will, however, lack some premium stuff, like total waterproofing.
Read also: Best Weather Stripping For Tonneau Cover
FAQs
Can I drive with the cover in the upright position?
Yes. You can use your truck as a vehicle when the cover is upright. Strut mounts are used by the Gatortrax cover to keep the bed cover in the upright position. Once the cover is fastened in this position, you'll have complete access to the bed. Furthermore, I feel quite comfortable driving it.
Are Retrax covers waterproof?
The Retrax has been built as weatherproof as possible, but it is not completely watertight. When approaching a car wash or experiencing extreme weather, take extra precautions to protect your belongings. The cover may accumulate water; if so, drain it off before you open it.
How do I clean my Retrax cover?
Your RETRAX cover can be washed and waxed, but you shouldn't use any plastic cleaners, protectants, or strong chemicals. The polycarbonate shield can survive for a very long time if it is looked for. To clean it, simply use water and gentle soap. Keep fuel away from the lid at all costs.
Conclusion
Hopefully, you now have a clearer idea of GatorTrax vs Retrax.
Selecting the ideal truck bed cover requires careful thought about the circumstances you hope to achieve.
Leave a comment and let us know if this information was helpful in deciding which cover to purchase.
Read also: How To Keep Dust Out Of Tonneau Cover?
Read Also: 5 Common Retrax Bed Cover Problems