Whenever we go out camping, we usually take a truck along with us for better mileage and other benefits. So, sometimes it occurs that we have to sleep in our truck. With a big space in the back, it's easier to spend a night in a truck bed.
But can you sleep under a tonneau cover? Go through the article and you will find the answer paired with some suggestions for sleeping under a tonneau cover. So, what are you waiting for? Let's find out.
Can You Sleep Under a Tonneau Cover?
The answer is yes. You can sleep under a tonneau cover. But to spend a night comfortably under a tonneau cover without much trouble or interruption you need to make some adjustments like carrying a sleeping bag and a mosquito net.
Some of the best truck bed air mattresses to sleep comfortably: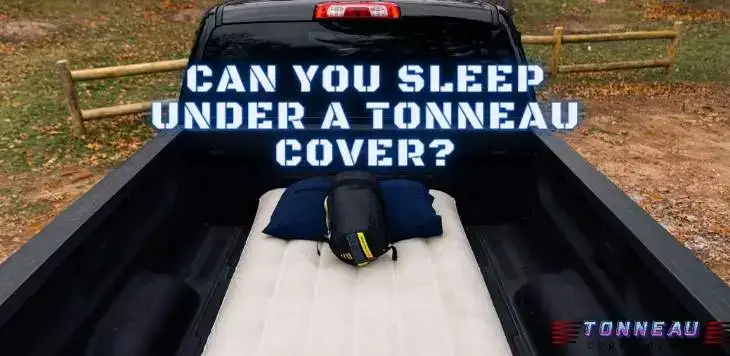 Spending a night out under tonneau cover is possible with some consideration. You need to choose a product that ensures enough air passing and does not feel suffocating. Mostly, you have to consider your comfort over everything.
How to sleep under a Tonneau cover?
To sleep under a tonneau cover you need to ensure your comfort so that you can achieve a good nap. For a comfortable sleep, there is no alternative to carrying a sleeping bed in your truck. The truck bed is so uncomfortable that it will hurt your back and entire body.
A sleeping bed can be folded and effortless to carry around. Whenever you need to take a nap you just have to let some air inside of it and you are good to go.
Again, sleeping in a cold metal truck is not a great idea. So, for a windy, cold night make sure you have a sleeping bed under your tonneau cover.
Precautions you need to take before sleeping under a tonneau cover
Sleeping under a tonneau cover shouldn't be in your daily routine. The place is not made to serve that purpose. So, certain precautions should be taken before sleeping under a tonneau cover.
Firstly, you need to park your truck in a safe place where there is no potential threat. If you are out hiking, choose a safe place before dozing off. Also, make sure the place is allowed for a park and sleep.   
Choose a safe place where there is no chance of a tree falling in your truck or any chance of getting attacked by a fierce animal. Take a camping kit with you in case the situation gets out of plan.
Types of tonneau cover that is suitable for sleeping
You can choose any kind of tonneau cover. I cannot guarantee you that the sleep will be peaceful and it is a smart choice. But you can make it comfortable. And for any bad circumstances, it serves this purpose.
To not suffocate yourself you have to go for a tonneau cover that has a hole or area where you can attach an avenue or some sort of pipe to let some air in. We literally cannot breathe or live without air, right?
In short, you can choose any tonneau cover and make some adjustments to have a comfortable shelter.
Things to consider before buying a sleeping bed to sleep under a tonneau cover
To have a serene time enjoying a good nap you need to know the features offered by a sleeping bed. To find a good quality mattress you need to search for some qualifications such as-
Size
You need to find a sleeping pad that fits perfectly over your bed liner without causing any trouble. We advise you to go for a smaller size mattress.
The mattress will not sit flat on top of the tire. It will bend and that will not be convenient. So pick a bed that is enough to give you enough space to doze off.
Temperature setting
Before buying a sleeping bed keep in mind the lowest temperature you will see yourself camping. So if you go traveling In cold weather then pick a mattress with the highest R-value. For a summertime or autumn time trip, you can easily go for an R-value of 2 to 5.
Weight
The weight of your sleeping pad also matters a lot. In case you need to backpack for camping, choose a sleeping pad that is more lightweight and easier to carry around. Closed-cell foam pads are lighter and come in a compact size. So, that can be a good choice.
Read More: How Much Weight Can A Tonneau Cover Hold?
Material
You have to consider the fabric of the sleeping bag before purchasing one. The good quality fabric ensures better R-value. And it helps to adjust the temperature better. Also, go for thicker material. It offers better durability and lasts in the long run.
Can airflow through a tonneau cover?
It is a big problem to imagine as breathing comfortably is at risk if there is not ample airflow. Tonneau covers are not made with that setting.
It is made to provide security so air passing is never a concern. But in the unavoidable situation, we have to make adjustments.
You can pull down the tonneau cover completely or you can leave the tailgate open to allow some air and light inside. Again you can use a ventilating kit to help you with this.
Read More: Can You Use A Tonneau Cover With A Backrack?
Final verdict
Tonneau covers are generally designed to ensure protection and safety for cargos and weights. But it helps people in many other ways. Sleeping under a tonneau cover is one of the many advantages it serves.
Adventurers and travelers have to often face this situation where a tonneau cover is their only rescue. Though sleeping under a tonneau cover is not that much comfortable. Still, it does the job. It can be a good shelter for you to take a small nap or spend a night.
We have provided some information and suggestions that can help you in this regard. Hope you get a clearer idea from this article. Put every information together and you will get a perfect idea of sleeping under a tonneau cover.