Whenever we go out camping, we usually take a truck along with us for better mileage and other benefits. So, sometimes it occurs that we have to sleep in our truck. With a big space in the back, it's easier to spend a night in a truck bed.
But can you sleep under a tonneau cover? Go through the article and you will find the answer paired with some suggestions for sleeping under a tonneau cover. So, what are you waiting for? Let's find out.
Can You Sleep Under a Tonneau Cover?
The answer is yes. Sleeping under a tonneau cover at night can be a budget-friendly approach. However, you need to maintain a few rules relating to the weather and breathing space. It's also essential to consider comfort levels and safety standards. Make sure that you have the right tonneau cover in the first place.
Some of the best truck bed air mattresses to sleep comfortably: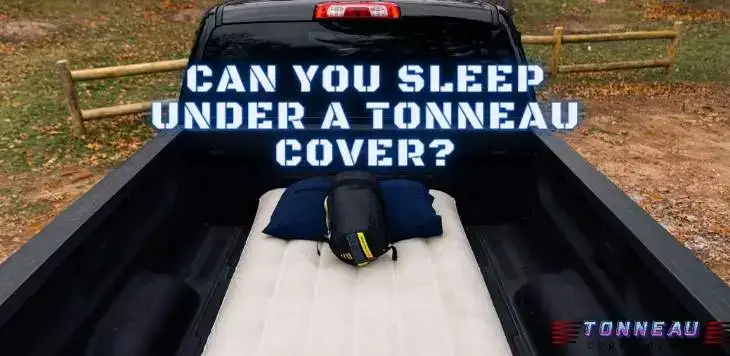 Spending a night out under tonneau cover is possible with some consideration. You need to choose a product that ensures enough air passing and does not feel suffocating. Mostly, you have to consider your comfort over everything.
Why Sleep Under A Tonneau Cover?
Covering a long driving distance can be expensive. Driving through different cities and states usually costs a lot of gas.
Adding to that, you need to spend on lodgings as well. Why would you spend the night at a hotel with soaring room rates?
You can apply the budget-free option of sleeping in the truck bed. The tonneau cover is going to provide the right shelter you require. It can be a cheaper alternative to any tent setup.
Before going further, consider some rules to imply a good sleeping time.
Rules of Sleeping Under A Tonneau Cover
During tight-budget travel, you must maintain a few ways to ensure sound sleep under the tonneau cover. They are to save you from any external influences.
The most crucial factor is that you need to enjoy your traveling schedule. Applying some budget-friendly approaches will help you have fun with the outings.
Let's check the rules you can implement and consider before you start the engine. 
Dealing With The Weather
The first and essential thing you need is a mattress for good sleeping time. Depending on the weather, you need to acquire the correct type of mattress.
For example, get the best latex mattress if you are moving around during winter. The best R-value mattresses demonstrate compatibility dealing with cold weather. This is especially if the external temperature is quite extreme.
On the other hand, during summer seasons, make sure that the mattress quality can absorb moisture better.
The heat insulation capacity of the mattress will help you to have a good sleep. Moreover, the tonneau cover material can make the condition more humid.
These factors are essential and require immediate consideration. Specifically to ensure that you don't get sick the next morning.
Otherwise, it will just mess up your fun times and delay any work time schedules.
Ensuring Enough Breathing Space
Generally, tonneau cover designs are not built to allow airflow inside the truck bed. You need space to breathe if there is any plan to sleep under it. The space will also ensure a bearable moisture formation inside.
You must make some adjustments to ensure enough air is inside the system.
Keep the tailgate open at night (it may not be the most secure option at certain places).
Make some holes around tonneau cover areas to let air in (only applicable if the tonneau cover is for sleeping, not covering the truck bed).
Attach a piping system to let the air flow in.
Set up a ventilation system with a temperature humidity monitoring product. There are many ventilation kits available specifically for this purpose.
Enriching Comfort Levels
Achieving the highest comfort levels is essential when you want to sleep in a place like a truck bed. You know how crucial it is to wake up refreshed in the morning to hit the road with energy.
Make the truck bed more comfortable while the cover is still on.
Have a good quality blanket and comfy pillows during wintertime. Maintain some room so that you can spread out while sleeping.
Sleeping on a truck bed is often considered more beneficial than inside a tent. You will be able to sleep better with a flatter surface and an adequately ventilated environment.
Don't forget a sleeping pad if you are using a sleeping bag. On the other hand,  you can easily set up a mattress inside the truck bed.
Following Safety Standards
Are you safe while sleeping inside a truck bed? I know it's a concern, so you should not leave the tailgate open.
However, you will be unable to lock the cover to maintain breathing space. Otherwise, you will wake up losing all your belongings. You know why!
And you even get hurt by intruders or snatchers.
The best way to follow the highest safety standards is to install a good alarm system. There are many products available to alert you about intruders. They are affordable and easily placed on the truck bed.
Most of these devices the sensitive sensor systems. Any touch will activate the alarm right away.
Read More: Can You Use A Tonneau Cover With A Backrack?
Precautions you need to take before sleeping under a tonneau cover
Do you need some measures to fight intruders, especially if they are thieves? Or you may have to tackle animals to guide them away as well.
Here are a few precautionary measures you can take:
Park in an area where there are surveillance cameras around.
Do not sleep in an area away from localities. For example, avoid forests or secluded fields.
You can utilize any Walmart parking space.
Make sure you talk to local authorities about your intentions.
Staying up to date with the local laws should help you avoid any problems. Also, stay away from neighborhoods that have bad reputations. Choose the right spots wisely and enjoy all the benefits with law enforcement officers.
Types of tonneau cover that is suitable for sleeping
You can choose any kind of tonneau cover. I cannot guarantee you that the sleep will be peaceful and it is a smart choice. But you can make it comfortable. And for any bad circumstances, it serves this purpose.
To not suffocate yourself you have to go for a tonneau cover that has a hole or area where you can attach an avenue or some sort of pipe to let some air in. We literally cannot breathe or live without air, right?
In short, you can choose any tonneau cover and make some adjustments to have a comfortable shelter.
Things to consider before buying a sleeping bed to sleep under a tonneau cover
To have a serene time enjoying a good nap you need to know the features offered by a sleeping bed. To find a good quality mattress you need to search for some qualifications such as-
Size
You need to find a sleeping pad that fits perfectly over your bed liner without causing any trouble. We advise you to go for a smaller size mattress.
The mattress will not sit flat on top of the tire. It will bend and that will not be convenient. So pick a bed that is enough to give you enough space to doze off.
Temperature setting
Before buying a sleeping bed keep in mind the lowest temperature you will see yourself camping. So if you go traveling In cold weather then pick a mattress with the highest R-value. For a summertime or autumn time trip, you can easily go for an R-value of 2 to 5.
Weight
The weight of your sleeping pad also matters a lot. In case you need to backpack for camping, choose a sleeping pad that is more lightweight and easier to carry around. Closed-cell foam pads are lighter and come in a compact size. So, that can be a good choice.
Read More: How Much Weight Can A Tonneau Cover Hold?
FAQs
How hot does it get under a tonneau cover?
It can get scorching under the tonneau cover. The temperature can get insanely high if there are no ventilations around. It would help if you worked on the airflow to prevent this problem.
Do tonneau covers keep water out?
The smooth surface of most tonneau cover models will keep the water out. Tonneau covers are waterproof and do not let the pouring water get absorbed. However, if you have created holes for ventilation, you have to work a bit while it's raining.
Can I put my stuff on the surface of the tonneau covers?
Most tonneau covers impose a limit on the amount of weight that the cover can hold. Also, ensure your stuff is secured with locks when sleeping overnight. This also should not create any problems while sleeping under the cover.
Final verdict
Tonneau covers are generally designed to ensure protection and safety for cargos and weights. But it helps people in many other ways. Sleeping under a tonneau cover is one of the many advantages it serves.
Adventurers and travelers have to often face this situation where a tonneau cover is their only rescue. Though sleeping under a tonneau cover is not that much comfortable. Still, it does the job. It can be a good shelter for you to take a small nap or spend a night.
We have provided some information and suggestions that can help you in this regard. Hope you get a clearer idea from this article. Put every information together and you will get a perfect idea of sleeping under a tonneau cover.