Planning for a tonneau cover but wondering how much weight can a tonneau cover hold? Most trucks can hold up to 1000 lbs and even more while a tonneau cover won't go anywhere near it.
But knowing the weight capacity of the tonneau cover can help you maintain it properly for longer service. As you know, different types of truck covers are available with different weight ranges.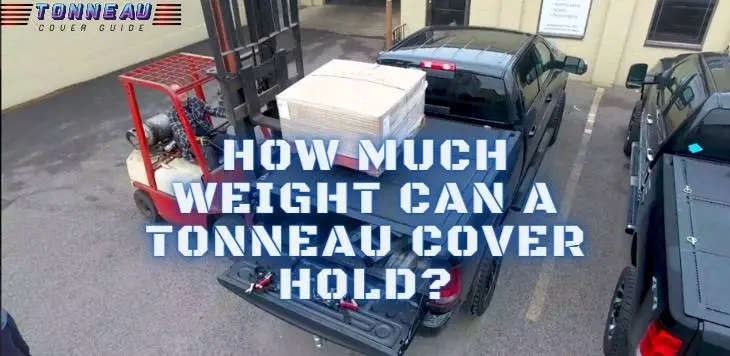 In this guide, we will discuss how much weight a tonneau cover holds on their type with some samples so you can get a close idea before making the final call. So let's get it!
Some of the top-rated tonneau cover hold limits:
How much weight can a tonneau cover hold?
Obviously, it depends on the type and the class of the tonneau cover you are using. Soft tonneau covers that are rolled up and foldable aren't able to hold much weight. Even most of the hard tonneau covers aren't intended to hold weight on top. 
However, the manufacturer of hard tonneau covers promises their item is strong enough to walk and stand.
Luckily, tonneau covers like Extang solid fold 2.0 hard folding truck bed covers are specially designed for load-bearing. These are really durable bed covers to consider for the truck, but you will have to pay around $1,000 to $3,000 for a premium one.
Let's have a look at how much weight a tonneau cover hold depending on their type:
Hard one-piece tonneau cover: a hard one-piece that is retractable and foldable can carry between 50-100 lbs at a single point.
Soft tonneau cover: soft tonneau cover comes in lightweight compared to hardcover. Besides, it can hold 15 to 30 lbs.
Fiberglass tonneau cover: this type of tonneau cover is designed with a resin-filled honeycomb pattern to ensure improved strength and durability. The honeycomb pattern allows the tonneau cover to distribute the load and stress equally. Depending on the model and size, the fiberglass tonneau cover can hold between 80 and 110lbs, which is most in the class.
ABS polymer: This ABS polymer tonneau cover can easily handle up to 60lbs. Besides, this type of tonneau cover is strong and easier to use. It is made of lightweight plastic crossbows under a smooth surface that helps it distribute stress and weight equally. Moreover, the ABS polymer tonneau cover comes in a stylish look that attracts many car owners.
Some Examples Of Popular Tonneau Covers With Their Weight Holding Capacity
The following are some tonneau covers with their weight holding capacity, though the load holding ability may vary with the type and brands of the tonneau cover. There are some samples to offer you an idea of what is out there and what you can expect from tonneau covers.
Soft tonneau covers: 15 – 30 lbs
Tyger Auto T3 Tri-Fold Truck Bed Tonneau Cover – 20 to 30 lbs.
Gator ETX Soft Truck Bed Tonneau Cover – about 24 lbs.
Tyger Auto T1 Roll Up Truck Tonneau Cover – about 25 lbs.
TruXedo TruXport Soft Roll-up Truck Bed Tonneau Cover – about 15 lbs.
Read more: Can You Go Through A Carwash With A Tonneau Cover?
Hard tonneau covers: 50 – 110 lbs.
BAKFlip G2 Hard Folding Truck Bed Tonneau Cover – about 71 lbs.
RetraxPRO MX Retractable Truck Bed Tonneau Cover – 80 to 90 lbs.
Rugged Liner E-Series Hard Folding Truck Bed Tonneau Cover – 50 to 70 lbs.
UnderCover SE One-Piece Truck Bed Tonneau Cover – 80 – 110 lbs.
Read also: Bakflip MX4 vs Bakflip G2
Final words
Hope now you know how much weight a tonneau cover can hold once reading the guide and checking some examples.
However, it doesn't mean we have to cover all the tonneau covers with their holding capacity. The market of tonneau is massive, so there will be a large number of variations.
Therefore, it is recommended to research the market a little bit and check the manufacturer guide to find out the tonneau cover with desired weight support.
Read also: Best Hard Tonneau Cover For Jeep Gladiator