Planning for a tonneau cover to carry stuff with better protection is a smart decision. But choosing the tonneau is not a straightforward process where the truck owner has to consider lots of factors. Among them, the most common question that arises in the truck owner's mind is what size tonneau cover do I need for my truck bed?
irst_paragraph -->
Though you don't need a tailor to measure the truck bed size, some specific considerations will help you choose the right size tonneau cover for your truck bed. Luckily, we covered this article with some easy ways to help you deal with such a problem and end up the journey being a winner. Besides, you will share some relative information to help you choose the tonneau cover in a better way.
What size tonneau cover do I need?
Simply measure your truck bed size and order a quality tonneau cover that is compatible with your truck bed size, and model. Besides, choose a tonneau cover that is easier to install, and stylish, and offers better security for the loads.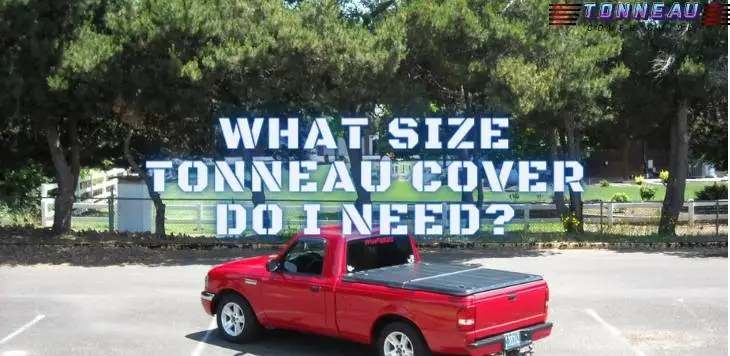 How To Measure Truck Bed For Tonneau Cover?
Take a measuring tape 8 – 10 feet long and a piece of paper to note the measurement. Now follow these steps to measure the truck bed to know what size tonneau cover you need:
Lower the tailgate and stand behind your truck.
Enlarge the measuring tape from the floor of the bed to the dividing wall
Measure the end part of the floor and convert the measurement inches to feet.
Producers of tonneau covers typically round off the size to an even number. So don't worry if your measurement number doesn't exactly match with the manufacturer's number when going shopping. Most of the tonneau cover manufacturers standardize the tonneau size so it can fit with the model pickup truck.
Example Of Some Truck Models Bed Size
| Truck Model | Short Bed Size | Standard Bed Size | Long Bed Size |
| --- | --- | --- | --- |
| Ford F-150 | Actual Length: 67″Advertised Length: 5'7″ | Actual Length: 78.9″Advertised Length: 6'7″ | Actual Length: 97.6″Advertised Length: 8″ |
| RAM 1500 | Actual Length: 67.4″Advertised Length: 5'7″ | Actual Length: 76.3″Advertised Length: 6'4″ | Actual Length: 98.3″Advertised Length: 8″ |
| CHEVY & GMC 1500 | Actual Length: 69.3″Advertised Length: 5'8″ | Actual Length: 78.8″Advertised Length: 6'6″ | Actual Length: 97.8″Advertised Length: 8″ |
| CHEVY COLORADO & GMC CANYON | Actual Length: 62.7″Advertised Length: 5'2″ | | Actual Length: 74″Advertised Length: 6'2″ |
| TOYOTA TUNDRA | Actual Length: 66.7″Advertised Length: 5'7″ | Actual Length: 78.7″Advertised Length: 6'7″ | Actual Length: 97.6″Advertised Length: 8″ |
| TOYOTA TACOMA | Actual Length: 60.3″Advertised Length: 5'2″ | Actual Length: 73.5″Advertised Length: 6'2″ | |
Truck Bed Tonneau Cover Size Chart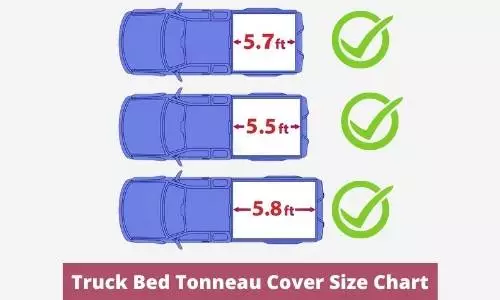 An alternative way to measure the truck bed length
Instead of measuring manually, you can follow your truck manufacturer's name, model, and year to find the compatible tonneau cover. You should have checked the truck bed length when you purchased the vehicle.
Besides, it is also straightforward to check the truck model and length. If you have factory specifications, then it will be easy to double-check the measurements. A bed liner will also help you to measure the length.
But some manufacturers listed the truck bed length in feet while others listed it in inches. Moreover, some are preferred as "short bed," "standard bed," and "long bed," However these vary the different meanings for the different truck manufacturers.
Thus, you should list the measurement in feet or inches to match with the chart and get the desired tonneau cover.
Things to consider after measuring the truck length
Once you have measured the truck bed, there are some important things that you should consider before buying the best tonneau cover for your pickup truck.
Though you don't want to return your new tonneau if it doesn't fit, check the returning policy of the certain tonneau manufacturer. It will help you overcome the frustrating situation confidently and save the investment, but don't forget to recheck the bed length before making an order.
Does your truck bed already have accessories?
If the truck has aftermarket or built-in accessories, you will have to buy a specific tonneau cover. For example, if your truck bed has a RamBox, then you will need to choose a tonneau model that is suitable for the RamBox.
Likewise, if you have a Cargo Management System and Deck Rail System, then consider a certain model that fits with those accessories.
Do you have a bed liner?
Bed liner can affect the truck bed space that should cover a tonneau. So, during measuring the bed length, measure the space inside the bed liner rather than measuring over it. Besides, you may have to cut the bed liner while installing the tonneau cover.
Read More: Tonneau Cover Vs Camper Shell
How to pick the right tonneau cover for the truck bed?
After measuring the bed length, your next job is to find the best tonneau cover for a pickup truck. The following are some key considerations for choosing the tonneau cover:
Budget
Consider your budget, how much you want to invest in a tonneau. While Fiberglass hard-top tonneau will cost from $1,500 to up, some hardcovers may cost less. Conversely, you will find soft tonneaus between the $200-$900 price ranges.
Check Our Recommended Truck Bed Tonneau Cover
Usually, lower-cost tonneau covers come from outside of the United States that are made in a considerably cheaper way. So these may not offer long-lasting service and reliable security.
Style and material
The material and style of the tonneau cover are also among the key factors. The main two options you have:
Soft tonneau covers
Soft tonneau covers are the most common and famous option. These are affordable and come in plenty of styles and offer flexibility. Besides, soft tonneau covers are lighter and allow them to be installed easily.
You will find a wide range of styles of the soft tonneau cover, including retractable, expandable, rolling, and more. However, some car owners don't recommend tonneau cover as they believe it is easier to cut and doesn't offer much security. It's not true, soft tonneau manufacturers like Sawtooth offer 7 times thicker tonneau compared to their nearest competitors. 
Hard tonneau covers
Hard tonneau is usually made of fiberglass, aluminum, or hard plastic, which makes it expensive and less popular. These are heavier and need more people to install.
Hard tonneau also comes with plenty of styles like single-piece hinged, quad-fold, and tri-fold. The advantage of the folding model is it allows the use of one part of the truck bed for carrying cargo while covering the rest. You can lock a hard tonneau cover and these offer better protection.
Other considerations
Some other factors get priority while choosing a tonneau cover. Some of them are:
Durability
Ability to carry different sized cargo
Installation
Security
Weather resistance
Final words
Once you have found out what size of tonneau cover you need and what the other considerations are, you can confidently make an order. But don't forget to check the compatibility and the installation process. Otherwise, you will face an awkward situation.
The returning policy will help you deal with that, but why unnecessarily waste energy and time? Hope now you have all the information so you can choose the best tonneau cover for a certain truck bed and enjoy the most out of it.
Read also: What Size Toolbox For Toyota Tacoma?