Are you planning to buy a pickup truck cover but can't decide between a tonneau cover and a camper shell? A comparison of tonneau cover vs camper shell can help you out from the overwhelming situation and lead you through the right decision. 
Luckily, we already have done the task and prepared this guide with such information. In this guide, we compare both the trucks covered in different features to find out their strength in different sectors. Now your job is to read the guide carefully and make a decision based on it if you are really concerned about the safety of your loads.
Tonneau Cover Vs Camper Shell
The main difference between camper shells and tonneau covers is tonneau covers are much easier to remove and install than camper shells. Other than that they both serve the same general purpose.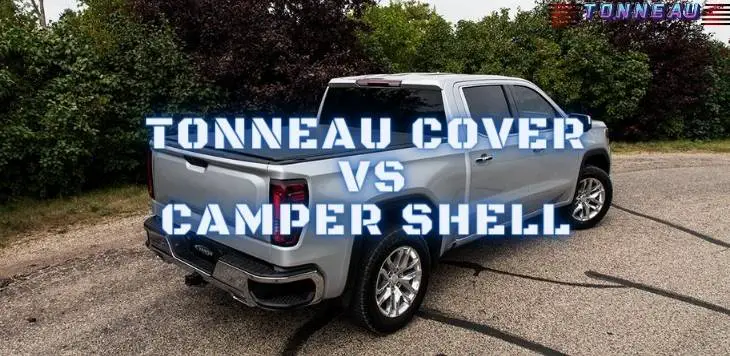 What is a Tonneau Cover? 
The tonneau cover is a wonder of automotive technology that is used to cover the back of a truck to protect the loads and improve the aerodynamics. Available in different types and designs, a tonneau cover is an excellent consideration for any car owner to protect their car bed.
Besides, tonneau comes in many styles and is made of a wide range of materials. Among a range of options, canvas tonneau covers, flip-up and roll-up covers and hard one-piece fiberglass covers are popular options.
What is a camper shell?
Camper shells or truck bed shells are also offered for consideration for security and better weather protection for the cargo. These are available in a variety of shapes and sizes while mostly made of aluminum and fiberglass. Most of the camper shells include windows.
Moreover, some camper shells come with a rear door opening and closing against the tailgate and allow it to extend down to the floor. design with a variation of roof heights, the cap allows choosing based on the truck type and requirements.
Read More: Best Roll Up Tonneau Cover For F150
Even some camper shells allow enlarging over the cab of the car. You can enjoy camping and hunting conveniently as the camper shell will offer you a nice dry and covered sleeping area.
comparison of different factors
Installation
Edge: Tonneau Cover
The installation process of the tonneau cover is straightforward. It usually takes about 30 minutes to install a typical tonneau cover.
Conversely, camper shells don't allow you to install them effortlessly and they require more than one person. Another drawback is you will have to remove the whole shell if you want to transport something that doesn't fit through the door.
Even if you aren't allowed to carry a load that is too tall. Besides, you will need help to lift the camper shell off from the truck for storage and reinstalling.
Security capabilities
Edge: Tonneau Cover
A quality tonneau cover not only offers greater weather protection but also ensures better protection for the items being hauled. Besides, it reduces the chance of losing the item while you are driving. Thus, the tonneau cover ensures all over reliable security.
Compared to a tonneau cover, a camper shell doesn't offer pleasant security as it includes windows.
Fuel economy 
Edge: Tonneau Cover
Another huge advantage of using a tonneau cover is it offers improved fuel mileage. Using a tonneau cover, you can enjoy up to one mile per gallon improvement compared to driving with an open bed whether the tailgate is up or down.
Conversely, using a camper shell higher than the car can help prevent creating wind resistance. As a result, you will have lower fuel mileage.
Durability 
Edge: None
Most of the tonneau covers are made of quality material which ensures long-lasting service for up to five years.
Moreover, camper shells also offer reliable service due to their high durability.
Weather-resistance capabilities 
Edge: Tonneau cover
Once properly installed a tonneau cover on a truck, successfully prevents water from entering into the bed of the vehicle. However, it doesn't offer 100 percent watertight protection, so you can see a few drops during an extreme rainstorm.
On the other hand, after installing a camper shell, you will only enjoy protection from the wild winds.
Storage space
Edge: Camper shell
Due to its design, the tonneau covers don't offer much space for storage.
However, you can enjoy more storage space by installing a camper shell. Comes with a larger height, and a camper shell allows you to haul larger objects.
Usage
Edge: None
Tonneau covers are an excellent option for pickup truck owners who want to transport something without worrying about weather damage and theft. Besides, if you are willing to offer your pickup truck a sleek look while protecting the bed, you should consider a tonneau cover.
On the other hand, a camper shell will be suitable for a pickup truck owner to enjoy fishing, camping, and hunting. You will have a great room for sleeping in and it will save money on booking a room or buying a camp tent.
Which is better: tonneau cover or camper shell?
Both the tonneau cover and camper shell are beneficial for different purposes. If you consider the ease of use, security and fuel economy, then you will find the tonneau cover better than the camper shell. However, camper shells offer more storage space than tonneau.
But you can clearly separate both the tonneau cover and camper shell based on your requirements. While the tonneau cover is ideal for carrying cargo or other loads securely, the camper shell is handy for enjoying camping and hunting.
Final words
Hope you find this tonneau cover vs camper shell debating guide helpful. But whatever you purchase, a tonneau cover or camper shell just makes sure it fits well with your car and offers a sleek look to the vehicle.
More importantly, go for automotive accessories that match your needs suitably and don't cost much. Finally, both of them are exceptionally useful for any pickup truck. Just maintain them properly for long-lasting service.