There are different types of locking mechanisms in different truck bed covers. So it is already very confusing to understand how to unlock them. When you don't have a key where it is required, it is even more complicated. 
So, how to open truck bed cover without key?
Most truck bed covers don't require a key to unlock. You can unlock the tailgate and press or pull the latch, cable, or handle depending on the locking type. If the tailgate key isn't available, unlock the cover by sneaking a coat hanger or crowbar between the bed cover and the bed rail. This will only work on the soft covers. For hard covers, manage a duplicate key to unlock the truck bed. 
To know these methods in detail, keep reading.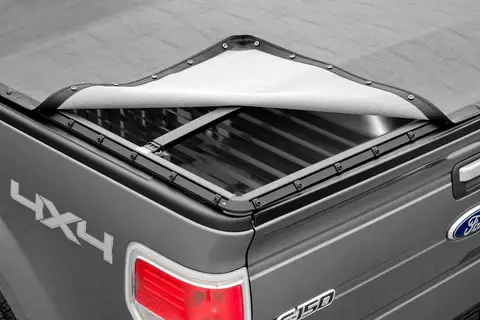 How To Open Different Types Of Truck Bed Cover Without Key?
Based on the tonneau cover type, you have to perform different unlocking methods. These methods mostly don't require any key. Here are those methods for different locking systems. 
Pull Cable Release:
If you use a hard aluminum cover, you are more likely to notice this type of lock system. This type of lock doesn't require any separate key to open. But the tailgate needs to be unlocked. Here's how to unlock the pull cable release. 
First, unlock the tailgate.
After that, locate the pull cable release lock system and find the cable. Mostly, the lock is in the back end of the cover either in the corner or at the center. 
Finally, pull the cable and the latch should be disengaged. And then open the tonneau cover. 
Here is a video for a better understanding. 
Rotary Latch:
In this type of tonneau cover lock system, there is a knob instead of a cable. This is mostly used in soft covers. Here is the unlocking process. 
First, Unlock the tailgate
Locate the locking mechanism
Lastly, twist the knob and unlock the tonneau cover. 
Latch Clamp:
Another popular soft tonneaus cover lock is the latch clamp. Here's how to unlock it. 
Firstly, unlock the tailgate
Then, locate the lock from both sides of the tonneau cover. There will be hand clamps on both sides. To unlock the locking system, you have to open up both clamps at a time. 
At last, hook each clamp and fold the tonneau cover. 
Trigger Latch:
In this locking mechanism, you will find small handles or triggers on both sides of the cover. Here is how to unlock it.
If the tailgate is locked, unlock it first. If the tailgate doesn't open even after using a key, you have to repair the tailgate lock. 
Find and press the trigger or handle from both sides. 
Finally, pull down both triggers and open the cover. 
Spring-Loaded Speed Klamp:
This is an updated version of the latch clamp. Where after removing the latch, due to the spring, it doesn't bounce back when you try to unlock the other one. So, it is easier to deal with. Here's how to unlock it. 
Unlock the tailgate first.
Push and release the clamps from each side. If your tonneau cover doesn't release easily, there might be an issue with the lock or rail which needs to be fixed. 
Then finally, fold the tonneau cover. 
Electromagnetic Brakes:
This is an advanced level of lock in some tonneau covers. In this locking mechanism, you have to have a remote to unlock the tonneau cover lock. You just have to press the button with the "open Lock" sign to unlock the cover. 
Key Lock:
This is a locking mechanism where you have to use a traditional key to unlock the cover. This type of locking system is mainly found in retractable and hard-one-piece tonneau covers.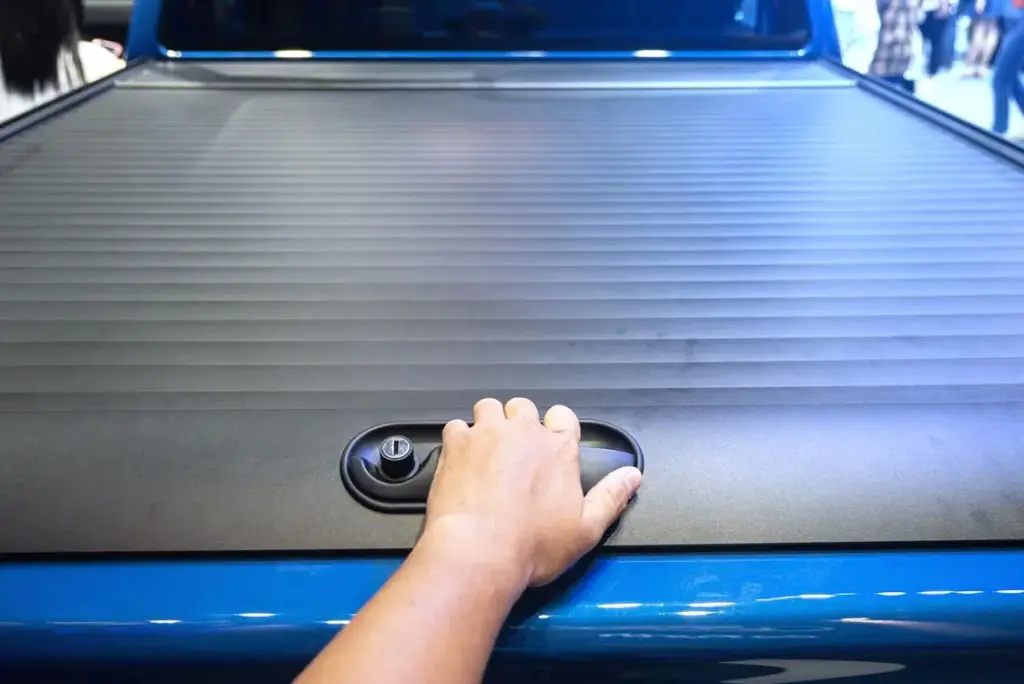 This is hard to unlock when you lose the key. In this case, you can do the following things
Try to buy a duplicate key for your tonneau covers. Some tonneau cover brands like A.R.E. Hard tonneau covers use only a few sets of locks. So, you can easily find duplicate keys for those locks. 
Or you can make a duplicate key of the tonneau cover.
As a last resource, you can contact your tonneau cover or truck dealer and have them unlock it. 
Read also: How To Fix Tonneau Cover Latch?
How To Open Tonneau Covers Without The Tailgate Key?
If you have somehow lost the Tailgate key or forgot it at home, you can still unlock the tonneau cover. 
Also, some tonneau covers require their own key top open instead of the tailgate key. If you have lost key to truck bed cover of those types, you can follow the same process as well. 
However, this process is most effective for soft tonneau covers. Here is the process of this. 
Required Tools:
Step 1: At first, Identify the type of locking mechanism your tonneau cover has. It will help you understand where to sneak in the tool to unlock the cover. 
Step 2: Then you have to locate where the lock is placed in your truck's tonneau cover. In most tonneau covers, the mechanism is placed on the back end of the cover either on the left or the right side. 
Step 3: After locating, try to sneak in the coat hanger in between the bed cover and the bed rail. Depending on the locking mechanism, the crowbar can be easier to sneak in. so, use what works best for you. 
Step 4: Keep moving the crowbar or coat hanger and try to catch the lock latch. After getting the hang of the latch pull the crowbar or hanger. The release handle will be unlocked. 
Step 5: Repeat the same process for all side locks. And you will open up the tonneau cover. 
However, if you have a hard tonneau cover, this process won't work. Then you need to manage a key by contacting a professional.
Also, remember that these sneaky procedures should perform on a regular basis. It will damage your truck covers. For example, you will notice your Lomax tonneau cover is showing problems. It is true for other brands as well. 
Read also: Bakflip Mx4 Problems
Frequently Asked Questions (FAQs):
Are Tonneau Covers Theft-Proof?
No, tonneau covers are not usually theft-proof. The lock used in tonneau covers are used to protect your stuff from rain, dirt, and gawking from curious neighbors. However, tonneau covers including their locks are not very durable and can be broken easily. 
How Strong Is A Tonneau Cover?
The tonneau cover is not very strong and it can hold only up to 500 pounds of distributed weight on top. That also depends on the quality and material of the cover. If you put concentrated weight, it can hold up to only 150 pounds of load if the material is of excellent quality. 
What Are The Advantages of A Soft Tonneau Cover?
The primary advantage of a soft tonneau cover is it is easy to open. A soft tonneau cover is lighter than a hard one. So, it is easy to lift and fold. Also, when you forget the key, these types of covers are easy to unlock. They cost less than the hard tonneau covers as well. 
Read also: What Size Toolbox For Toyota Tacoma?
Conclusion
Here goes all the discussion on how to open truck bed cover without key? I hope this article helped you in your emergency situation. 
Always remember that the tonneau cover won't give you protection from theft. For that, you have to use a more secure locker. 
That's all for now. All the best and have a great day!
Read Also: 5 Common Retrax Bed Cover Problems