Bakflip MX4 is one of the best-selling Tonneau covers in the market. This famous cover is very helpful and effective in protecting your cargo. 
Yet this durable cover has some issues. Here we will talk about common bakflip mx4 problems so that you can make the right decision.
Top 8 Common Bakflip Mx4 Problems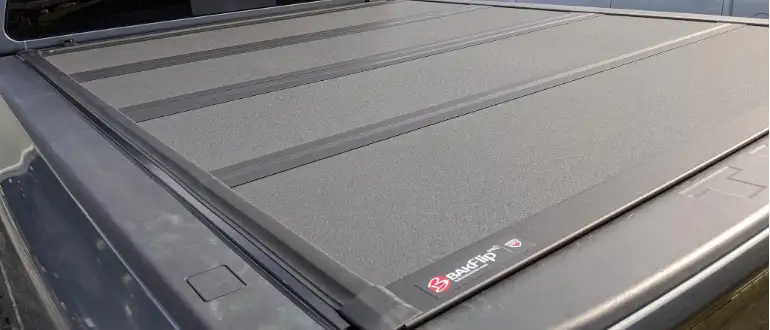 There is no doubt that bakflip is sturdy, functional, and worthy. Despite its beneficial features, it is normal to have some downside. 
So if you are planning to buy a Tonneau cover, you must know the problems. That helps you to find the best Tonneau cover for the cargo bed according to your requirements.
1. Leakage
The most common problem you can face from the mx4 cover is unwanted leakage. Many users shared that they notice leaks after a few months. Even some online shoppers receive a cover with leaks. 
Most of the covers get leakage at the tailgate. But the leak is too small that won't make the cargo wet. But it increases the risk of hampering goods. Moreover, it is not acceptable to face a leak in a new cover, right?
As a renowned brand, it's not expected from BAK. But they clearly declare that their MX4 cover is only water-resistant, not waterproof. So it can't give a guarantee to protect goods from water leakage.
 But it brings a rubber seal system to keep water away from the cargo bed. You need to install the rubber system correctly to enhance water protection. But if the seal is loose, that works as the water entry point and can damage your goods.
There are lots of alternative brands in the market that long last without leakages. This is why many people avoid MX4. If you are living in a rainy area or need to face water, then it is better to avoid MX4. 
Solution:  
First, you should mark the leaks and seal them using butyl putty. Even you can try an extra drainage system to flow the rainy water outside the cargo surfaces.
Luckily BAK offers a 5-year warranty. So if you face a leak in a new cover, instantly complain to the brand. You can return the leaked cover with some effort.
Extang Xceed Vs Bakflip Mx4 (New Comparison)
2. Wrong Fitting
Well, the effective performance and protection of the MX4 cover depend on the right fitting. You need to fit the cover on your cargo correctly to avoid further issues.
 It is better to do the installation directly from the dealer. But if you buy online, then there is a high chance of wrong fitting as you are not an expert.
Bakflip MX4 tonneau cover design is different at the tailgate, which makes it tough to fit accurately. So if you fail to fit the cover, you will face a leak or other issues.
Solution: 
The best solution is, before buying the bakflip MX4 cover, talk to the online dealer to ask for installation. Otherwise, don't buy from them if you are not confident about fitting.
3. Rail Trucks Clamps Issue
Unfortunately, BAK used low-quality clamps in the MX4 cover. As a result, rail trucks are not connected tightly to the cargo bed rails. So the cover ultimately fails to give 100% protection from sun, snow, or robbery.  
Besides clamps, the MX4 also comes with defective latches that won't move smoothly. So it takes much effort to fold the cover back and forth.
Solution: 
Contact BAK customer support and ask for a replacement to solve clamp issues. But to get rid of latches issues, you can apply lubrication. That will make the sliding easy over time.
5 Common Gatortrax Tonneau Cover Problems And Solutions
4. Materials Issue
Nowadays, many users complain that the MX4 cover is manufactured with more plastic than aluminum. BAK recently confessed that they improved their design pattern and materials to extend the protection ability. 
But unfortunately, they replace aluminum with plastic which decreases the quality instead of improving it. So the old buyer was disappointed with the new model after getting it in hand. The newer version is less sturdy and flimsy compared to the older model.
Solution: 
Avoid Mx4 covers and buy others aluminum-made tonneau covers to get long-lasting service.
5. Poor Customer Services
Normally we buy a tonneau cover to get long-year bed protection. If the customer support is friendly, it is easy to solve any unwanted issues. Any times problems can arise as it is a regular usage item. 
BAK offers a long 5-year warranty. But the customer support team is not friendly, and reaching out to an agent is like winning a battle. They won't pick up calls and are not cordial enough to give after-sale services. It is really hard to get solutions from BAK's customer support.
Solution: 
The brand needs to improve its after-sale services. They can train their team to ensure top-notch customer support. Otherwise, BAK will lose its market value and popularity.
These are some negative sides of bakflip mx4 tonneau covers. But definitely, it has some excellent features too. So let's know some upside off the bakflip mx4 cover.
Undercover Ultra Flex Vs Bakflip MX4 (Comparison Guide)
6. The Cover Won't Close All The Way
If your cover isn't closing all the way, it could be due to a few different things. First, check to see if there's anything blocking the cover from closing. If not, then the problem could be with the cover itself. It's possible that the cover is misaligned or that the gas struts are damaged.
If the cover is misaligned, you can try to adjust it yourself. If the gas struts are damaged, you'll need to replace them.
7. The Cover Is Hard To Open
If the cover is hard to open, it could be because the gas struts are damaged. Another possibility is that the cover is not properly lubricated. You can try to lubricate the cover yourself, but if the gas struts are damaged, you'll need to replace them.
8. The Cover Is Making Noise
If the cover is making noise, it's probably because the seals are damaged. You can try to replace the seals yourself, but if the problem persists, you may need to replace the cover.
Benefits Of Bakflip Mx4 Cover
You must be curious how to bakflip mx4 is so popular as it has lots of cons. Honestly, bakflip mx4 has some brilliant pros that attract car owners to choose mx4. Here the pros are:
MX4 introduces premium and unique UV resistance features. So it can protect beds from harmful UV rays. As a result, your cover won't fade, or the bed won't crack due to sunlight.
It is a solidly built cover that lasts long years, unlike other Tonneau covers.
Mx4 cover is very handy, lightweight, and easy to use.
The installation process is easy if you do it correctly.
It is water repellent
Offer huge size variations
Improve your cargo security and protection of goods.
Alternative To Bakflip Mx4 Tonneau Cover
If you don't want to face the bakflip mx4 issues, you have many alternatives. After depth research, we are going to share the best value tonneau cover for your truck.
Extang Solid Fold 2.0 Hard Folding Truck Bed Tonneau Cover
If you're looking for a truck bed cover that's both durable and easy to use, the Extang Solid Fold 2.0 is a great option.
This hard folding cover is made from high-quality materials, and it's designed to withstand the elements. It's also easy to install and remove, so you can access your truck bed when you need to.
Tyger auto tri-fold cover
Tyger is a tri-fold and sleek design cover. It is very sturdy but soft. This cover is made of dual-coated marine-grade vinyl and aluminum. That offers excellent weather protection. 
It also provides weather-tight sealing to protect your cargo goods and bed from outside obstacles. In heavy rain or snow, you have no chance of water leakage. 
Besides, it is easy to install and offer a wide range of size for easy fitting. You don't need any drilling to fit this cover. It also provides high-quality clamps with a stainless steel rod to ensure secure locking.
Moreover, it offers a lifetime warranty, so if you face issues, it is solvable. But it is well built, and sealing works great, so it has less chance of issues. If you want a premium Tonneau cover without lots of downsides, the best choice is the Tyger Auto cover.
Pros
Good quality materials
Sleek design
Cost-effective
Easy to install
Superior weather protection
Cons
Final verdict
If you want to buy an MX4 cover, it is better to familiarize yourself with both the positive and negative sides. It will help you to choose the right Tonneau cover and fix the issues conveniently. 
Not only Mx4, but every Tonneau cover also has its pros and cons. So you need to focus on your requirements and compare if the cons are more vital than the pros, then skip that model.
We discuss details about bakflip mx4 problems. The leakage issue is not a big deal as it is fixable. So if you can adjust the negative sides, then bakflip mx4 is a good deal.