Tyger T5 Tonneau Cover Reviews
Click Here To Check Recommended Tonneau Cover
We may earn commission from links on this page at no extra cost to you. We only recommend products we back!
Tyger t5 tonneau covers are the way to go for truck owners who want superior protection for their heavy loads and bed while getting a sleek look. But Tyger t5 tonneaus come in wide variations, making it tiresome to check each Tyger t5 tonneau cover review separately.
That is why we created this in-depth research guide to provide you with all of the essential information about the Tyger T5 truck bed cover in a single post. We discuss all the compatibility, capability, and quality of the Tyger t5 series tonneau to let you pick the most preferred one.
Tyger T5 Tonneau Cover- A Quick Overview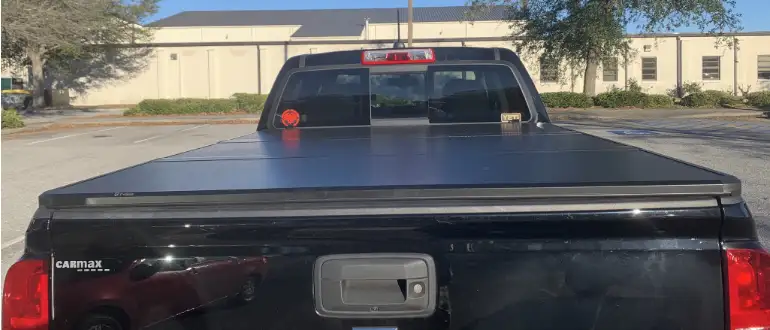 Tyger Auto is dedicated to producing OE quality aftermarket auto parts. This Tyger t5 tonneau cover series is the best example of it. T5 truck bed covers are constructed with aircraft-grade alloy metal sheets and black powder coats to maximize protection. 
Unlike other typical tonneau covers and the Tyger series, the T5 tonneau comes fully assembled. This not only lowers the effort but also shortens the time of installation.
Apart from offering a customized look and speedy bed access, the T5 truck bed cover also helps save gas mileage, thanks to its sleek design. 
Despite its exclusive latch system, the tonneau stays in place securely to ensure maximum protection of your cargo and loads from theft and any weather elements.
Pros
With a tri-fold design, this tonneau offers quick access to the bed.
It doesn't require any special tools and drilling for installation.
Construct with tough quality aluminum frame.
Suitable for use throughout the year.
Water-resistant.
Improve gas mileage.
Has a secure lock system.
Offer five years warranty.
Cons
Need to create small holes in the bed liner to fit the clamps.
The latches fail quickly, making it hard to secure the load.
>> Tyger Auto T3 Problems (Main Causes & Possible Fixes)
Tyger t5 tonneau cover- Features
Compatibility
Luckily Tyger t5 tonneau cover comes in a wide range of sizes and variations. Thus, it won't be challenging for you to pick the perfectly fitted t5 truck bed cover for your vehicle.
The following are some top brands with their models and bed sizes for which you can pick the Tyger t5 tonneau cover.
Chevy/ GMC
The T5 truck bed cover is fitted with both Chevy Silverado and Colorado trucks that have 5'2″, 5'8″, and 6'6″ beds.
You can also buy a t5 tonneau for your GMC Sierra and Canyon with the same bed length. But make sure your Chevy or GMC truck doesn't have a factory-side storage box.
Dodge Ram
If you have a 2019-2022 or 2002-2018 Dodge Ram truck with a 5'7″ or 6'4″ bed, you can have a perfectly fitted tonneau for your vehicle.
However, the t5 tonneau isn't compatible with the Classic Dodge Ram model, nor does it fit with the Multi-Function Tailgate or RamBox.
What Size Tonneau Cover Do I Need? Find Out Now!
Nissan
The T5 series tonneau cover from Tyger is compatible with the 2004-2015 Nissan Titan and 2005-2021 Nissan Frontier with 6.5′ and 6′.
You can also shop for the t5 cover for your 2017-2022 Titan that has a 5.5-foot bed. But the T5 tonneau doesn't go with the Titan Box.
Ford
Ford is one of the most popular vehicle brands, and Tyger doesn't want to disappoint Ford users. Thus, they produce various types of t5 tonneau for Ford F-150 models with 5.5′ and 6.5′ beds.
Apart from these, t5 tonneau covers are compatible with different models of Toyota and Jeep Gladiator trucks.
Types
The Tyger t5 series tonneau cover comes in three different types to meet the various purposes and preferences of the truck owner. These are
Folding
T5 hard folding tonneau covers are the most popular type and are suitable for hauling large cargo or awkwardly shaped loads. It offers access to only a portion of the truck, keeping the rest covered.
Roll-Up
The roll-up t5 tonneau is more affordable than other types and comes in a lightweight design. It's a versatile tonneau cover type that lets you expose the bed as desired.
Tri-Fold
If you want a t5 tonneau that allows for faster operation, go with this tri-fold tonneau. They are also cheaper and offer a sleek look while allowing you to lock in three different positions.
Read More: Who Makes Mopar Tonneau Covers?
Tough Grade Material
The Tyger t5 tonneau is made of aircraft-grade alloy aluminum panels with a textured black coating. Thus, the tonneau can hold up to 500 lbs without any hassle and offer maximum protection to the bed and stuff.
Despite this, its hardware is also constructed with stainless steel and tough glass-filled nylon structures for a long lifespan. Tyger offers a 5-year warranty on their T5 tonneau covers to ensure long-term use.
Improved security
Unlike the typical tonneau cover, the T5 truck bed cover has champs with stainless steel rods for secure locking. Its watertight sealing is also capable of protecting the truck bed and loads from any hard elements like sun rats, snow, and rain.
Efficient operation
To make installation easier, the t5 tonneaus come pre-assembled with a quick-release clamping system. The tonneaus are also folded up smoothly for quick bed access.
Plus, its hardtop cover mounts on top of the bed rails of the vehicle. This way, the truck bed cover offers a sleek look and improves average gas mileage.
Read More: Does Toyota Tacoma Have A Tonneau Cover?
FAQs About Tyger T5 Tonneau Cover
Can I Take The Whole T5 Tonneau Cover Off If Required?
Yes, you can easily remove the whole t5 tonneau cover without any hassle. It will only take around 30 seconds.
Does The T5 Tonneau Cover Withstand A Car Wash?
Though car washing isn't recommended for these truck bed covers, they hold up perfectly. 
Final words
Buying a Tyger t5 tonneau cover means ensuring superior protection to the truck bed and loads from theft and harsh weather elements.
But the Tyger t5 series offers a wide range of types and sizes of tonneau covers to serve the different brands and models of trucks.
Thus, it's worth checking some Tyger t5 tonneau reviews to order the perfectly fitted and most preferable t5 truck bedcover within your budget.