Let me balance an equation. You have a Toyota Tundra or Chevy Silverado and looking for a suitable tonneau cover for the vehicle. The balancing factor is the Tyger T5 Tonneau Cover.
I am sure all the truck owners, read till now, will check the Tyger T5 at least once. OK, do that. But don't skip the Tyger T5 Tonneau Cover reviews beforehand.
Aircraft-grade aluminum panels offer maximum protection with a superior weight capacity of 500 lbs. Quick-release clamping system keeps the heavy-duty aluminum frames in place. They also protect the cargo from harsh elements and theft with a 5-year hassle-free warranty.
I know these aren't enough to judge a tough cover like Tyger T5. So, I have rounded up almost all the details about this truck bed cover.
Tyger T5 Tonneau Cover Reviews: Quick Overview
Let's start the quick overview with a compatibility table. You can see all the truck models that work perfectly with the Tyger T5.
Tyger T5 Compatibility
| | | | | | | | |
| --- | --- | --- | --- | --- | --- | --- | --- |
| Model | Ford F-150 (2015-2022) | Ram 1500 (2019-2022) | Chevy Silverado / GMC Sierra 1500 | Colorado/Canyon (2015-2022) | Gladiator JT (20220-2022) | Tacoma (2016-2022) | Tundra (2014-2021) |
| Bed size | 5'5″, 6'5″ | 5'7″, 6'4″ | 5'8″, 6'6″ | 5'2″ | 5'3″ | 5′, 6′ | 5.5′ |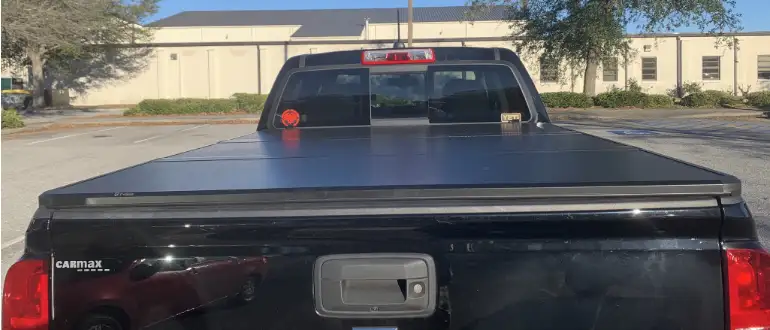 Tyger T5 at a glance
Aircraft-grade alloy aluminum Tri-fold panels.
Powder-Coated exterior.
Waterproof and UV-resistant.
Panels cover PC polymer materials arranged in a strong honeycomb structure for maximum protection.
Even weight distribution capacity of up to 500 LB.
Supported by heavy-duty aluminum frames with tough glass-filled nylon and stainless steel structures for outstanding durability.
Pre-assembled with a unique quick-release clamping system for easy, no-drilling installation.
A weather-tight seal offers maximum security against moisture, dirt, and theft.
5-YEAR NO-HASSLE WARRANTY FOR US CUSTOMERS!
>> Tyger Auto T3 Problems (Main Causes & Possible Fixes)
Tyger T5 Tonneau Cover: Detailed Reviews
It's time to look at the issue in a more detailed way. The Tyger T5 has some great features but are they enough for your truck? Here are some greatness and shortcomings of the Tyger T5 truck cover before you decide anything
What Size Tonneau Cover Do I Need? Find Out Now!
Tough Grade Material
The Tyger t5 tonneau is made of aircraft-grade aluminum panels with a textured black coating. Thus, the tonneau can hold up to 500 lbs without the hassle and offer maximum protection to the bed and stuff. 
Despite this, its hardware is also constructed with stainless steel and tough glass-filled nylon structures for a long lifespan. Tyger offers a 5-year warranty on their T5 tonneau covers to ensure long-term use.
Improved security
Read More: Who Makes Mopar Tonneau Covers?
Unlike the typical tonneau cover, the T5 truck bed cover has champs with stainless steel rods for secure locking. Its watertight sealing can also protect the truck bed and loads from elements like sun rats, snow, and rain. 
Efficient operation
To make installation easier, the t5 tonneaus come pre-assembled with a quick-release clamping system. The tonneaus are also folded up smoothly for quick bed access. 
Plus, its hardtop cover mounts on top of the bed rails of the vehicle. This way, the truck bed cover offers a sleek look and improves average gas mileage.
Read More: Does Toyota Tacoma Have A Tonneau Cover?
Pros
With a tri-fold design, this tonneau offers quick access to the bed.
It doesn't require any special tools and drilling for installation.
Construct with tough quality aluminum frame.
Suitable for use throughout the year.
Water-resistant.
Improve gas mileage.
Has a secure lock system.
Offer five years warranty.
Cons
Need to create small holes in the bed liner to fit the clamps.
The latches fail quickly, making it hard to secure the load.
Read also: What Size Toolbox For Toyota Tacoma?
FAQs
Can I Take The Whole T5 Tonneau Cover Off If Required?
Yes, you can easily remove the whole t5 tonneau cover without hassle. It will only take around 30 seconds.
Does The T5 Tonneau Cover Withstand A Car Wash?
Car washing isn't recommended for these truck bed covers, but they hold up perfectly. 
Read also: Bakflip Mx4 Problems
Final words
Buying a Tyger t5 tonneau cover means ensuring superior protection to the truck bed and loads from theft and harsh weather.
But the Tyger t5 series offers a wide range of types and sizes of tonneau covers to serve the different brands and models of trucks. 
Thus, it's worth checking some Tyger t5 tonneau reviews to order the perfectly fitted and most preferable t5 truck bedcover within your budget.