What do you expect from a tonneau cover?
Of course, extended durability, better safety, and protection from elements. You can expect all of these from the Bakflip Revolver X4S cover.
But how effective are they? I will try to answer it in this Bakflip Revolver X4S review.
You can get all the features of a high-end tonneau cover in Revolver X4S.
And guess what, the price is more into your reach. The only bothering issues are the fitting and after-sales service.
Let's take a look in detail at this popular tonneau cover model. I am sure this in-depth review will help you to decide whether it's the best pick for you or not.
BAKFlip Revolver X4S: Compatibility
Checking the compatibility of a tonneau is an integral part of picking the right fitted one.
No matter how durable and secure the tonneau is, it must be compatible with your specific make and model of truck to ensure complete protection and ease of use.
| | | | | | | |
| --- | --- | --- | --- | --- | --- | --- |
| | Ford | Dodge Ram | Chevy/GMC Silverado/Sierra | Honda | Toyota | Jeep |
| Models | F150, 250, 350, 450, and Raptor | 1500, 2500, and 3500 | 1500, 2500, and 3500 | Ridgeline | Tacoma, Tundra | Gladiator |
| Bed Size | 5'7″ – 8′ | 5'7″ – 8′ | 5'8″ – 8′ | 5'4″ | 5'2″ – 6'7″ | 5′ |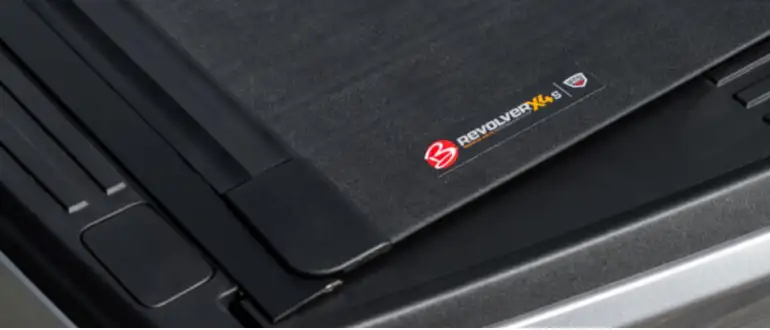 BAKFlip Revolver X4S: Quick Overview
This BAK X4S tonneau cover is the 3rd generation hard rolling truck bed cover from the brand and has some exciting features:
Interlocking aluminum slats lined with heavy-duty vinyl
All matte black slats, clamps, and vinyl for the ultimate sleek appearance
Slats are capped to protect your hands and ensure easy use of the tonneau cover
Flattened X4S side seals for a more streamlined look
A rotational locking rail system secures the cover when closed
The cover can be opened and locked in place with buckle straps to haul large items
A built-in bulkhead seal protects cargo from rain, snow, and other elements
Does not block access to stake hole pockets
5-year warranty
BAKFlip Revolver X4S Review
The quick review is done! Have you decided anything? Wait, don't do anything right now.
It will be a biased decision if you set your mind by just looking at the bullet points.
Let me explain some of the most essential and effective features of this hard rolling tonneau cover.
Materials
Many customers complain that this hard rolling tonneau is expensive.
But considering it's material and construction, this revolver x4s truck bed is worth the price.  Its lightweight yet sturdy aluminum slats are covered by solid matte black vinyl. 
The slats and clamps are also finished with a matte black powder coating.
Combining these features, this BAK X4S tonneau gives a stylish look and protects the whole bed from any weather climate. 
The feature also makes the Bak Revolver X4S weight ratio to a 400 lb load and haul large cargo efficiently.
Design
Whether you require harsh weather protection, safe driving with large cargo, or whole-length bed security, this X4S tonneau cover will give you all.
If you pay close attention after installing this truck bed cover, you'll notice some impressive features all around this tonneau. 
It has flat side seals, patented rotational locking rails, redesigned rear corner caps, and an integrated bulkhead seal.
Combining these features, the tonneau offers a smooth appearance, full-length weather protection, and is securely maintained.
Read More: How Much Does A Hard Tonneau Cover Cost?
Efficient Operation
Bakflip Revolver X4S installation is simple as it doesn't require drilling or special tools.
Instead, the manufacturer offers an install guide for clamp-on installation within minutes.
You can also operate this tonneau from either side with one hand, keeping the hands and fingers safe, thanks to its automatic latch and caps on the aluminum slats.
The tonneau can also be stored tightly against the cab and secured with a strap and buckle system.
This way, it offers full bed access to the user and allows them to drive without blocking the rearview.
Just pull the string latch and roll the cover toward the bulkhead to access the bed for loading and unloading. The straps and buckles with the X4S ensure that even tall and bulky things may be transported securely.
The automated slam latch and rotational rail system keep the BAK X4S closed and your belongings safe from criminals when you lock the lid.
Simple hand tools like a wrench and socket are all needed for installation.
Warranty
BAK offers a maximum 5-year warranty on defective materials or workmanship on their truck bed cover.
So this BAK revolver X4S tonneau will let you enjoy 5 years of hassle-free experience to make the investment worthwhile.
Pros
The tonneau cover fits a wide range of truck brands and bed sizes.
Durable yet lightweight construction.
Offer a smooth and stylish appearance.
Secure the whole length of the truck bed.
Suitable for hauling large cargo.
Offer superior weather protection.
Hold up to 400 Lbs. of evenly distributed weight.
Offer a 5-year warranty.
Cons
The tonneau freezes solid in cold weather.
May scratch the top of the tailgate.
Read also: How To Fix Tonneau Cover Latch?
Bak Revolver X4 vs X4S
| | | |
| --- | --- | --- |
| Features | Bak Revolver X4 | Bak Revolver X4S |
| Type | Hard Folding | Hard Roll Up |
| Made | Lightweight, rustproof aluminum | Premium vinyl coating on the aluminum slats |
| Protection | Regular weather protection | Tighter seal and better water resistance |
| Installation | Require intense installation | Easy to install |
| Durability | Moderate | High |
| Security | Regular features | Additional features include a lock mechanism |
| Price | Medium | High |
Bak Revolver X4S vs Truxedo Sentry CT
| | | |
| --- | --- | --- |
| Features | Bak Revolver X4S | Truxedo Sentry CT |
| Type | Hard Roll Up | Hard Roll Up |
| Made | Premium vinyl coating on the aluminum slats | Black aluminum slats with a matte-black, woven fabric |
| Protection | Tighter seal and better water resistance | The soft overlay sheds water off the sides of the cover. |
| Bed Access | Full (Roll the cover toward the bulkhead) | Full (The cover detaches using a quick latch system allowing to load larger items) |
| Warranty | 5-years | 3-years |
| Security | Additional features include a lock mechanism | Additional features include a lock mechanism |
| Price | Medium | High |
FAQs
What Is The Difference Between The BAK Revolver X2 And X4S Tonneau Cover?
The main difference between these two BAK tonneau covers is that the Revolver X2 comes in a glossy black finish, while the x4s come in a matte black finish. Despite being compatible with different makes and models of trucks, they have different size beds.
Does This BAK Revolver X4s Keep Water Out?
No tonneau cover can keep the full water out. But this BAK Revolver X4s is extremely water-resistant. If you install it properly, this tonneau will keep the inside dry.
How To Remove The BAK Revolver X4s Tonneau Cover?
Simply remove some bolts, and then the roll will come off easily. After removing BAK Revolver X4s, you may have the full length of the bed but won't get the whole width. The reason is that the side rails will still be in.
Read Also: 5 Common Retrax Bed Cover Problems
Final Words
BAKFlip covers are famous for their extended warranty and ease of use. The X4S is especially famous for its durability.
Although you may find some issues with the water resistance, the overall performance is worth the price. I am sure you got some additional details from this Bakflip Revolver X4S review to take a final decision.
Get the right tonneau cover for your truck and make every ride a safe and joyful ride for you and your precious cargo.
Read also: Best Weather Stripping For Tonneau Cover
Read also: What Size Toolbox For Toyota Tacoma?