Bakflip Revolver X4s Review 2022 (In Depth Guides)
Click Here To Check Recommended Tonneau Cover
We may earn commission from links on this page at no extra cost to you. We only recommend products we back!
Planning to buy a backflip revolver x4s hard rolling tonneau cover for your truck? Do you know what kind of performance you'll get from this Bak X4S after investing at a not so affordable price? If not, read this BAK Revolver X4s review till the end.
In the following, we have deeply discussed compatibility, construction, security, and other vital aspects of this hard rolling tonneau cover. The aim is to give you a clear idea about the quality and capability of this bak x4s tonneau so you can decide whether it will be worth it or not.
BAK Revolver X4s-Quick Overview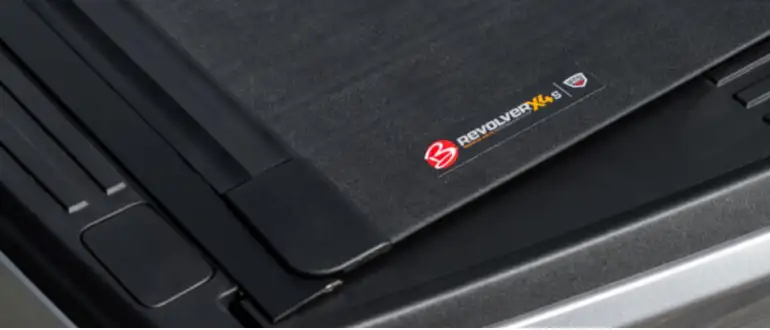 BAK has more than three decades of experience in producing exclusive aluminum and composite truck bed covers. They are now one of the leading tonneau cover brands, whether it is hard folding or retractable. So BAK is a reliable place to start.
This BAK X4s tonneau cover is the 3rd generation hard rolling truck bed cover from the brand and has got some exciting features. With a completely matte black finish, aluminum construction, and upgraded seals, this tonneau cover will offer a top-level of refinement to your truck.
The tonneau cover also offers precise protection and secures the whole length of the truck bed to keep the bed and loads safe and dry. This hard rolling tonneau is also straightforward to install and use, thanks to its user-friendly instructions.
Pros
The tonneau cover fits a wide range of truck brands and bed sizes.
Durable yet lightweight construction.
Offer a smooth and stylish appearance.
Secure the whole length of the truck bed.
Suitable for hauling large cargo.
Offer superior weather protection.
Hold up to 400 Lbs. of evenly distributed weight.
Offer a 5-year warranty.
Cons
The tonneau freezes solid in cold weather.
May scratch the top of the tailgate.
BAK Revolver X4s- Features
Compatibility
Checking the compatibility of a tonneau is an integral part of picking the right fitted one. No matter how durable and secure the tonneau is, it must be compatible with your specific make and model of truck to ensure complete protection and ease of use.
Read More: Tri-Fold Vs Roll Up Tonneau Cover
In this case, the BAK Revolver X4s is an extremely versatile option and goes with a wide range of trucks and bed sizes.
Toyota
This BAK Revolver X4s hard rolling tonneau cover is compatible with the 2007-2022 Toyota tundra and 2016- 2022 Tacoma trucks with 5'1'', 5'7'', and 6'7'' beds.
Dodge Ram
BAK produces two different sizes of hard rolling x4s tonneau for different models of Dodge Ram trucks. The bed sizes that match these tonneau covers are 5′ 7″ and 6′ 4″.
Ford
Ford users have good news from the BAK revolver x4s series. They produce a large variety of sizes of x4s truck bed covers that fit almost all the Ford models. So whatever your Ford has, 5′ 1″, 5′ 6″, 5′ 7″, or 6′ 10″ bed, you can easily pick the right one from the list.
Chevy/GMC Silverado/Sierra
BAK won't also disappoint the Chevy/GMC Silverado/Sierra user even if they want to stick with the exclusive x4s series.
They manufacture different size revolver x4s tonneau for Chevy/GMC Silverado/Sierra trucks with 5′ 3″, 5′ 8″, 5′ 10″, 6′ 6″, 6′ 7″ and 6′ 10″ beds.
Aside from that, the BAK Revolver X4s is also compatible with the 2017–2022 Honda Ridgeline with a 5′ 4″ Bed and the 2020–2022 Jeep Gladiator with a 5′ Bed.
Materials
Many customers complain that this hard rolling tonneau is expensive. But considering its material and construction, this revolver x4s truck bed is definitely worth the price. Its lightweight yet sturdy aluminum slats are covered by solid matte black vinyl.
The slats and clamps are also finished with a matte black powder coating. Combining these features, this BAK x4s tonneau gives a stylish look and protects the whole bed from any weather climate.
The feature also makes this truck bed cover able to withstand up to a 400 lb load and haul large cargo efficiently.
Design
Whether you require harsh weather protection, safe driving with large cargo, or whole-length bed security, this x4S tonneau cover will give you all.
If you pay close attention after installing this truck bed cover, you'll notice some impressive features all around this tonneau.
It has flat side seals, patented rotational locking rails, redesigned rear corner caps, and an integrated bulkhead seal. Combining these features, the tonneau offers a smooth appearance, full-length weather protection, and remains in place securely.
Read More: How Much Does A Hard Tonneau Cover Cost?
Efficient Operation
Installing this BAK Revolver X4s is a simple task as it doesn't require drilling or any special tools. Instead, the manufacturer offers an install guide for clamp-on installation within minutes.
You can also operate this tonneau from either side with one hand, keeping the hands and fingers safe, thanks to its automatic latch and caps on the aluminum slats.
The tonneau is also allowed to be stored tightly against the cab and secured with a strap and buckle system. This way, it offers full bed access to the user and allows them to drive without blocking the rearview.
Warranty
BAK offers a maximum of 5 years of warranty on defective materials or workmanship on their truck bed cover. So this BAK revolver x4s tonneau will let you enjoy 5 years of hassle-free experience to make the investment worthwhile.
FAQs About Bakflip Revolver X4s
What Is The Difference Between The BAK Revolver X2 And X4S Tonneau Cover?
The main difference between these two BAK tonneau covers is that the Revolver X2 comes in a glossy black finish while the x4s come in a matte black finish.
Despite both being compatible with different makes and models of trucks, they have different size beds.
Does This BAK Revolver X4s Keep Water Out?
No tonneau cover can keep the full water out. But this BAK Revolver X4s is extremely water-resistant. If you install it properly, this tonneau will keep the inside dry.
How To Remove The BAK Revolver X4s Tonneau Cover?
Simply remove some bolts and then the roll will come off easily. After removing BAK Revolver X4s, you may have the full length of the bed but won't get the whole width. The reason is that the side rails will still be in.
Final Words
BAK Revolver X4S truck bed cover is one of the most elite hard rolling tonneau covers right now. This water-resistant tonneau cover offers a seamless and low-profile look while ensuring exceptional security.
The tonneau cover is also extremely versatile to install on different makes and models of trucks with various sizes of beds.
So if you can consider some extra, we recommend you invest in this BAK Revolver X4S tonneau cover. Hope you find this BAK Revolver X4S review helpful.