Hard tonneau covers are not that hard on your wallet. You get them easily within an affordable price range.
The hard tonneau covers offer better durability and water resistance than the soft truck bed covers. No wonder they will be a bit pricy than any soft covers.
If you are planning to get a tonneau cover, it's common to wonder how much a hard tonneau cover costs.
One piece hard tonneau cover price is around $2000. The three-fold hard tonneau cover price ranges between $500 to $3700. The cost may vary according to make and model. Tri-fold covers come with a complicated build that makes them more expensive than any one-piece hardcover.
Let me give you an overview of hard tonneau cover prices according to the design.
How much does a hard tonneau cover cost?
Hard tonneau covers are way pricier than any soft truck bed cover. As you get better protection from environmental elements and cheeky thieves, it's worth paying a few hundred extra bucks.
Based on market data, let's look at the price range of hard tonneau covers.
| | | |
| --- | --- | --- |
| | Lowest Price | Highest Price |
| One-Piece Hard Cover | $1700 | $2000 |
| Three-Fold Hard Cover | $500 | $3700 |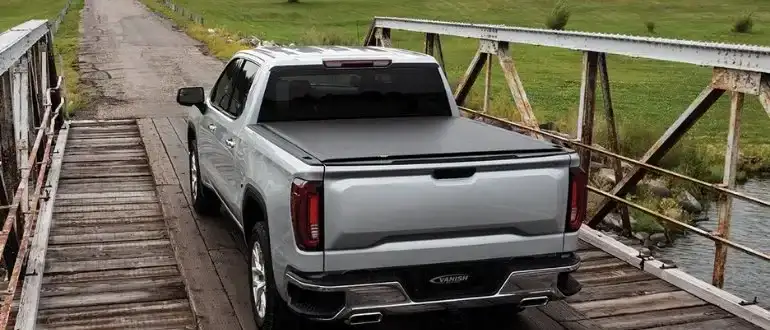 It's time to compare the hard tonneau cover prices with other varieties.
The cost of your truck bed will vary depending on the quality of the material used and the size of the truck bed.
| Tonneau Cover | Cost |
| --- | --- |
| Folding (bi-fold and tri-fold, soft and hard) | $200-$1500 |
| Roll UP (soft and hard) | $180-$500 |
| Retractable | $800-$2000 |
| Hinged | $700-$1500 |
Read More: Is A Hard Tonneau Cover Worth It?
3 Factors to determine the tonneau cover cost
There are several variables to consider if you're looking for the finest tonneau cover for your vehicle.
To determine which pricing point is right for you, you must consider the following three factors wisely.
10 Best Hard Tonneau Cover For F150
1. Materials
Material is the most vital factor that determines the tonneau cover price. Vinyl-coated metal covers are more expensive than any non-coated or fabric covers.
Multi-piece metal covers cost more than one-piece covers. The construction and water resistance of three-fold covers require top-notch manufacturing that hikes the price.
2. Cover size
Bigger truck covers will cost more than the smaller ones. You will find 8′ covers more expensive than any 5'6″ covers.
Besides, bigger covers are uncommon, so some may be unavailable in the regular market. It also makes them a bit pricier.
3. Brand
High-end tonneau cover brands cost more than the regular or affordable brands. If you are planning to buy renowned brands like Truxedo, or Bak, it will cost a few hundred extra bucks.
You may get an affordable price range from mid-level brands. However, compromising on qualities can be an issue at that time.
10 Best Hard Tonneau Cover For Jeep Gladiator
The installation cost of a tonneau cover:
If you want to put a cover on your car, the price varies depending on what kind of cover you want, how big your car is, and how complicated your installation is. You may even decide not to do this by professionals and do it yourself.
Professional installation usually costs more than if you do it yourself, but it will also ensure that your cover is put on correctly.
Depending on your car, it can cost you anywhere from $100 to $400 to install a tonneau cover.
Many vinyl coverings are also available, which are less expensive to install than metal covers.
Most truck owners can install their covers, but larger aluminum covers may be more challenging to install and may necessitate the services of a professional.
Tonneau Cover Fit Guide | How To Choose A Right One?
FAQs
1. How Long Do Hard Tonneau Covers Last?
A tonneau cover has a life expectancy of up to ten years. The quality of a tonneau cover, installation technique, and maintenance level are all aspects that influence its overall lifespan. 
According to the manufacturer, a tonneau cover should be washed and inspected for wear and tear about every three months.
2. Which Is Better Hard Or Soft Tonneau Cover?
Both soft and hardcover tonneau covers keep your valuables hidden. Truck bed cargo is protected with a soft tonneau cover that keeps it out of view and shields it from the weather, but hardcovers provide an extra layer of protection. 
3. Do Hard Tonneau Covers Save Gas?
Using a tonneau cover reduces drag by 5.7 percent on average. Fuel efficiency improved by around 1.8 percent due to the reduced drag.
Even while an improvement of 1.8 percent in gas mileage isn't huge, it adds up over the course of a year of filling up your truck.
4. How Heavy Is A Hard Tonneau Cover?
The weight ranges from 50 to 110 pounds for hard tonneau covers.
5. How Long Does It Take To Install A Tonneau Cover?
Installing most tonneau covers on most vehicles takes roughly 30 minutes or less.
Final Thoughts:
The utmost purpose of the hard tonneau cover is to protect the cargo from the elements, such as rain and snow. 
Because of this, materials like vinyl, plastic, and aluminum are commonly utilized to create them, as they are both long-lasting and lightweight, making them ideal for everyday use.
These covers are a fantastic investment for any vehicle owner who wishes to protect their goods from harsh weather conditions, and they are reasonably priced.
Read also: Bakflip Mx4 Problems