UnderCover tonneau covers offer ultimate control of the truck bed with multiple secure riding positions. It's easy to remove and can be mounted flush with the truck bed rails to ensure the most watertight protection.
Unfortunately, there are some UnderCover tonneau cover problems you can experience, and these are something you must be aware of to keep the bed cover in optimum condition.
Today we will discuss a few common problems that occur with UnderCover tonneau covers.
The Most Common Undercover Tonneau Covers Problems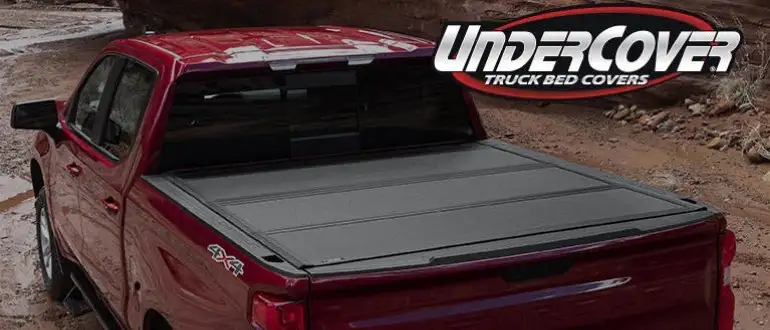 Read also: Gator Trax Vs Retrax: Which One Is Better?
Broken hinge
Undercover tonneau covers are quite tough in design, but their hinge can break down on one side, according to some customers.
It can happen due to the design of this tonneau cover. The hinges of this bed cover are held on by 3/16″ pop rivets into the plastic. 
So during driving, even on paved roads, the tonneau cover shifts around continuously. So you may have to re-adjust the hinge to keep it straight.
The broken hinge can also cause some other difficulties, like painting damage on both sides of the box.
Rivets sheared
Some users complained that the rivets on this truck bed cover were sheared more often and often left the cover on the side of the road.
It can also take the paint off, and you may need to take the car to the body shop for repairs.
Read also: How To Patch A Hole In A Tonneau Cover?
Seal issue
Some ultra-flex materials cause seal issues even within a month of installation. It can be a great concern for you, especially if you do not garage a car and live in a rainy area.
Read More: 5 Common Gatortrax Tonneau Cover Problems And Solutions
Noise close to the cab
Though it's the least, there is a complaint against the undercover tonneau cover that it produces rattles while hitting the bump. Users also experience the bed bouncing.
Read also: How To Fix Tonneau Cover Latch?
Tips to solve undercover tonneau cover problems
The potential reasons for those Most of the difficulties are faulty installation, and some are due to consistent use. So the first thing you can do is take the car to the repair shop to reinstall your truck bed cover.
Hopefully, most of those bed cover problems will be solved. Unfortunately, Undercover SE can be unable to handle paved roads, and in this case, try to avoid driving on such a surface.
Read More: 5 Common Retrax Bed Cover Problems And Solutions
Points to improve on the undercover tonneau cover
Though the outer seal on the undercover flex bed cover is rigid, it takes a long time to ripple in it to lay down and seal.
If you are sealing the bed cover in the summer, it won't be time-consuming. Another important thing to know is that if your truck has a bed liner, you will have to cut it and drill slightly.
The drain of the undercover tonneau cover needs to be installed in the corners. So you have to notch out away in the liner to get behind it.
You may need to drill through the bed liner multiple times to get the insert holes to install the back corner mount for the side rails.
The installation guide isn't completely clear either. It doesn't mention that the tailgate must need to be closed before closing the final fold. Otherwise, you can damage the final fold if you try to smash the tailgate to close it down.
Read More: Undercover Armor Flex Ultra Flex & Flex Tonneau Cover Reviews
FAQs
Is UnderCover's Tonneau Cover Good?
The UnderCover tonneau cover has all the essentials that a truck owner is looking for. These truck bed covers ensure optimum protection as they remain locked with the tailgate and don't flap in the wind.
More importantly, you will get full access to your truck bed if desired. The UnderCover tonneau covers are also easy to operate, making them worth any point.
Is It Difficult To Install An UnderCover Tonneau Cover?
Installing UnderCover tonneau covers is quite a straightforward process and requires around half an hour. Thanks to its includes installation guide that describe the process clearly.
So all you have to do is mount a pair of rails on any of the bedsides, place drain tubes and stripping weather, lie the cover in place, and finally tighten it down securely once you get the desired position.
Read also: Best Weather Stripping For Tonneau Cover
Final words
UnderCover tonneau covers offer lots of flexibility and convenience for most brands and models of trucks. As a result, picking and enjoying its improved protection with a great appearance will be much easier.
Though you may encounter some UnderCover tonneau cover problems if you use these frequently, this is something you can avoid. it's better to have clean knowledge to be aware of misuse of the bed cover and retain its longevity and protection.
Read also: Bakflip Mx4 Problems