Lomax Tonneau Covers are popular among truck owners for their impressive low-profile design and optimum protection.
But over time, you can face some Lomax tonneau cover problems that can weaken its security and put its longevity at risk.
Thus, having a clear understanding of those Lomax Tonneau Covers problems and their solutions is a smart idea to get the most out of them without investing in a new one. 
Continue reading to learn about common problems that you may encounter when using the Lomax Tonneau Cover, as well as solutions to them.
You will find Lomax Tonneau Cover at Amazon.
Most Common Lomax Tonneau Cover Problems
A Faulty Latch
Loose Grip
The Latch Pops Out During Driving The Truck
A Leaking Cover
Squeaky Noises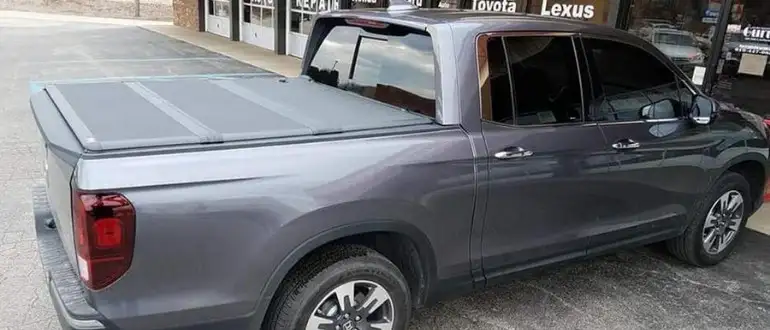 Top 3 Lomax Tonneau Cover Alternative
A faulty latch
The users who complain about the Lomax Tonneau Covers mostly mention that its latch stops working after a moment. The latch stops fastening and makes it difficult to close.
Cause
There may be a big gap between the latch head and the tension plate which is causing this difficulty.
Solution
Fortunately, repairing a faulty latch is quite easy. Simply adjust the tension plate to get a tighter grip.
Plus, while locking the latch, make sure you hear a clicking sound. It's the only indication that your cover's latch is locked completely.
Loose Grip
If you close the tailgate more often before fastening your bed cover, you may experience a loose grip on your bed cover.
Causes
If the side rails that usually hold the cover in place shift, the cover can cause a loose grip. It's a huge source of headache for any vehicle owner. The reason is that they don't get adequate protection from the loose grip tonneau cover.
Solutions
The fastest way to solve this problem is by realigning the bed cover's side rails. This way, you can considerably improve the latch grip.
If you installed your Lomax tonneau cover by yourself, realigning its side rails should be a simple task for you.
But if you installed the bed cover yourself, take it to the professional mechanic to realign it safely and successfully. Otherwise, you could damage your Lomax tonneau cover completely.
You will find Lomax Tonneau Cover at Amazon.
The Latch Pops out during driving the truck
It's a serious problem with the Lomax tonneau cover as it can cause you to lose your cargo easily while driving.
Causes
With time, your Lomax tonneau cover's side clamps can lose their grip and pop up during driving. It can happen due to the wind blowing as well.
Solutions
If you don't fix this issue immediately, you could lose the latch completely. To solve this, readjust the side clamps to fit them properly.
But if the difficulty is occurring due to the worn-out latches, you will have to replace the spring too.
A Leaking Cover
Getting a leak is a common tonneau cover problem, whether it is a Lomax tonneau cover or other brands.
Even almost all Lomax Tonneau Cover owners experience this difficulty in their lives. But it doesn't mean Lomax Tonneau Covers are weak and they can wear out easily and cause leaks.
Causes
Luckily, fixing leaks in the Lomax Tonneau Cover isn't a big deal. Identifying the source and sealing it can help you prevent the problem.
It's also worth knowing how to prevent leaks from the Lomax Tonneau Cover. Installing water pipe insulation on your tonneau cover is the best way to avoid this issue. 
Water will accumulate on top of your bed cover during rain. So, without drainage, the water can get into the cover.
In this case, installing a water pipe will drain the excess water from the cover's surface and prevent leaks.
After fixing the accumulation problem, identify and fix the leaks. Pour some water on the bed cover and mark the spots to indicate whether the water is leaking.
Solutions
Buy some high-quality seals from an auto shop or hardware store that resemble the color of your bed cover and apply them to the bed.
After sealing, check whether or not the leaks are fixed. You can also go inside the truck's bed to check the leaks properly. Still, if you discover leaks, reapply some sealant.
Squeaky Noises
This Lomax Tonneau Cover problem causes the older one more than the new one, especially if you don't install it properly.
Cause
The mounting clamps on the tonneau cover mostly originate from this problem.
Solution
If you hear a squeaking noise while driving, tighten the mounting clamps and secure them perfectly.
Are Lomax Tonneau Covers Waterproof?
If you keep most of the water off the truck bed, you can install this Lomax Tonneau Cover properly. But it isn't 100% waterproof.
Still, Lomax Tonneau Covers are capable of protecting your truck bed and cargo from water damage.
Remember, you will get a different level of waterproof protection from different types of Lomax Tonneau Cover.
A painted one-piece Lomax Tonneau Cover ensures the most water-tight security, making it perfect for the truck owner who lives in I rainy area.
The other types of water-resistant Lomax Tonneau Covers are hard roll-up, hard-folding, and retractable models. These also ensure top-notch performance during the rain. Conversely, the soft folding and soft roll-up models offer a moderate level of water tightness.
Read More: Are Tonneau Covers Waterproof? (Find Out The Real Things)
How to Prevent Lomax Tonneau Cover Problems
You can fix most of the Lomax Tonneau Cover problems at home by yourself, but some will need professional help.
The way you operate and maintain your Lomax Tonneau Cover will greatly affect how long the bed cover will serve you.
More specifically, opening and closing your Lomax Tonneau Cover properly can keep you away from most of its problems.
Read More: 5 Common Retrax Bed Cover Problems And Solutions
The Importance of Removing Your Lomax Tonneau Cover Properly
Sometimes removing the Lomax Tonneau Cover becomes essential, especially when carrying lots of cargo or installing certain accessories on the truck bed.
You also need to remove the truck bed cover if it has become old or worn out. Paying attention while removing the Lomax Tonneau Cover is a must need to keep the cover safe for further use.
The level of difficulty in removing a Lomax Tonneau Cover depends on its type. In general, a soft bed cover is fairly straightforward to remove, while hinged fiberglass models can test your skill level.
You can still handle the job efficiently by removing the textile cover and leaving the side rails. If you have experience installing this bed cover, removing it will be much easier.
Simply collect the essentials like screwdrivers, wrenches, and goggles and start the operation. 
Read More: 5 Common Gatortrax Tonneau Cover Problems And Solutions
Tips to Buy the Best Lomax Tonneau Cover
As you know, Lomax Tonneau Covers come in lots of variations. So, having a little knowledge of them can help you pick the most suitable Lomax Tonneau Cover for your truck.
Obviously, choose a Lomax Tonneau Cover that is easy to operate and ensures improved security for your bed and cargo. Don't ignore the warranty and durability as well. The warranty will be especially useful because, as you are aware, the Lomax Tonneau Cover can cause issues.
FAQs About Lomax Tonneau Covers
Are Lomax Tonneau Covers Worth It?
Absolutely, Lomax Tonneau Covers are great for their low-profile design and attractive appearance. The Lomax Tonneau Cover is made of solid construction and can withstand heavy snow loads. It is also very simple to install. The problems we mentioned above are pretty common in most tonneau covers.
Where Is Lomax Bed Covers Made?
Tri-fold Lomax Tonneau Covers are made in North Dakota using premium materials. The manufacturer also uses the highest caliber of workmanship for superior service.
Final words
Knowing those Lomax tonneau cover problems doesn't mean you should avoid investing in this brand. Instead, these will keep you prepared to handle those tonneau cover problems whenever you face them.
The tonneau cover endures for a couple of years. So, whether it is an installing fault or continuous usage, you can avoid those maintenance tips.
Lastly, Lomax Tonneau Covers are worth buying and you can get the most out of them by understanding their problems and solutions.
Read also: How To Fix Tonneau Cover Latch?