Should I Put A Tonneau Cover On My Truck In 2022?
We may earn commission from links on this page at no extra cost to you. We only recommend products we back!
Tonneau Covers, be it soft or hard, are truly visually appealing, and there is no doubt about that. They also provide a refined touch to the overall appearance of your vehicle by concealing the unclean bed that is generally apparent. 
However, having a tonneau cover installed on your truck has several advantages that go far beyond their visual appeal.
All the benefits of having one are so compelling arguments that every truck owner should invest in one.
Should I put a tonneau cover on my truck?
Yes, you should put a tonneau cover on your truck. In fact, installing one can be one of the best utilization of money that you have to spend on your truck from time to time.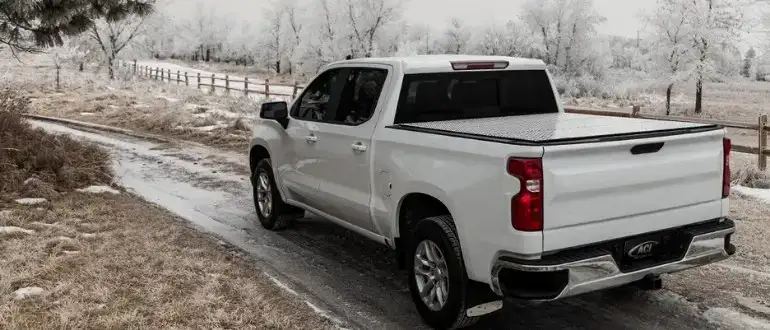 In short, they safeguard the cargo against rough weather, rain, theft, etc. They also add value to the truck and provide the optimal resale value as well. The visual appeal can even attract you the most if you are a fashion freak.
Amazing benefits of installing a tonneau cover:
There are so many benefits to mention, but the most amazing benefits are:
1. The Best Car Modification:
You can increase the safety and security of your truck by equipping it with a quality tonneau cover as an aftermarket addition. You can better organize and manage your goods by installing a tonneau cover on your vehicle.
2. Safe and secure equipment or luggage transportation:
The primary advantage of a tonneau cover is the assurance that whatever you're transporting will be kept safe.
There is no better way to secure your cargo, whether it is tools for a hard day of labor, baggage for a family vacation or a bed full of mulch come spring. 
Rain, snow, wind, and everything else that may come your way may be shielded by a tonneau cover. 
3. Enhanced Safety and Security:
Preventing potential thieves from seeing and thinking about your valuable cargo is an excellent first step in safeguarding your equipment from theft.
A truck bed cover does exactly what it says on the tin: it conceals whatever you are transporting, keeping it out of sight. 
In addition to merely hiding what you're transporting, many tonneau covers are equipped with a locking mechanism, which helps to ensure that anything you store in the bed of your truck is kept safe and secure.
4.  Improved Gas Mileage:
Although this is one of the big benefits, this may be the most underappreciated feature of a tonneau cover. Because of the tonneau cover's aerodynamic shape, your bed will have reduced air drag. 
However, some cars are able to save as much as 10% in gas mileage compared to an open bed by using this method. So, in the long run, with these savings, your tonneau cover will pay for itself.
5. Aesthetics:
A tonneau cover cleans up truck lines and adds security to valuables in the vehicle bed. Some tonneau coverings may be painted, making a show vehicle more appealing.
Tonneau covers are available for full-size, mid-size, and mini-trucks. Work trucks feature secure tonneau coverings for heavy lifting. There are tonneau coverings for ordinary groceries and street custom haulers.
6. Improved Truck Versatility:
Mobility solutions, ladders, and kayaks may all be transported in truck beds equipped with rack systems. To boost your truck's use as an off-road warrior or a workstation, consider adding a tonneau cover.
7. Maintenance:
Most tonneau covers are low-maintenance. They're all washable with soap, water, and a vinyl cleaner if necessary. The fiberglass color-matched coverings, like your truck, require periodic waxing.
Keep the retractable cover's track system clean. Tonneau lock mechanisms, arms/hinges, and tri-fold hinges may use a little oil. Otherwise, you're fine to go.
8. Bed Accessory Friendly:
Tonneau covers are often compatible with specified bed attachments based on your vehicle and cover design and brand. The use and fitting of bed accessories are affected by a tonneau cover.
9. Value:
The tonneau cover on your truck will save you money today and increase the value of your vehicle when you sell it. Low gas mileage, cargo damage or loss, and theft are all reduced with the use of a tonneau cover.
It will also safeguard the bed of your vehicle, reducing the need for costly repairs in the future. Nevertheless, if you ever decide to sell your vehicle, the bed will be in far better condition than if it were left open.
This will save you money in the long run by preserving the resale value of your car. Don't only buy a new car; get a tonneau cover to protect it.
FAQs about putting tonneau covers on trucks:
1. Do You Really Need A Tonneau Cover?
The money you spend on a tonneau cover is money well spent. From keeping your cargo from being lost or damaged to increasing your truck's appearance, to preventing wear and tear, to preserving its resale value.
2. Is It Hard To Install A Tonneau Cover?
Installing soft covers is pretty simpler than hardcovers, and it normally takes a non-expert around an hour to complete the task. It's best to enlist a few friends for assistance while installing a hardcover as they are heavy and a bit difficult to install.
3. Can You Put A Tonneau Cover On A Truck Without Bed Rails?
Tonneau covers do not need the use of a deck rail system, and a variety of cover options are available for vehicles equipped with or without a deck rail system.
When the covers are employed, the system automatically uses clamps to fasten the tracks to the bedrail's lip rather than to the deck rail.
4. Can You Have A Tonneau Cover With A Headache Rack?
It requires no drilling and works with any Magnum headache rack. It's not always easy to find compatible aftermarket components. The Gator SRX soft tonneau cover takes care of it.
5. Can Tonneau Cover Go Over Bed Liner?
Yes, it is possible to use a Tonneau Cover in conjunction with a Bedliner.
Final Thoughts:
The primary function of a bed cover is to provide security. If you have the equipment or other items that you carry on a regular basis, you'll want to keep them secure.
Despite the fact that all covers provide some level of security. 
The phrase "out of sight, out of mind" is the first line of defense for all. Yet, certain covers provide a better level of protection than others.
This is where the tonneau covers truly stand out, as has been made very obvious in the preceding debates.