Both the tri-fold and roll-up tonneau covers come in different designs with a unique purpose to protect the truck bed and stuff differently.
As a result, choosing one of the tonneau covers necessitates some basic knowledge in order to compare them.
To handle the task in an even better way, we have to come up with a tri-fold vs roll-up tonneau cover debating guide.
Following the article, we will compare both the tonneau covers with plenty of features and figure out the strengths and weaknesses of each.
The aim is to help you to decide between these two in the most appropriate way to have a better experience with the tonneau cover.
But if you are in a hurry and interested to see the most ratted roll up and tri-fold tonneau cover, here they are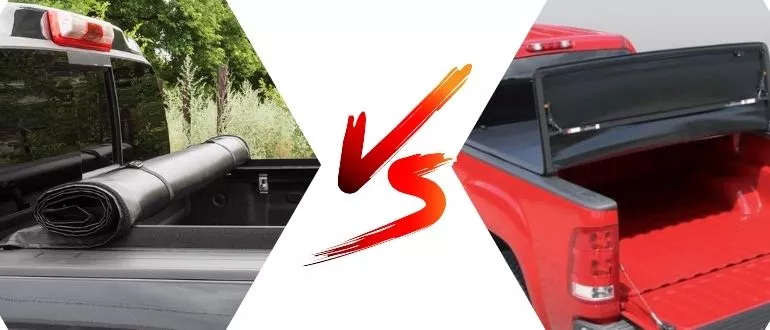 Tri Fold Vs Roll Up Tonneau Cover -Comparison Of Different Features
The main difference between roll up and tri fold tonneau cover is that roll up tonneau cover is cheap, lightweight and low-profile design while tri fold tonneau cover offers more security and privacy with advanced locking mechanisms.
Quick comparison
Entities
Roll-up tonneau cover 
Tri-fold tonneau cover
Panel core 
Profiled Structure
Premium Density Panels
Warranty 
Average 3 years 
Average 5 years
Panel finish
Gloss Vinyl
Premium Matte Finish
UV Resistant
Yes
Yes
Installation time
Around 30 minutes
Around 30 minutes
Pros



Opening and closing are quite easy.
Don't need to deal with snaps and Velcro.
Easy to maintain.
Offer better securing with locking tailgate.
Easier to open and allow to open in both ways.
More secure than a roll-up tonneau.
Allow placing normal stuff on the top.
Design with greater durability and robustness.
Cons 
Isn't much sturdy.
Less secure than tri-fold.
Pricy than roll up tonneau cover.
Isn't compatible with an old model truck.
Lock the rearview if remain fully open.
Examples
Tyger Auto T1 Roll Up Tonneau Cover,
MaxMate Soft Roll Up Truck Bed Tonneau Cover,
TruXedo TruXport Soft Roll-Up Truck Bed Cover.
Gator EFX Hard Tri-Fold Truck Bed Tonneau Cover, YITAMOTOR Tri-Fold Truck Bed Tonneau Cover, Tyger Auto T5 Tri-fold Tonneau Cover.
Security
Edge: tri fold
Security is one of the key reasons for investing in a tonneau cover, especially when it needs to carry cargo.
Both types of tonneau cover ensure quality security in a different way from the load tonneau cover. While the tri-fold tonneau cover offers an automatic latch system. With an integrated latch system, the roll-up tonneau secures the loads.
Conversely, considering the integrated latch system, a tri-fold tonneau cover is more robust than its roll-up counterparts. So clearly, using the Tri-fold tonneau covers, you will have better security for your stuff and cargo.
Installation
Edge: None
Installation time and method are vital when it comes to maintenance and properly using a tonneau cover consistently.
The truck owner may often need to install and remove the tonneau cover for various purposes. So if the tonneau won't let you install easily and quickly, the user experience will be frustrating.
Luckily, both the roll-up and tri-fold tonneau covers allow installation and removal in a pretty easy way, and both take only around 30 minutes. So the difference in installation isn't a big deal, whether it is rolled up or tri-fold.
Environmental Protection
Edge: tri fold
Environment protection means keeping the cargo safe from rain, snow, wind, UV rays, and other things. Once again, you will find the tri-fold tonneau cover far ahead of the roll-up as it ensures a better seal against moisture.
Read More: What Size Tonneau Cover Do I Need?
Apart from these, the surface of the tri-fold tonneau is UV resistant and remains scratch-free. Conversely, a roll-up tonneau also offers good protection but isn't as good as a tri-fold.
Usage
Edge: None
The usage of a tonneau cover depends on lots of aspects. You may feel the roll-up tonneau cover is easier to open and close due to its rolling-up abilities. But rolling up the tonneau can block the rearview and prevent you from observing the loads.
Read More: Tonneau Cover Gas Savings Calculator
Conversely, the tri-fold tonneau is also fairly easy to open and close. However, the tri-fold tonneau blocks the rearview and prevents getting experience carrying loads.
Design
Edge: tri fold
Most tonneau covers are built to last and provide the pickup truck owner with years of service. For tri-fold, this tonneau cover is designed with robust panels of aluminum and a matte finish to become durable.
Roll-up tonneau covers, on the other hand, are designed with a flexible structure and glossy vinyl finish. So you can choose any of the tonneaus following your personal preference, but the tri-fold is more ergonomic.
Material
Edge: tri fold
Both types of tonneau covers are made of aluminum, but the trifold has a premium version. Despite this, the roll-up tonneau has vinyl on the top and a premium matte finish on the tri-fold, making both tonneaus UV resistant.
In particular, the tri-fold has robustness on the inside and clever protection on the top, making it better quality than the roll-up.
Price
Edge: roll up
The roll-up tonneau cover is considerably more affordable than the tri-fold.
So, if you're on a tight budget and want quality protection for your truck bed and its contents, go with the roll-up tonneau. By investing a bit more price you can enjoy better protection by buying a tri-fold tonneau.
Which Kind Is Best For You – Tri Fold Or Roll Up?
The truth is, there are advantages and disadvantages for both styles. The major drawback to tri fold covers is that they take longer to open (about 2 minutes).
Read More: Does Tonneau Cover Save Gas?
You also need tools to install it which can be a pain if you often switch between side by side UTV's or other equipment.
They are the best option though if you don't go off-road much with your truck. Because they do provide total bed protection when closed not just against water as roll-up styles do.
If you only keep the bed covered while transporting contents then this may not be an issue at all. But many people still want a fast, easy cover that doesn't take too long to open.
Read More: Can You Stand On A Tonneau Cover?
A roll-up style requires no tools for installation and they are extremely quick to operate. Just unroll them when you need them and they can be zipped back up in seconds.
They do not offer the same level of protection as a tri fold cover though because they do not protect against water infiltration when closed. This is not much of an issue if your truck is mostly used on sealed roads or even dirt roads.
But we generally would recommend that any type of tonneau cover be kept open whenever possible (with the exception of roll-ups) in order to provide maximum air circulation.
Read More: Can You Go Through A Carwash With A Tonneau Cover?
If you go offroad quite often then this may not be enough for you and you may prefer the extra bed protection that a tri fold cover offers.
Read Also: 5 Common Retrax Bed Cover Problems
FAQs About roll up vs tri fold tonneau cover
Tri fold or roll up tonneau cover – Which one is easier to install?
Both installations are easy and will take approximately 30 minutes each. If you use the free instructional videos on our website to assist, installation should be much quicker.
Roll Up Vs Tri Fold – Which Locks Better?
This really depends on the make/model of tonneau cover that you purchase as some models have more sophisticated locking systems than others. There's no harm in spending a little bit of money on an advanced lock system with your tri-fold cover to help prevent it from being stolen.
Roll up vs tri fold – which is more aerodynamic?
Neither style is particularly aerodynamic taking into account their increased drag. However, you can minimize this by making sure that the tailgate is closed when the cover is open. We also recommend that you install a rear hitch or weight box on your truck in order to provide maximum stability, which will reduce the amount of wind resistance at speed.
Final words
We compared tri-fold vs roll-up tonneau covers in a variety of features and attempted to identify the most capable tonneau cover.
Hopefully, after reading the guide, you won't have any confusion about choosing between tri-fold and roll-up.
Overall, both are high-quality tonneaus with distinct features. But remember to compare these two trucks' coverage in the above-mentioned aspects if you need to choose the most suitable one.
Read also: Can You Go Through A Carwash With A Tonneau Cover?