Are you expecting more from a tonneau cover and wondering if a tonneau cover saves gas? Though it's an excellent question, the answer isn't as straightforward as it sounds. 
There are plenty of mixed opinions out there and we have covered this guide with plenty of different studies and explanations. The intention is to offer you a wise answer based on scientific and consumer experience.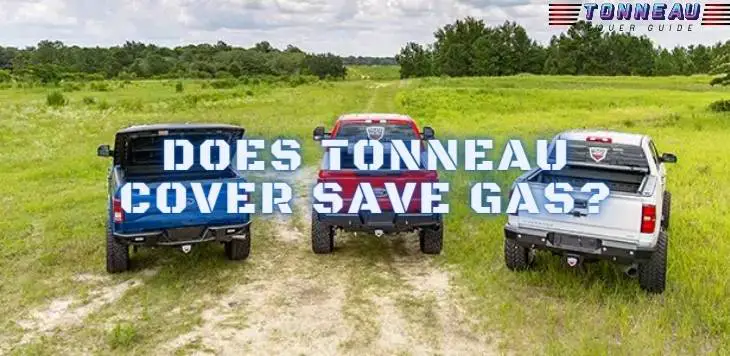 Does tonneau cover save gas?
Yes, a tonneau cover can save gas up to 10%. But the result depends on several factors, including the type of tonneau cover, driveway, speed, and more. In most situations, the pickup owner gets a positive result on gas mileage by using a tonneau cover.
Some of the best tonneau cover that saves gas:
How much gas does a tonneau cover save?
Many car owners believe that covering a pickup truck bed reduces drag. Besides, they think a combination of open cargo space and tailgate capture airflow at high speed brings more drag.
Practically, making the pickup more aerodynamic and reducing drag means superior gas mileage. Moreover, better MPG saves a considerable amount at the pump.  Despite other advantages, people are curious to know if tonneau covers save gas.
There are plenty of ways you can solve the problem, and fortunately, some studies have been accomplished to get a wise answer. Moreover, there are huge opinions out there following science and individual experience. Let's check out both of them and find out the reality.
The Wind Tunnel Study
In 2007, the SEMA (Specialty Equipment Market Association) researched the most scientific way to answer this question. They tested 4 different pickup trucks from different manufacturers and applied 13 different tonneau covers including retractable, folding, roll-up, and hinged. The trucks tested were:
GMC Sierra 
Chevy Silverado 
Dodge Ram 1500 
Ford F-150 
Every tonneau cover they tested included both soft and hardcovers. But they didn't release any specific research data obtained from specific tonneau brands.
The team tested the trucks in a full-size wind tunnel in Mooresville, North Carolina. They used the AeroDyn Wind Tunnel to check how the pickup performed with and without a tonneau cover.
The intention was to measure whether the tonneau cover reduces drag or not. During the research, they found that every truck got less drag while using a tonneau cover.
Though the difference wasn't massive, it was measurable. A pickup with a tonneau cover reduces 5.7% of drag on average. With such an amount of reduction, it improved 1.8% fuel efficiency.
However, 1.8% better gas mileage isn't huge, but at the end of the year, it makes a considerable difference in fueling up. The bottom line of the Wind Tunnel Study was using a tonneau cover to offer a significant enhancement in savings on gas.
Consumer Reports Test
Consumer Reports performed in 2013 with a Dodge Ram V8. They consider things. Number one: is having the tailgate up or down affects fuel economy, and number two: is a soft tonneau cover improves fuel economy.
Interestingly, they discovered driving a pickup with a tailgate down with a soft tonneau cover worsened the fuel economy. But remember, they used a single tonneau cover with only one truck.
Though this result isn't strongly acceptable, it is still discussed among people when it comes to tonneau covers and fuel economy.
Other factors to consider
Driving Speed
One important factor to remember is that most of the research was conducted while driving on highways at full speed. But the reality is that most pickup drivers drive a mix of highway and city.
It means the result of fuel economy the driver gets was from traveling at higher speeds. So if you travel at a mix of driving speeds, then you may save less.
Tonneau Cover Weight
A Tonneau cover that is made of fiberglass is usually heavier than others and offers lower gas mileage. Conversely, a lighter tonneau doesn't add much weight, resulting in improved gas mileage.
Thus, the pickup owner should consider both the tonneau cover weight and driving speed to enjoy better gas mileage.
Read More: How Much Weight Can A Tonneau Cover Hold?
So what is the result?
Highlighting the article, we have found mixed results and opinions from different sources. While one study found a modest improvement in fuel economy, other experiences were worse. In our personal opinion, the SEMA result is the most scientific and encouraging. They practically prove the improvement in gas mileage. 
Should I use a tonneau cover?
Obviously, better gas mileage isn't the only advantage the tonneau cover brings. Actually, it's not top of the list of the benefits that tonneau covers offer. Best of all, the tonneau cover successfully protects the pickup bed and contents even from extreme temperatures.
Despite better mileage, do you want to leave your pickup bed and cargo open in direct sunlight? If not, then you should invest in a tonneau cover.
Moreover, tonneau covers are available in different types and designs, so the pickup owner is allowed to choose the most suitable and compatible bed cover for their truck. Among them, the hard tonneau cover effectively protects the loads and locks the stuff to prevent theft.
Plus, soft tonneau covers are lightweight, flexible, and available at an affordable price while boosting the beauty of the truck.
How can I make my truck get better gas mileage?
The following are some effective tips that help get better gas mileage:
Regular maintenance of a truck
Maintain Good Aerodynamics
Driving steadily on the road
Using the right type of gas
Using the truck's A/C rarely
FAQs
Are Tonneau Covers Worth It?
A tonneau cover is a beneficial investment as it offers improved gas mileage and keeps the cargo from loss and theft. Moreover, it protects the pickup bed from a harsh environment and prevents serious damage. Thus, the tonneau cover is definitely worth the investment.
Does A Truck Get Better Gas Mileage With The Tailgate Down?
Driving a truck with the tailgate down offers better gas mileage. The reason is that it allows airflow more efficiently and reduces the amount of drag on a truck.
Final words
Nevertheless, the tonneau cover is a better investment to have plenty of advantages at a time. But if you specifically consider the fuel economy and ask if tonneau covers save gas mileage, you will find a mixed answer.
Though there is some negative opinion, most of the results are positive and found from reliable sources. So, whether it is protecting the cargo or other loads in the truck bed, or enjoying improved gas mileage, a tonneau cover is an appropriate option.