To fulfill the various types of needs with different functionality and style, manufacturers offer different types of truck bed covers.
Though the initial intention is the same, offering protection to the loads, these tonneau covers work in a different way, are made of different materials, and bring individual outlooks.
So if you are in search of a new tonneau cover for your truck bed to have optimal protection with a stylish appearance, let's do a little search before making the final call. 
In this guide, we will briefly discuss different types of truck bed covers with their pros and cons to help you realize what and how they will offer. The intention is to help you pick the right tonneau cover based on your specific requirements and the car space.
Different Types Of Truck Bed Covers
Depending on the workability and design, there are different types of tonneau covers available on the market. Here is the list of the most popular truck bed covers types:
Folding Tonneau Covers
Retractable Tonneau Covers
Full Shell Tonneau Covers
Hinged Tonneau Covers
Snap Tonneau Covers
Tool Box Tonneau Covers
Electric Tonneau Covers
High Impact Plastic Lids
Painted Fiberglass Lids
Locking Tonneau Covers.
1. Roll Up Truck Bed Cover
The Roll-up tonneau cover is easy for hauling and it keeps the cargo away from different elements while providing excellent security.
With an attractive and low-profile design, the roller up tonneau cover reduces aerodynamic drag and increases gas mileage. Easy to use, this bed cover is ideal for one-person operation.
Made of textured, double-coated reinforced vinyl, it's a flexible truck bed cover that offers better protection at extreme temperatures.
Besides, it is designed with tough nylon straps that keep the cabin from any scratching. A roller up tonneau cover can be both soft and hard.
Soft Roll up Truck Bed Cover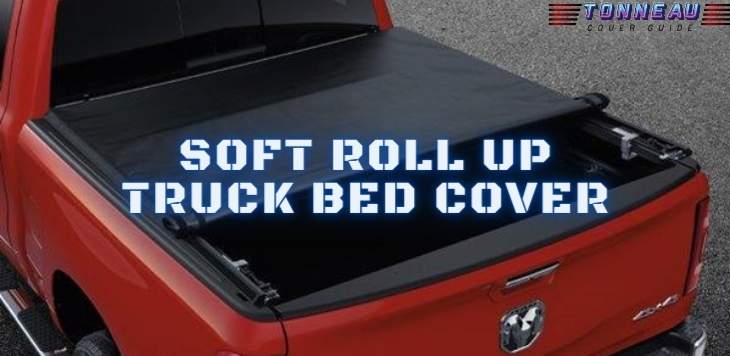 This roller up tonneau cover is relatively cheaper and straightforward to install. It can be installed on rails attached using clamps and, following the title tag, you can roll them up.
Between the two installation styles, the top mount style covers the pocket hole and doesn't allow the use of ladder racks and tie-down. Conversely, flush mount soft cover allows using tie-down.
Pros
Relatively cheaper.
Easy to install and use. 
Suitable for hiding truck bed content from casual lookers.
They offer a fair level of protection from direct UV exposure.
Allow to roll up for using the whole truck bed.
Cons
Offer limited security and protection.
Minimal payload – a snowstorm can collapse one.
Material can be moody in severe seasonal weather.
Hard Roll Up Truck Bed Cover
The hard roll-up tonneau cover comes in a combination of the access of a soft roll-up and improved security.
It is heavier than a soft roller and requires more space to open. Made of aluminum slats with high-grade vinyl, a hard roller up truck bed cover is tear-resistant, durable, and able to hold 400 pounds of evenly distributed weight.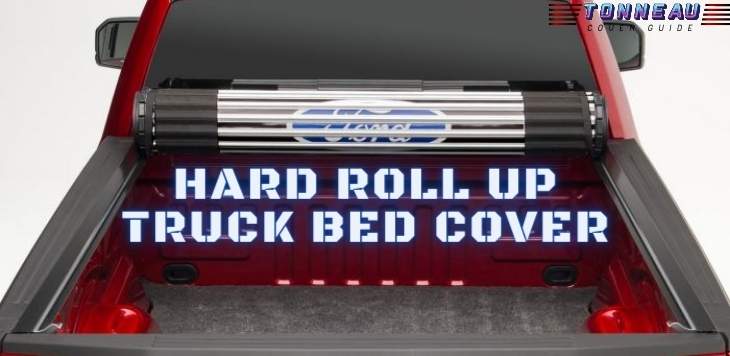 Pros
Improved security.
Easy to install.
More functional.
Offer decent protection from the elements.
Aluminum frame supports.
Cons
Questionable protection from the elements.
The vinyl cover can be ripped.
Payload option but no tie-downs.
2. Folding Tonneau Cover
The folding truck bed cover is the most popular type among car owners. It comes in a range of designs.
Among them, trifold designs allow you to fold in three places and bi-fold designs allow you to fold in two places.
Moreover, some folding tonneau covers can be folded in more than three places. The folding tonneau cover also comes in both hard and soft.
Soft Folding Tonneau Cover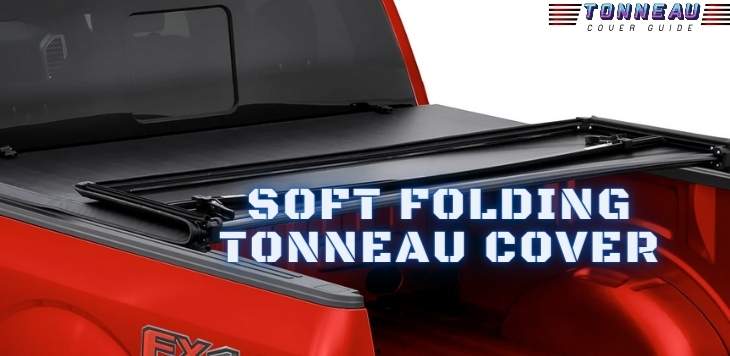 The soft-folding tonneau cover is made of heavy-duty vinyl stretched with an aluminum frame. It takes only a minute to install with hand-tightened clamps and doesn't require other tools.
A tri-fold designed soft tonneau can uncover up to two-thirds of the truck bed.
Pros
It is extremely easy to operate.
Most are affordable.
Lighter than a hard folding tonneau cover.
Suitable for one-person operation.
Cons
Tend to flap in the wind. 
Poor security.
No real payload capacity.
Hard Folding Tonneau Cover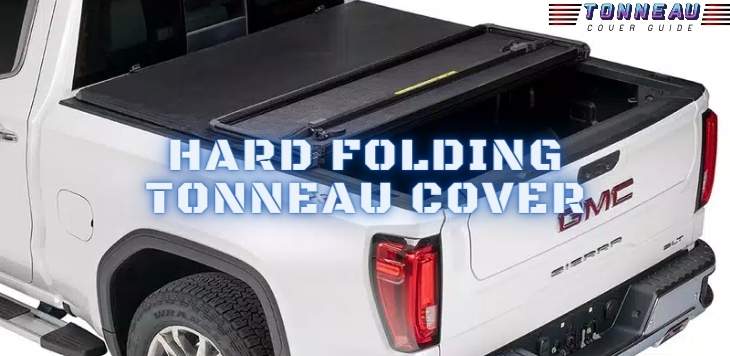 The hard folding tonneau is constructed with composite and aluminum panels with matte, high gloss, or textured finish for hardy good looks.
Most come with payload capacity and tri-fold design. Some hard folding truck bed covers feature flip-up wings set for complete convenience. 
Pros
Added security and durability.
Easy to install and remove.
Better weatherproof.
Don't collapse even in three feet of flurries of snow.
Cons
It can be expensive.
Protected only if the tailgate is locked.
3. Retractable Tonneau Cover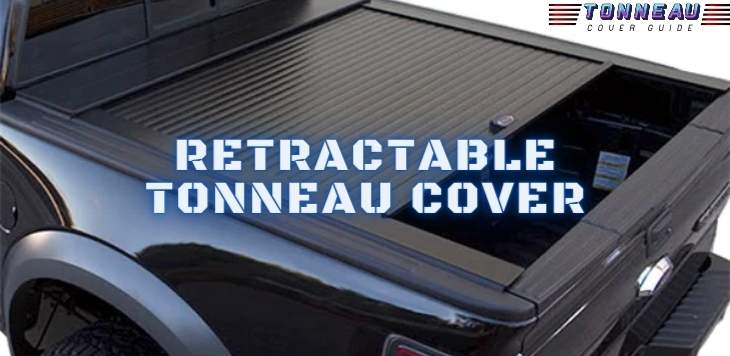 The high-tech retractable truck bed cover allows sliding away within seconds to offer full access to the truck bed.
Moreover, it brings all the improved security and convenience of the soft top. Besides, it ensures better protection of the hardtop without limiting access to the truck bed.
Pros
Ensure good security.
Gadget geeks love tech.
Typically, they are made of robust materials.
It includes good weatherproof characteristics.
Look less clunky compared to rolling tonneau covers.
Cons
Very spendy.
It comes with plenty of moving parts that can fail.
Complex installation.
4. Full Shell Tonneau Cover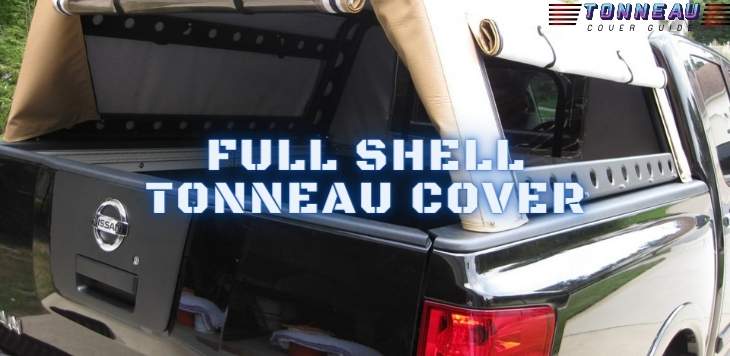 This type of tonneau cover ensures superior truck bed security.
This full shell tonneau cover overlaps the tailgate and locks can be opened without unlocking the tonneau cover.
This truck bed cover is waterproof, attractive, and safer to use. More importantly, it limits the functional use of truck beds.
Pros
It looks cool.
The best weatherproof option.
Ensure maximum security .
Most allow for mounting racks.
It provides a tailgate seal.
Cons
No tie-down options.
Expensive.
Heavy, and cumbersome.
Once loading the stuff on it, the tonneau cover leaves a mark and scratch.
5. Hinged Tonneau Cover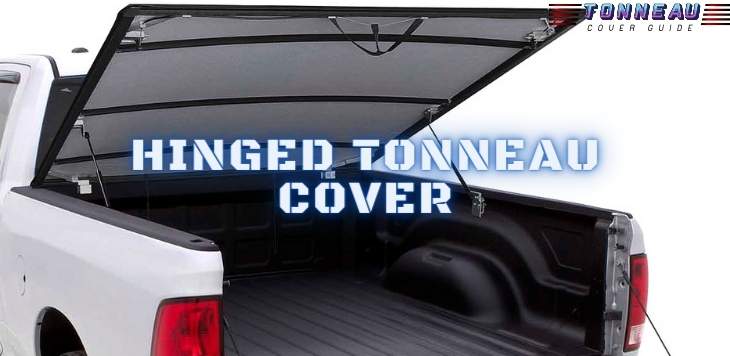 The hinged tonneau cover is a solid one-piece cover that offers support using hinges (See Best Product And Review Here).
Besides, these types of tonneau covers are popular among car owners due to their visual attractiveness.
Read More: Can You Stand On A Tonneau Cover?
The hinged truck bed cover looks classy and enhances the vehicle's look since it doesn't allow it to be divided into pieces. Moreover, it can be printed matching with the truck color for enhancing its appearance.
Pros
Easy to open by pushing them up.
Brings visual attractiveness.
Improves the appearance of the truck.
It can be a pain to match with the vehicle.
Cons
Don't allow us to transport awkwardly sized or shaped cargo.
Limit the usage of the truck.
It's a one-piece cover that can be folded or retracted.
6. Snap Tonneau Cover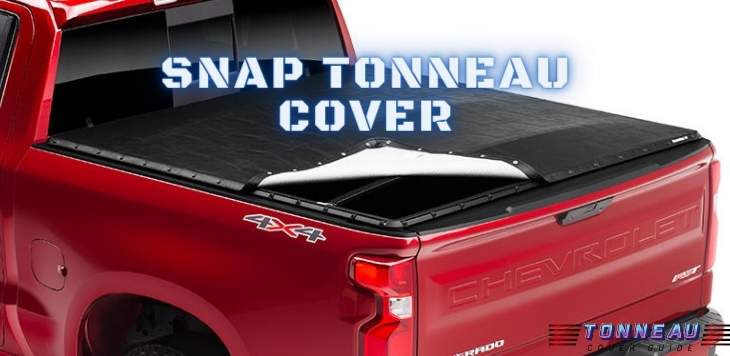 The snap tonneau cover is designed with clamps to attach to the vehicle frame. Snap tonneau cover also comes in two different types, including soft and hard.
The benefit of using a snap truck bed cover is it allows the use of any part of the truck bed by unclamping a certain area. Thus, this type of tonneau cover is suitable for carrying any height and size of cargo securely.
Pros
It features clamps to fix to the vehicle bed.
Offer access to use any part of the truck bed.
Ideal for carrying any height or size cargo.
Easy to install and use.
Offer better protection.
Cons
Complex installation process.
7. Tool Box Tonneau Cover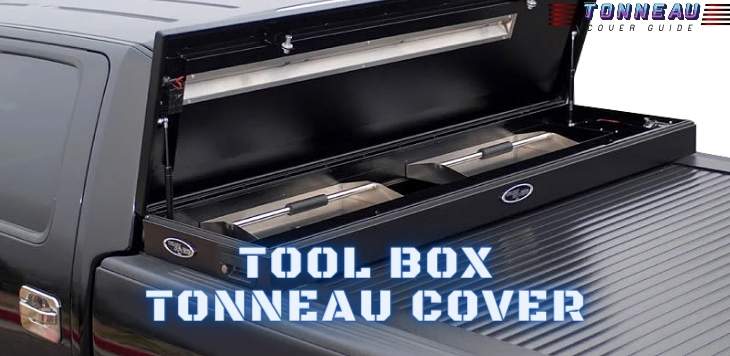 This type of tonneau cover comes with an integrated toolbox. Besides, this toolbox truck bed cover is mostly used by pickup truck owners.
While most of the tonneau covers aren't compatible with a toolbox, this tonneau cover is unique.
Read More: How Much Weight Can A Tonneau Cover Hold?
Having this tonneau cover will not only let the car owner enjoy the advantages of a truck bed cover but also bring the benefits of a handy take the box.
Pros
It includes an integrated toolbox.
Suitable for pickup truck owners.
Offer an extra secure area for keeping essentials.
Cons
A bit bulky to use and remove.
8. Electric Tonneau Cover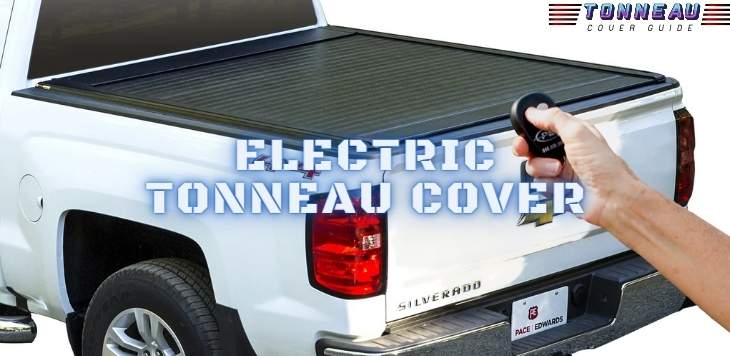 Following the title tag, an electrical truck bed cover uses electric power to perform. Designed with an inbuilt device, an electric tonneau cover opens and closes via a button on the key fob.
Moreover, it includes a brake that allows retracting the truck cover to a distance of user preferences, and it is also controlled by a remote module.
Read More: Can You Go Through A Carwash With A Tonneau Cover?
The electric truck bed cover is convenient to use and doesn't require any physical effort. Since the tonneau cover can be retracted partially, the car owner will have the advantage of roll-up, folding, and retracting tonneau covers.
Pros
Convenient to use via a button on the key fob.
Design with a brake to allow you to retract the truck cover at the desired distance.
They don't need physical effort to use and remove them.
Brings the benefit of roll-up, folding, and retracting tonneau covers.
Cons
Harder to install and needs more than one person.
Need much maintenance.
9. Locking Tonneau Covers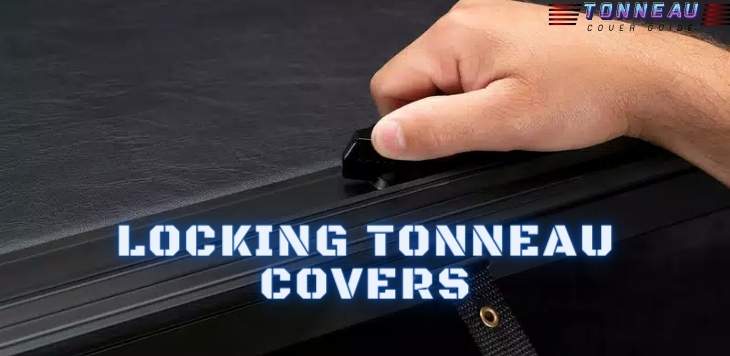 If you are seeking a truck bed cover with advanced cargo security, this type of tonneau cover will be the most preferable option to consider.
Designed with a lock system, this tonneau cover ensures enhanced security for cargo hauling. Thus, you won't have to experience thieves and sticky hands for installing a flat tonneau cover on the truck bed.
Pros
Ensure optimal protection for the cargo.
Extremely easy to install.
Keep your hands from thieves and sticky.
Cons
10. High Impact Plastic Lids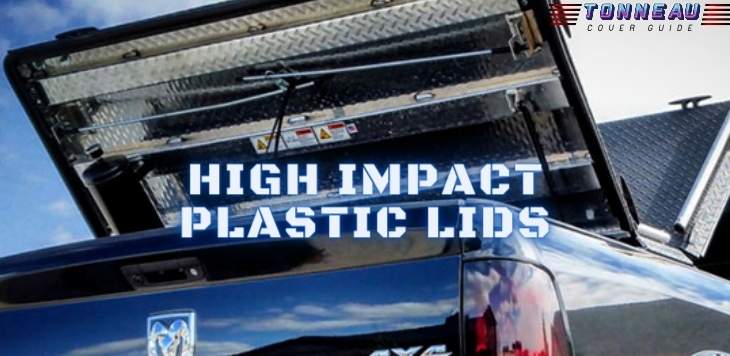 This type of truck bed cover is one of the business leaders and famous options in a flat locking cover.
After locking, this tonneau cover greatly secures the cargo and keeps the tailgate from being opened. It's a lightweight tonneau cover that is easier to remove and extremely durable. It can be removed within minutes while offering full access to the truck bed. 
Some high-impact plastic lid covers come with wall mount hardware for storage when they are not in use.
Design with clean lines and a black textured finish that ensure proper balance of the truck during carrying the cargo.
11. Painted Fiberglass Lids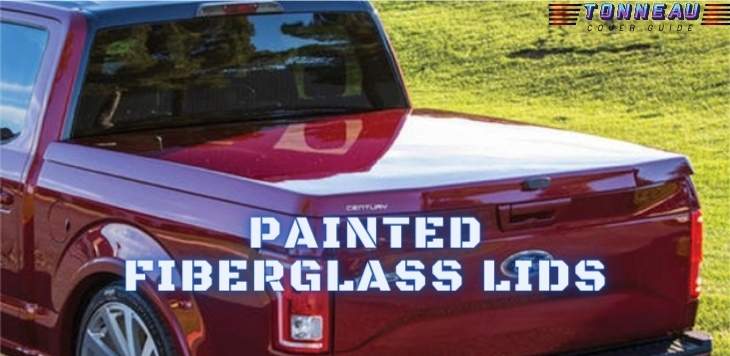 These painted fiberglass lids are popular among car owners who want to cover the truck bed with the same color tonneau cover.
Some fiberglass truck bed covers come with an Axalta (DuPont) Automotive finish which makes them more compatible with the truck.
This truck bed cover is a bit bulky and removable. Some models include fast-release hardware to allow them to be removed easily while leaving the structure on the car bed. 
Conversely, some models are mounted to a structure and need to remove the cover by releasing mounting clamps.
Once closing and locking the tonneau cover, it suitably secures the truck bed and keeps the tailgate from being opened. Moreover, Fiberglass lids are durable and stronger.
Some damn good tonneau cover
Typically, Car owners consider a tonneau cover to keep the car bed out from the snow, rain, and debris and securely transport cargo.
More importantly, it keeps the cargo from being stolen and keeps it safe from thieves and kids. Besides, the best tonneau cover is convenient to use. The tonneau cover is also beneficial as it saves on gas.
It makes the truck smoother and boosts fuel economy. Finding a tonneau cover in budget while covered with all those benefits can be trickier.
Thus, we made a shortlist of the best tonneau covers based on the different types that fit in the budget and include almost all the quality specifications:
Soft Roll-up: TruXedo TruXport
Soft Folding: Tonno Pro Tri-Fold Soft Tonneau Cover
Form and Function: DECKED
Hard Roll-up: BAK Revolver X2 Tonneau Cover
Hard Folding: Diamondback HD
Full Shell/Painted: UnderCover Elite LX
Retractable: Roll-N-Lock
Key feature of Tonneau Cover
The advantage of a tonneau cover mostly depends on choosing the most preferable one based on certain reasons.
For example, if you have to keep the stuff dry, a cheap tonneau cover will be the right choice for you.
Conversely, if you need to transport expensive gear with better protection, you will have to spend some extra. Despite that, let's check out some key features that ensure the best tonneau cover:
Protection: the main reason for buying any type of truck bed cover is to protect the gear and stuff from humans, rough surfaces, and climates. 
Durability: despite the tonneau cover, people want to invest in a durable product.
Ease of use: a tonneau cover that is easier to use will offer a satisfactory experience while saving time and effort.
Cost: truck bed cover comes at a different price where you will have a soft tonneau cover for a couple of hundred bucks and may spend over a thousand for a full shell.
Function: a truck bed cover should be multi-functional to allow use for different usages.
Final words
Though different types of truck bed covers bring different advantages, they have to meet the car's specifications and your requirements.
So you should address the car's space and your requirements before considering the style and appearance of the truck bed cover. 
Moreover, the budget of a tonneau cover can vary from hundreds to thousands depending on its functionality and durability.
Once reading the article, you have got the idea of different types of truck bed covers with their upsides and downsides.
Hopefully, now you can comfortably decide which type of tonneau cover is suitable for your truck and requirements.