Are Tonneau Covers Waterproof? (Find Out The Real Things)
Click Here To Check Recommended Tonneau Cover
We may earn commission from links on this page at no extra cost to you. We only recommend products we back!
One of the most common reasons truck owners buy Tonneau covers is to protect their trucks from rain and snow. They frequently inquire, "Are Tonneau covers waterproof?"
If you are new to truck bed covers or are about to purchase one, you may be wondering if they are waterproof.
Read the article to find out the answer. You will also learn about the water resistance of different types of Tonneau Covers.
Are Tonneau Covers Waterproof?
The straightforward answer is that a properly placed Tonneau cover will keep the great majority of water out of your truck's bed.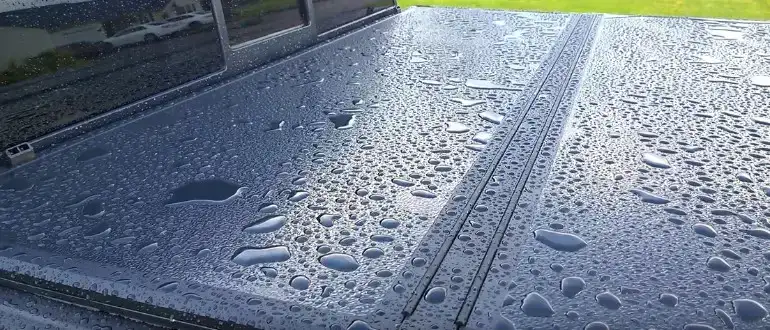 It would be an exaggeration to suggest that a Tonneau cover is entirely waterproof, although often just a few droplets may pour during a thunderstorm. There are several Tonneau cover designs on the market, including soft and hardcovers that open in a variety of ways.
The design of a Tonneau cover can have a significant impact on how water resistant it is. So, take them into your consideration before buying.
Are Soft Tonneau Covers Waterproof?
Yes, a vinyl or canvas tarp is attached to a one-piece, collapsible aluminum frame to create this type of cover. It is one of the simplest covers to install, as you normally do not need tools to attach the clamps that secure it to your truck's bed rails.
Most water will run down the sides of your truck because it sits on top of the bed rails. Water can, however, get in through the hinges on occasion.
Are hard Tonneau covers waterproof?
A well-made hard-folding Tonneau will still keep the majority of water out.
Aluminum panels are commonly used to create a hardcover for a truck bed. Some are also constructed of fiberglass and hardened plastic. This makes it difficult to break through them.
Similarly, except in a few places, water cannot enter the truck bed through them. These are the rails, the back door, and the points at which they meet.
To prevent this, most manufacturers install watertight seals along the rails. The majority of these hard, foldable covers have tubes that drain water away from the vehicle.
Some manufacturers also line the top of the Tonneau with vinyl. As a result, they are even more powerful.
Read More: What Can I Use To Protect My Tonneau Cover?
Are roll-up Tonneau covers waterproof?
A roll-up Tonneau cover is highly water-resistant. It is constructed of a series of interlocking aluminum panels. Canvas or vinyl is usually placed on top of the panels.
The lining fills any gaps that may exist between the panels that fit together. This, combined with the weather seals along the rails, renders the boat completely waterproof. Water will only enter the truck bed in trace amounts.
Are retractable Tonneau covers waterproof?
This type of Tonneau cover effectively keeps water out is the retractable Tonneau cover.
Retractable Tonneau covers are popular because they are simple to use, have a low profile, are durable, and perform well.
They are constructed with a canister attached to the truck's bulkhead. When the cover is opened, it returns to the canister. This moves it out of the way and allows you complete access to the truck bed.
You'd think that because they're not all one piece, the joints would let water in. That, however, is not the case.
Because the slats are all joined together, there is no space between them. This prevents water from entering through the joints. Retractable bed covers with compression seals at the tailgate are even more watertight.
The tailgate and rails are usually the weakest links. As a result, the tailgate is always equipped with a compression seal to limit the amount of water that can enter.
Read More: What Size Tonneau Cover Do I Need? Find Out Now!
Are tri-fold Tonneau covers waterproof?
A tri-fold Tonneau cover significantly protects the truck from water. However, few covers are completely waterproof.
You should not put anything in your truck's bed that cannot withstand even a drop of water or a small amount of moisture. A one-piece cover that folds up is preferable, but no cover can completely keep water out.
When a few drops of water land on most things, they aren't that fragile. Most of your belongings will be dry and safe with a Tonneau cover. As long as your cover is properly installed and fits your truck, it will keep the majority of the water out.
Are folding Tonneau covers waterproof?
There is no doubt about it. Folding covers are made of hard plastic or aluminum panels or soft vinyl fabric and fold back to allow access to your truck bed. They might be able to keep the water out.
 However, there are usually gaps where water can pass through. If ice forms and prevents the mechanisms from functioning properly, this can have an impact on how well these Tonneau work.
5 Common Retrax Bed Cover Problems And Solutions
How to make your Tonneau Covers more water-resistant
Using Additional Seals
If the amount of water that is currently leaking is not large, the process may be very simple, requiring only the installation of a few more seals.
You could go to a local hardware store and get the required size seal, as they come in a variety of sizes depending on your Tonneau cover.
Make certain that you purchase the correct size rather than the largest size available, as this will only exacerbate the situation.
Using bed Sealing Kits
In many cases, installing these kits will solve your problem permanently. When you purchase a bed seal kit, you are purchasing everything you need, from seals to foam blocks.
And if any water does get in, they have a drainage system in place to get rid of it.
The problem is that they are somewhat expensive, so they should only be considered if the leakage is significant or you need to protect your valuables kept inside the bed.
How To Make Custom Tonneau Cover? 6 Step By Step Guide
Insulation of water pipes
This method of preventing water leakage is relatively inexpensive and popular because the process is relatively simple and the water pipes required for installation are readily available.
These pipes are made of rubber and already have slits in them, making them simple to attach to the gaps.
The installation is simple; simply place them where the water usually enters, which is usually through a gap.
This method also does a good job of keeping water out of your bed, even if the water is coming in through various gaps.
Does Insurance Cover Tonneau Cover? (Complete Guide)
FAQs about Tonneau Covers
Is It Possible To Make Tonneau Covers Waterproof?
No. Although no modification can make them waterproof, there are ways to significantly increase their water resistance.
Do Tonneau Covers Keep The Bed Of Your Truck Dry?
Yes. However, it is highly dependent on the type of Tonneau cover you use. And if you've made any of the additional modifications listed above.
Do I Need Completely Waterproof Tonneau Covers?
No. That isn't necessary as long as you keep your truck bed or the goods stored inside it dry, which can be accomplished with a high level of water resistance.
Final Thoughts
We hope you now know the answer to the question, " are Tonneau covers waterproof?". They are incredibly waterproof, but will not give you total water resistance.
If you require complete waterproofing, you can place tarps, storage bins, and other protective items beneath your Tonneau cover.
Adding more layers of protection to your cover is the best way to ensure that water drops do not get through the seams and hinges.