Truck bed covers may be made from some of the most robust materials available, but they are not indestructible. However, when something undesirable occurs, we fix them as necessary or replace them.
When fixing, the most common query is how to patch a hole in a tonneau cover.
Vinyl, commonly used to make tonneau covers, gets torn easily. A vinyl repair kit is a must-have if your truck bed has suffered even minor damage. Fixing it won't make it look brand new, but it will make the damage less noticeable and keep it from getting worse.
In this article, I will take you through the whole repair process. I will also share what to keep in mind before doing the fixes.
Stay with me till the end to find them all; it won't take more than five minutes.
Let's hop right in.
Table of Contents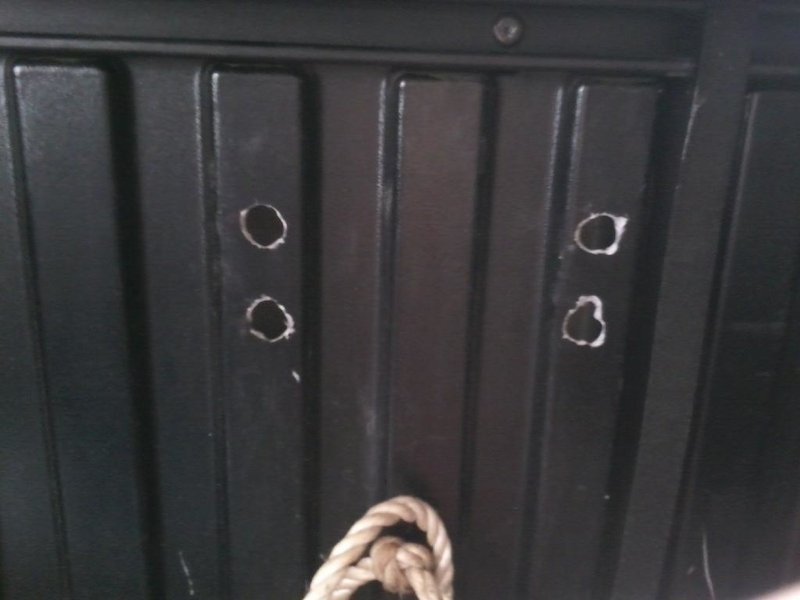 4 Steps for Fixing a Damaged Tonneau Cover
Don't worry if you have a hole or rip in the tonneau cover. It can be easily fixed within 15 minutes if done correctly. 
To help you with the process, we have explained the whole thing in four easy steps. Follow these steps, and your tonneau cover will be back in shape.
Step 1 
Make sure the area around the hole is clean and dry. This will ensure that the vinyl will properly adhere to the repair solution. 
Do this by removing any dirt or grease that may be present. Before using alcohol to swab, make sure you've washed the area with water and soap.
Step 2 
You can use a pair of shears, a razor, or a scalpel to smooth off any sharp corners. They can then lay completely flat and give appropriate responses to the fixes.
Step 3 
Now, place the canvas backing from the vinyl and leather repair kit under the tear using the tweezers.
To secure the binding between the vinyl and the canvas, you may need to use glue with specific kits, while heat from a pressing iron or another instrument is required with others.
Step 4
Now is the time to customize the kit's pigments to the truck bed cover's exact shade.
Create a filler by combining the pigment with the material included in the kit. Apply the filler material in thin layers, rather than one extensive layer, to the tear until it is filled.
Then, go as near as feasible to the top layer of the stuffing by pressing an embossing stamp whose grain mimics that of the bed cover.
And this should repair the holes and rips in your tonneau cover easily.
How Long Should A Tonneau Cover Last Before It Begins To Rip Off?
With regular cleaning and maintenance, your tonneau cover will endure for two years.
Some models may extend way more than the time with better maintenance. However, prolonged use causes wear and tear on anything. Under normal conditions, you should expect them to last for at least five years.
So, are there tonneau covers that rip faster than others?
Indeed, there are. Tonneau covers constructed of hard materials like fiberglass or aluminum are built to survive significantly longer than their soft counterparts. However, cleaning, repairing, and fixing issues is essential if you want extended service from the truck covers.
What Causes A Tonneau Cover To Rip? How To Patch A Hole In A Tonneau Cover?
There is no doubt that specific tonneau covers tear more easily than others. But it's possible that yours could rip no matter what you did to it. 
Despite this, there are some conditions under which they are more likely to tear.
Is it possible to name a few of these elements?
Tonneau covers are easily damaged when subjected to excessive weight or when used for purposes beyond their intended function.
Slamming tonneau covers with bulky items that have sharp edges or spikes can do massive damage to them.
Tonneau covers are also at risk if you clean them with chemicals that aren't safe or recommended for usage.
Last but not least, try not to leave your truck sitting in the sun or rain for too long.
Read also: Bakflip Mx4 Problems
How Do I Prevent My Tonneau Cover From Getting Ripped?
To keep your goods secure, please do not slam the door or heavy stack items on top of it.
When cleaning and maintaining them, use only products that have been approved for use by the original equipment manufacturer.
Contact the producers to get advice on the most effective cleaning products to use on them to avoid this.
Make sure you're making the most of them by only traveling with the truck bed covers fully open or closed. This will prevent the wind from prematurely tearing them apart.
What Tonneau Covers Can You Stand On Without Getting Them Ripped?
Even if the manufacturers say you can't, you shouldn't stand on tonneau covers.
A hard one-piece truck bed cover, often made from fiberglass, polypropylene, or aluminum. These are undeniably tough and long-lasting investments.
These materials are well known for their superior strength and can safely handle considerable loads. And yes, you can stand on them even though not recommended unless necessary.
Hard retractable tonneau covers are made from the same materials as hard one-piece tonneau covers. They simply fold up into the truck's bed when not in use.
Because of their folded nature, it will be dangerous if you stand on them. You can damage the joints and hurt yourself.
FAQs: How To Patch A Hole In A Tonneau Cover?
Can I Sew A Tonneau Cover?
You can repair the tonneau cover's stitching. However, we strongly suggest having a professional seamstress do the task. This is because hiring a specialist who already has the necessary tools and fabric knowledge is the best option.
Can Wind Cause My Tonneau Cover To Rip?
The wind can easily ruin your tonneau cover. Regular exposure to the wind while driving on the highway, especially with the truck bed coverings open, can cause the tonneau covers to wear out and tear. Therefore, it is recommended that you keep your tonneau coverings covered while driving.
Does Parking My Truck In The Sun Cause The Cover To Get Damaged?
The truck bed cover will fade and develop cracks and tears if exposed to the sun regularly, weakening and discoloring the fabric over time. So, always park your truck in a shady spot, under a tree, or in a covered garage.
Conclusion: How To Patch A Hole In A Tonneau Cover?
That will be all on how to patch a hole in a tonneau cover. Hopefully, you can repair your tonneau cover after reading this article.
Don't slam the cover down too hard on heavy loads or risk damaging your truck bed cover.
Have a great day.