People often get confused while buying the perfect rack for their Tonneau Cover. Most of them ask, " can you use a ladder rack with a Tonneau Cover?"
You must identify whether the truck racks you are buying are compatible with Tonneau covers, as not all truck racks are manufactured equal.
This article will answer your question as well as help you to choose the best rack for your Tonneau cover.
Can You Use A Ladder Rack With A Tonneau Cover?
Yes, you can comfortably use a ladder rack with a Tonneau cover. When they don't use the same mounting points on the truck bed rails, a Tonneau cover and a ladder rack can work together.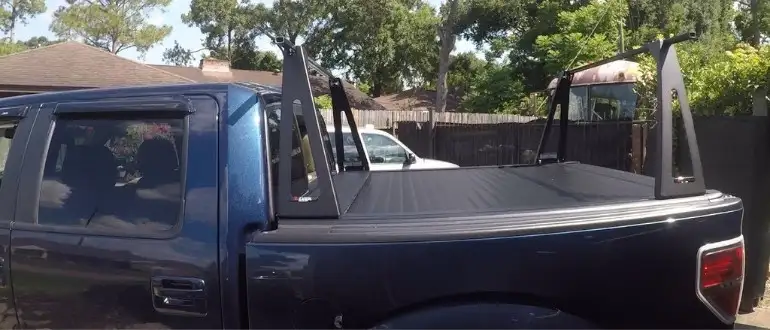 However, both Tonneau covers and ladder racks can be mounted inside or on top of the bed rails. Before installing them, maintain the proper regulations.
What kind of truck racks can be used with a Tonneau cover?
Two types of racks are easy to find on the market. Stake pocket truck racks and truck headache racks go with almost all Tonneau covers because they fit in the stake hole in the truck bed rail.
Stake Pocket Truck Rack
These racks are perfect for pickup trucks, especially if the bedrail already has holes in it.
The best thing about this type is that there are so many models. No matter how long or short your truck bed is, you'll be able to find one that fits with your Tonneau.
Truck Headache Rack
A truck headache rack is an ideal method for transporting long objects such as canoes and kayaks. With a truck headache rack, you can secure any cargo to prevent it from falling and injuring you.
Even though they are better for large luggage, they can still be used with a Tonneau cover, which is great if you want the most security.
Things you should think about before buying racks for Tonneau covers
Getting something that fits within the bed rails and still leaves the stake pockets open will tell you exactly what kind and size of rack you can fit in there after you've got it.
Before you begin, you need to make sure that you have the exact dimensions of your truck bed. The length can be easily measured by beginning at the bulkhead and continuing to the tailgate. This is the simplest way to measure. The width would be represented by the tailgate.
The cover needs to be tough and sturdy enough to last a long time, and it needs to be waterproof to protect the cargo from becoming wet.
Last but not least, check to see that the design you buy is both adjustable and wind-resistant. These two characteristics are frequently disregarded, despite the fact that they are of utmost significance. Not only will you be able to transport anything, regardless of the size, but doing so won't pose any difficulties for you while you're driving.
How to Pick the Best Ladder Rack for Tonneau Cover?
Understand your requirement
Someone else's good accessory might not be the right one for you. Before you choose a rack, make sure you know what your business and transportation needs are.
 First, think about how many ladders you will need to carry on average and how many you will need to carry at most.
 Also, think about how big your ladders are. If you want to put other heavy items on the rack, make sure the rack system you choose has enough space for them to fit well. 
When figuring out what you need, it's important to look at both what you need right now and what you might need in the future.
Read More: Can You Use A Truck Tent With A Tonneau Cover?
Think about the type of work truck
Because there are so many models on the market, most companies that make equipment have started making accessories and upgrades for specific work vans and trucks.
 You should make sure that the ladder rack system you choose will work with your work truck.
Look at how safe it is.
When shopping for ladder rack systems, it is important to think about the safety features. After all, one of the main reasons you need a ladder rack is to keep your ladders, driver, vehicle, and other people safe.
Modern ladder racks come with a variety of safety and security features. Compare them and see which one works best for you. If you buy a ladder rack, it should have passed the safety tests.
A system that is easy to use and has good clasps or fasteners is a must.
Read Also: 5 Common Retrax Bed Cover Problems
Check Materials
Some things can break down when exposed to heat, wind, moisture, water, or snow. Before you spend your money, make sure that the material your ladder rack is made of is very strong and can withstand bad weather. 
Most ladder racks on the market today are made of aluminum. This is because aluminum is not only resistant to rust, but is also very durable and light. You might also find steel ladder racks, but they are usually heavier than their aluminum counterparts.
Read More: Can You Break Into A Tonneau Cover? All You Need To Know!
Compare models and designs
Even though you might fall in love with the first ladder rack you see, you should look at a few different models and styles before making a decision. 
There are many useful and attractive ladder rack systems on the market. Every product has its own pros and cons. Make sure you know what they are before you buy something.
Talk with a pro
You might find it hard to choose the right ladder rack for your work truck because there are so many different styles, features, and building materials. 
You should talk to a professional in the field to find out which ladder rack system is best for you. You can go to a company that makes truck accessories, a store that sells them.
What are the benefits of Ladder Racks?
Reduces the danger you cause other drivers on the road.
Minimizes the chance that ladders, tools, pipes, lumber, and other things will fall.
Helps keep your car's paint from getting ugly scratches.
allows for the most cargo to be carried.
A great way to move things that don't just involve ladders.
Great for hauling lumber, pipes, and other long loads without taking up space in your truck bed.
Read also: Bakflip MX4 vs Bakflip G2
FAQs about Ladder Racks and Tonneau Covers
Why Should I Buy A Ladder Rack For My Tonneau Cover?
Getting a truck rack was a good idea because it doubled the amount of space in my truck bed and gave the Tonneau another layer of protection.
How Can I Save My Ladder Rack From Dust?
Even if the installation goes perfectly and you think you're done, it's important to read the manufacturer's advice on how to keep the rack from rusting, especially if you have a steel ladder rack. Using a $3 tube of sealant in the right places can keep ugly rust spots from showing up.
Read also: How To Keep Dust Out Of Tonneau Cover?
Final words
Now you are well aware of the answer to the question, " can you use a ladder rack with a Tonneau cover?" They can coexist if you install and use them properly.
Before buying ladder racks, check their compatibility as well as other features. Make sure that they are suitable for your truck as well as Tonneau cover to avoid further inconvenience.
Read also: Best Hard Tonneau Cover For Jeep Gladiator