Nobody wants their cargo to be stolen, exposed to the rain, or caked with dirt and dust while traveling on or off-road.
As a safeguard for our cargo, we opt to buy a tonneau cover. But, most of the time, we buy the soft tonneau covers as the hard ones cost a lot.
However, we should sometimes ask ourselves, are hard tonneau covers worth it?
We'd want to assist you in thinking about some of the many aspects so that you may make an educated decision while buying a hard tonneau cover.
Is A Hard Tonneau Cover Worth It?
Yes, hard tonneau covers are worth it. Harder polymers such as ABS and polypropylene, synthetic fiberglass, or metals such as aluminum are often used to construct hard tonneau covers.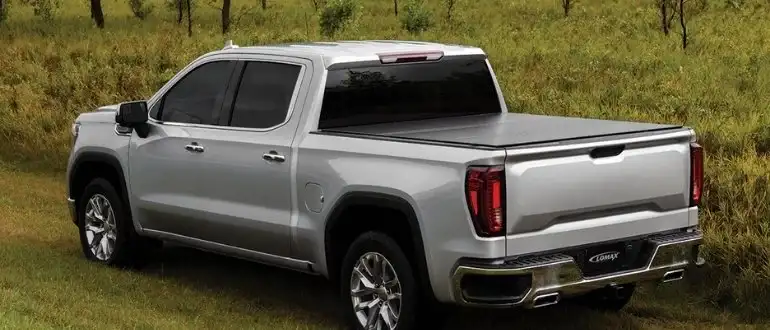 These heavy-duty materials resist damage from high-impact factors for long periods because of their remarkable strength and durability. 
As a result, cutting or prying them open is impossible without putting considerable effort into them.
Additionally, durable truck bed tonneau covers include locking features that recommend truck bed casings for valuable and delicate freight movers.
Read More: 10 Best Hard Tonneau Cover For Jeep Gladiator
Benefits of Hard Tonneau Covers
There are several benefits of a hard tonneau cover. We have listed the most evident ones for your convenience.
Improves fuel economy
This is one of the overlooked advantages of a hard tonneau cover. It improves the aerodynamic efficiency of your vehicle by a significant margin.
Without a tonneau cover, the truck bed acts like a bucket, collecting air while driving. Your engine has to work a little bit harder because of this drag. 
Tonneau covers help you get better gas mileage by blocking airflow into your pickup truck bed. This makes the truck more aerodynamic.
Keeps your cargo safe from thieves
With these covers, the things in the truck bed are safer from theft and damage. Because they are made well, cutting through them and doing something bad is hard.
Hard truck tonneau covers can store and transfer truck bed vaults conveniently. They have locking mechanisms that make them hard to steal.
Keeps your truck bed clean and dry
Tonneau covers are made to cover the top of a truck bed or box physically. This keeps any tools or cargo inside the bed safe and dry.
It also protects it from the weather, all while adding to the look of the outside of your pickup truck.
Improves your truck's looks
Hard tonneau covers can be made to order in any color, tint, pattern, or finish. This can make any pickup truck look better from the outside.
You have complete control over the colors and finishes as a result.
The truck bed and its cargo will be safe and attract passersby. They're popular because they offer a rugged look you can adjust.
Prevents rusting of the truck bed
Nothing is more frustrating when a truck owner looks in the bed and sees only rust.
Although steel is usually used to make truck beds, rain, snow, and salt will cause corrosion. You can either live with the rust or pay more money to fix it.
You don't have to get to this point, though. A tonneau cover helps keep your car from getting rusty and corroded.
Allows hauling flexibility
Truck bed covers, especially the hard ones, are very flexible when transporting things.
With a hard tonneau cover, you can keep things in the truck bed and on top without needing a rack or other extra equipment.
Read More: Should I Put A Tonneau Cover On My Truck?
Things To Consider When Shopping For A Tonneau Cover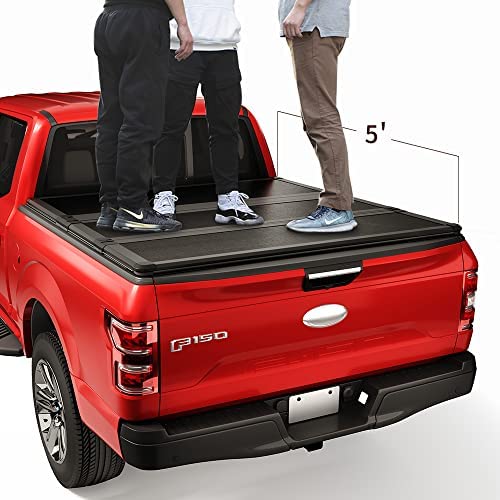 Buying a tonneau cover can be challenging. There are a lot of different kinds, materials, and brands to choose from. But that's not necessary. 
You just need to consider a few things. Then, you can find the right cover for the bed of your pickup truck. 
This section will help you pick a cover that meets your requirements, budget, and other factors.
Compatibility
Most tonneau covers are made for a particular type of vehicle. One cover will work for one car but not for another. Many things can lead to problems with compatibility. 
It could be the size of the truck bed. It could be whether or not it has a bed liner and more. Find out if the cover you want to buy will fit your type of truck. Therefore, you don't have trouble putting it on. 
You don't want a tonneau cover that doesn't fit or requires bed modifications.
When shopping for a tonneau, it's a good idea to know how big your truck bed is. 
Also, how it's put together.
That will help you find the right insurance policy. Tape measure from the bulkhead to the tailgate inside. 
You want a good cover, but you also want one that fits well.
Purpose 
Different tonneau covers are put on trucks for various reasons. You might want to keep thieves from taking valuable things from the truck bed.
In that case, you should get a hard tonneau cover with a complicated way to lock it.
If you want to keep the weather out of the truck bed, too.
If your main goal is to make your pickup truck look better, the locking mechanism and material of the cover may not matter as much. Instead, go for style and look.
This can mean getting a vinyl tonneau cover that looks nice and is soft.
These tonneau covers will make your truck look better without costing you a lot.
Material
Different kinds of materials are used to make tonneau covers. Each type of tonneau cover material has its pros and cons.
Choose the proper type based on truck bed protection and driving style. Tonneau covers made of vinyl look good and are easy to put on and clean. But they aren't very strong and won't keep the bed of your truck safe enough.
Aluminum makes a strong cover, but it is easy to dent when it gets hit. Plastic and fiberglass covers are strong and can stand up to the weather. Consider them if you want extra truck bed protection and a lightweight tonneau cover.
Cleaning and Maintenance Ease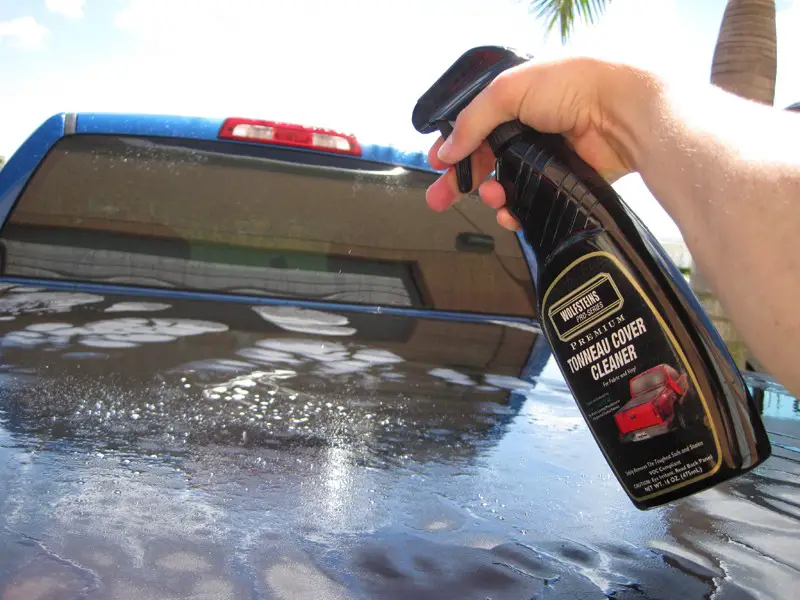 Consider the tonneau cover's cleaning difficulty. Cleaning some truck bed cover materials requires care. Others can be cleaned using everyday materials.
Some cover styles collect dirt and require additional care. Depending on your driving conditions, you may desire a quick-cleaning cover. Also, an easily accessible cover will be helpful.
Climate
Some tonneau coverings can withstand the elements better. Some fade rapidly in the weather, while others can withstand moisture.
If you reside in a dry climate, buy a durable cover. You can also use aluminum covers. In rainy climates, use plastic or fiberglass covers to avoid corrosion.
Budget
There are different prices for truck bed covers. The type you choose will mostly depend on how much you want to spend.
Tonneau covers that are hard cost more than soft covers. Depending on what you need, you can choose a cover that fits your budget.
But that doesn't mean you should pick the cheapest. Always choose the price in the middle. A high price could mean buying a brand.
On the other hand, a low price could mean that the quality has been cut down.
Can I Still Use My Whole Truck Bed with a Tonneau Cover?
This is subject to change based on the design of the front and back covers.
All tonneau covers, whether roll-up or retractable, provide easy access to the whole bed.
Most tri-fold designs cover only a portion of a full-sized bed when folded up. Therefore, you must remove them for full-bed access.
Types Of Hard Tonneau Covers
There are different types of tonneau covers available in the market. We have sorted them out for your convenience. Hopefully, this will come in handy.
Retractable Hard Tonneau Covers
This tonneau cover goes back into itself and toward the back of the truck. This type of cover can be hard or soft.
Consider the safety of your vehicle bed if you purchase a retractable tonneau cover. A hard tonneau cover you can pull back is safer than a soft one.
Main Advantage
With this cover, you can only show the part of the bed you want to. You can carry things of different sizes and only open the part with the most significant stuff.
Hard Rollup Tonneau Covers
This kind of bed cover rolls up on itself, similar to how a mat rolls up. The tonneau cover can be soft or hard.
A soft roll-up tonneau cover costs less than a hard roll-up tonneau cover. But the second method holds the truck bed down better than the first.
Main Advantage
Using a roll-up tonneau cover gives you more options for your truck bed. There are no folds or panels in the way.
You can expose the bed to specific lengths from the open end to the truck's bulkhead. So, you will have a cover that you can use more.
Hinged Hard Tonneau Covers
This kind of cover is just a lid that is held together by hinges. Hinged tonneau covers don't fold or roll up because they are all one piece.
Instead, you have to push them up to open them. Hard or soft covers can have hinges.
Main Advantage
These non-folding covers have an advantage. Hinged tonneau coverings are desirable to truck owners.
Hinged covers look nice and boost the vehicle's appearance because they're not separated.
Some truck owners paint these covers to match the truck to boost its appearance.
Read also: Bakflip Mx4 Problems
Hard Folding Tonneau Covers
These are the most common kinds on the market for car parts. They come in different styles.
A trifold tonneau cover folds in three places, while a bifold one folds in only two. You can fold some of them in more than three spots.
These can also have hard or soft covers. There are different tonneau covers, such as the hard folding ones. A tonneau cover with a hard trifold design folds in three places. They are made of hard material.
Main Advantage
You can only get to the part of the bed by folding up the cover. That means you can carry both small and large or oddly shaped items. You need not to expose the part with the small cargo.
Read Also: 5 Common Retrax Bed Cover Problems
Electric Hard Tonneau Covers
Like its name says, an electric tonneau cover is powered by electricity. The cover opens and closes with a built-in mechanism. You can control this from a distance with a button on the key fob.
You can pull the cover back to any length you want with a brake. Some of them will even have a light in the truck bed. You can turn this on and off with the remote module.
Main Advantage
Electric tonneau covers are easy to use and very convenient. You don't need your hands. Therefore you work less. The coverings can be partially retracted. Therefore, you get the same benefits as tonneau covers that fold, roll, or retract.
How Much Do Tonneau Covers Cost?
Despite the higher price, hard tonneau covers are worth it. Manual coverings cost between $500 and $900. Electric folding covers can cost up to $2,000.
A soft tonneau cover is the most cost-effective way to protect your truck bed. Soft covers usually cost between $300 and $800. But they come at the cost of durability and security.
Is There A Big Cost Difference Between Hard and Soft Tonneau Covers?
There is a sizable price difference between the hard and soft tonneau covers. Both have their pros and cons. However, The price point is justified by their performance and output.
Hard Tonneau Covers vs Soft Tonneau Covers
The price is probably the best thing about a soft tonneau cover. They start at $250, while a hard tonneau cover will cost you $700 or more.
Hard tonneau covers are also much heavier than soft ones. For large objects, you must remove hinged and folding tonneau coverings completely to fit in. This is much easier to do with a soft tonneau cover than with a hard one.
Security is the most important thing. Your cargo is safer with a soft tonneau cover than with no cover. However, it's not as safe as a hard tonneau cover.
Thieves can cut through the material used in a soft tonneau cover if they want to. If safety is very important, you might want to buy a hard tonneau cover.
The weather is also a problem, especially snow. A hard tonneau cover can hold up to 300 pounds of snow.
However, anything over 200 pounds could damage a soft tonneau cover. Consider using a hard tonneau cover if you reside in a snowy area.
Is Soft Or Hard Tonneau Cover Better?
Pricewise, soft tonneau covers are better than hard ones. Choose the soft tonneau cover if you are going for an economical build.
On the other hand, hard tonneau covers excel in security and durability. It is more secure than its counterpart. Even it can hold off weather pretty well. If you don't have any concerns with the budget, go for the hard tonneau covers.
For getting a detailed overview, you may check this comparison video on Youtube by OffRoad Addiction.
FAQs
Does a Tonneau Cover Improve Mileage?
As a result of numerous studies, putting a tonneau cover will improve a vehicle's fuel efficiency. Aerodynamic drag can be reduced by up to 10% with a tonneau cover. This could lead to better gas mileage.
Can I Put a Tonneau Cover on My Truck All by Myself?
Yes, you can. Putting on a truck bed cover doesn't take any skill. They also come with tonneau manuals. This will help you figure out how to use them. This will also help if you get stuck in the middle of the installation.
Is a Hard Tonneau Cover Water Resistant?
Yes, it is. With a hard Tonneau cover, water won't get into the back of your truck. Soft coverings aren't very good at protecting, but that doesn't make them less useful. Hard tonneau covers will keep all the water out of the cargo in your truck.
Conclusion
That will be all from our side regarding is a hard tonneau cover worth it.
Hard tonneau covers are as effective as locking your trunk to protect your belongings. Do let us know in the comments about your opinions.
See you soon.
Read also: How To Keep Dust Out Of Tonneau Cover?