The tonneau cover is designed to protect the cargo and loads from theft and harsh weather, and the locking mechanism boosts its effectiveness. But can you lock a tonneau cover?
The answer depends on plenty of things. Following the guide, we have covered the answer. Despite this, we have discussed several types of tonneau cover with locking mechanisms and their methods.
Can You Lock A Tonneau Cover?
Yes, you can not only hide your stuff inside the tonneau but also lock the tonneau cover to secure it firmly. Different styles of tonneau cover come with a unique locking system.
If you want to have a locking system on your existing Tonneau cover then our recommended locks are: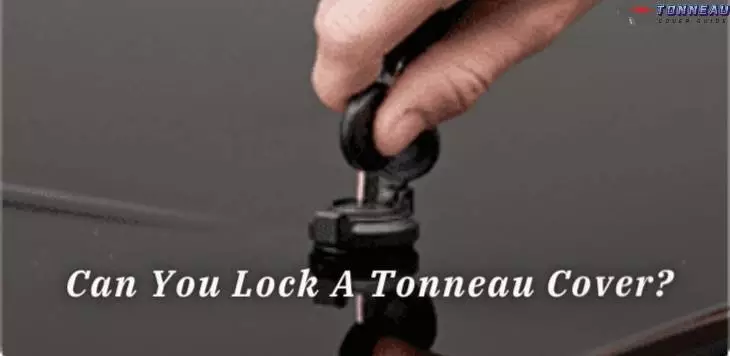 You already know the basic duty of a tonneau is to conceal stuff inside the truck bed. The tonneau cover can be tough or flexible, depending on the type you buy. In the following section, we will reveal different types of tonneau with a locking mechanism. 
Types of Tonneau Cover Locks
Different tonneau covers lock-in in unique ways, including simple, complicated, convenient, and extra security. Generally, the type of lock depends on the capability and style of the tonneau cover.
Let's discuss this briefly
Pull-Cable Release
The hard folding tonneau cover includes a pull-cable release. Some aluminum covers for vinyl roll-ups also come with this locking mechanism. It locks the back corner of the tonneau with a cable.
Pulling the cable releases the latches from the frame and allows you to open the cover. It needs a locking tailgate to pull the cable, Otherwise, no one can't open the cover.
Latch Clamp
Some soft vinyl folding covers are designed with a latch clamp lock. It also needs a locking tailgate to have access to open the cover. It squeezes the tonneau against the frame. It's a time-consuming locking system among different types of tonneau cover locking mechanisms. 
Rotary Latch
This locking mechanism is also found on soft, vinyl folding covers that are the same as a pull-cable release.
But it needs to twist a knob to release the tonneau. You can compare this locking mechanism to turning a doorknob to open a door. You have to activate a two-knob bolt using a locking tailgate.
Spring-Loaded Speed Klamp
It's an improved version of the latch clamp that comes with a soft, folding tonneau cover. It performs the same way as a latch clamp.
But the differences are that it is easier to install and less clumsy. It is attached to a tonneau and you have to grab the Speed Klamp by the handle and pull it toward the vehicle. Again, a locking tailgate ensures the security of the truck bed and loads.
Trigger Latch
Soft, vinyl roll-up tonneau covers designed with a trigger latch locking system. It is found on the back end of the cover. It needs to pull down on the "triggers" until the latch separates from the frame to open the cover. 
Key Lock
This locking system is found on different types of tonneau covers, including hard, one-piece covers and hard, retractable tonneau covers. There is a key that needs to be turned in a certain direction to unlock the tonneau.
While you will need a locking tailgate to keep the hard, retractable covers locked and protected from theft, they don't require hard, one-piece covers.
Electromagnetic Brakes
This locking system comes with an electric tonneau cover. It needs to push a button to open or close the cover. You can compare this locking mechanism with a garage door. Even so, this system allows opening the cover slightly to peek out longer bed items.
Read More: Best Roll Up Tonneau Cover For F150
Advantages of Locking a Tonneau Cover
Theft Deterrence
It is easy for greedy thieves to steal something from an uncovered truck bed. So, unlocking the tonneau cover will encourage a theft to remove the tonneau to check what's underneath. Conversely, a locked tonneau cover will make the task challenging for the thief.
Peace of Mind
Locking the tonneau cover will definitely give you peace of mind for a long journey or leaving the car alone. It won't allow strangers to check your truck bed easily or even accidentally. So, locking a truck bed will boost confidence while keeping the loads safe from theft.
Read also: How To Fix Tonneau Cover Latch?
Final words
Installing a tonneau cover is a smart decision to transport or store loads safely and securely. And when it comes to the locking mechanism, it definitely boosts the rate of success.
But can you lock a tonneau cover? Hopefully, you got the answer. So if your tonneau cover includes a locking mechanism, apply it to increase the security level of the truck bed and load.
Also read: Gatortrax Tonneau Cover Problems