Do Tonneau Covers Keep Water Out?
We may earn commission from links on this page at no extra cost to you. We only recommend products we back!
The tonneau cover is the best possible solution for maintaining the new look of a vehicle. But it doesn't only keep your vehicle fresh, Tonneau covers also ensure that your truck doesn't get in touch with too much water.
However, people get confused about whether it keeps water out from the truck. So now we will try to make the fact clear. 
Do tonneau covers keep water out?
If you can fit the entire cover perfectly in the truck, surely it will keep water out from your vehicle. But if someone says a drop of water won't cross the cover, then they are telling a lie to you.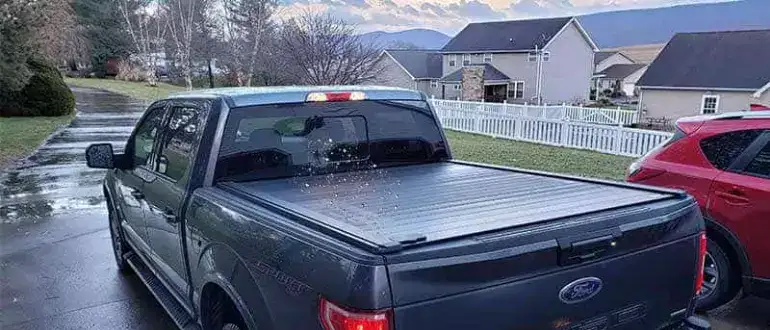 Because in some circumstances, water might travel the cover and reach the incised part of the truck. So, in short, despite calling it waterproof, you should call it water-resistant. 
Want to know the basic difference between water-resistant and waterproof? 
Okay, if something is water-resistant, typically, water won't damage it. But sometimes, a couple of drops of water may reach it.
But when it comes to waterproofing, then the fact is, a single drop of water won't reach it. We shared it because most people mix both terms and get confused between them.
However, that happened because of the wrong explanation from the seller. So from the very next time, make sure you become clear from the seller's end. 
How Usually Does Water Reach The Truck Bed?
That happens because of various reasons. So better we share those- 
1. The Gap Between The Truck And The Cover Edge
That's where basically water reaches the truck bed. Sometimes the tonneau can't cover the entire truck bed. 
Inches or more remains uncovered. In that way, sometimes water reaches the truck bed.  So for avoiding this, you should always ensure that there is not a slight gap.
2. Panel Hinges
That's another way where water leakage happens. However, most people can't notice it because it's so tiny.
That's why we always suggest people to check the thing by a specialist so that no chance of water leakage remains.
3. Tailgate May Also Become A Way
Let's say, in rare cases, tailgate becomes a way of water leakage. That's why most people underestimate this thing. 
While fitting the cover, make sure you have someone who knows the process very well. This is also another thing that may not be noticed. So try to recheck it with a specialist. 
So these are the ways where leakage may happen. If somehow these happen then surely it will cause damage.  So try to ensure this never happens. 
Techniques of keeping your tonneau cover safe from water 
So as we said earlier, obviously, tonneau covers won't save your truck bed 100% from water. But you can try to ensure that water doesn't reach the truck bed. So here we share some techniques for this- 
Ensure enough sealing
We hope you have gone through the above-given description. So we hope you already know that the gap between the edge of the cover and the truck bed actually causes leakage.
If you really want to stop this from happening, and then better for you to ensure extra sealing on the truck bed. Thus there will be no gap for sealing. 
Truck bed kit
This is another known way of preventing leakage. It's a kind of a kit, which actually seals any kind of gap on.
Apart from that, it also has another benefit. If somehow the water reaches the truck bed, the kit will ensure the drainage and water will be removed.
Installing a pipe
If you consider the easiest way of solving your problem, then most probably this one is perfect for you. Though it might sound confusing, the process is pretty simple. 
For doing it, you have to find out the gaps. Then put the pipes in these gaps. So if somehow water leakage happens, these pipes will work as a drainage procedure for water removal. 
So, guys, these are the most known techniques through which you can make your cover work more perfectly. But yes, again, we would like to mention that any of the procedures don't ensure a 100% waterproof guarantee. 
FAQs
Do Tonneau Covers Leak Water?
In general, tonneau covers don't allow water to reach the truck bed. But if a somehow serious weather problem occurs, then something unexpected might happen. 
Say, for example, an hour of heavy rain can result in water leakage. That's why we always say tonneau covers are water-resistant, not waterproof. 
What Is The Purpose Of A Tonneau Cover?
The reasons are many to describe. First of all, it keeps your truck bed safe. Any unexpected situation won't harm your truck bed.
So the truck bed has remained in the new look for a long time. Apart from that, it ensures enough beauty for your truck. 
Do Truck Beds Fill Up With Water When It Rains?
Obviously, it doesn't. However, it is true that heavy rainfall might cause water leakage. But that doesn't mean that the truck bed will be filled up with water.
Most importantly, if you can take a few steps like sealing, then water leakage can also be prevented.  
Can I Go Through A Carwash With A Tonneau Cover?
This actually depends on the type of cover. Some covers are totally okay in terms of going through a car wash.
But some may cause leakage when you start the car wash. For avoiding such unwanted things, try to get the details from the seller. 
Conclusion
If we have to sum up the entire article in a few words, then we have to say, yes, Tonneau cover usually keeps out water.
But in some cases, it may end up with an unexpected result. But yes, when anyone will ask 'Do tonneau covers keep water out', we hope this article will be a great source of help for them.