The question is pretty common and straightforward for any truck owner. Do tonneau covers keep water out?
The tonneau cover can keep the water out to some extent but not 100%. No matter how capable the truck bed cover is of keeping water out, you will always find a few drops on the bed. However, a good tonneau cover will prevent rain or snow from poring onto your precious cargo for sure.
The debate on whether a tonneau cover can keep water out is focused on the water resistance property of the cover. yes, you heard me right. It's not waterproof but water resistant.
So let's begin with the main focus of the debate.
Is Your Tonneau Cover Waterproof or Water Resistant?
Does your truck bed cover label say it's "waterproof?" Well, it's not.
Waterproof is the highest level of protection from water with almost impervious quality.
And from my introductory statement, you perhaps realized that no matter how expensive and feature-packed the cover is, it can't keep all the water out.
So, the tonneau cover can be water resistant only. And it can keep the major portion of external water out. Most of the tonneau covers offer enough protection to safeguard your cargo from rain or snow.
Read also: How To Patch A Hole In A Tonneau Cover?
How do tonneau covers keep water out?
You will find another article on whether tonneau covers are waterproof or not. In that article, I have arranged truck cover types according to their descending capacity to prevent water.
Let me repeat for you what is the best waterproof truck bed cover:
Hard Top Hinged Tonneau Cover (Most water resistant)
Retractable Tonneau Cover
Soft Snap-On Tonneaus
Hard Folding Tonneau Cover
Soft Folding Tonneau Cover (Least water resistant)
One-piece hardcovers are the most water-resistant because they have an extensive impenetrable surface with minimum numbers of hinges.
On the contrary, soft covers are prone to water seepage due to the material and extended joint that facilitates water seeping in.
So, three things decide how tonneau covers keep water out:
Surface type
Number of breaks in the surface
Sealant type
One continuous surface always prevents water better than multiple panels.
When you are going for retractable or hard folding tonneau covers, each joint will work as a weak point for water penetration.
Rubber sealants work better than any other varieties.
If the edges are not properly sealed, it will be tough even for the most water-resistant cover to give you complete protection.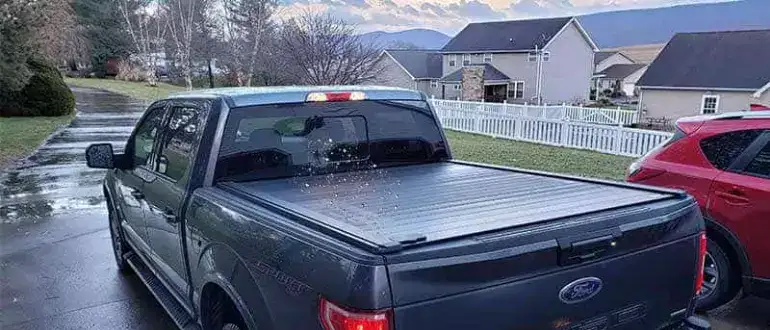 How Usually Does Water Reach The Truck Bed?
That happens because of various reasons. So better we share those- 
1. The Gap Between The Truck And The Cover Edge
That's where basically water reaches the truck bed. Sometimes the tonneau can't cover the entire truck bed. 
Inches or more remain open between the edges of the truck bed railing and the cover. These openings can let water pour in and damage your cargo.
2. Panel Hinges
That's another way where water leakage happens. However, most people can't notice it because it's so tiny.
That's why we always suggest people check the thing by a specialist so that there is no chance of water leakage.
>> How Do You Haul A Kayak On A Truck With A Tonneau Cover?
3. Tailgate May Also Become A Way
Let's say: in rare cases, tailgate becomes a way of water leakage. That's why most people underestimate the part. 
While fitting the cover, either follow the installation manual or get it done by a professional. It will save you time and money.
Read More: Are Truck Bed Covers Interchangeable?
Techniques of keeping your tonneau cover safe from water 
So as we said earlier, obviously, tonneau covers won't save your truck bed 100% from water. But you can ensure that water doesn't reach the truck bed. So here we share some techniques for this- 
Read also: Bakflip Mx4 Problems
Ensure enough sealing
We hope you have gone through the above-given description. So we hope you already know that the gap between the edge of the cover and the truck bed actually causes leakage.
If you really want to stop this from happening, then better for you to ensure extra sealing on the truck bed. Thus there will be no gap for sealing. 
Truck bed kit
This is another known way of preventing leakage. It's a kind of kit that actually seals any kind of gap.
Apart from that, it also has another benefit. If somehow the water reaches the truck bed, the kit will ensure the drainage and water will be removed.
Read More: How To Secure Tool Chest To Truck Bed?
Installing a pipe
If you consider the easiest way to solve your problem, this one is probably perfect for you. Though it might sound confusing, the process is pretty simple. 
To do it, you have to find out the gaps. Then put the pipes in these gaps. So if water leakage happens, these pipes will work as a drainage procedure for water removal. 
So, guys, these are the most known techniques through which you can make your cover work more perfectly. But yes, again, we would like to mention that any procedures don't ensure a 100% waterproof guarantee. 
Read also: How To Keep Dust Out Of Tonneau Cover?
FAQs
Do Tonneau Covers Leak Water?
In general, tonneau covers mostly prevent water from reaching the truck bed. However, an hour of heavy rain can result in some bad water leakage. That's why we always say tonneau covers are water-resistant, not waterproof. 
What Is The Purpose Of A Tonneau Cover?
The reasons are many to describe. First of all, it keeps your truck bed safe. Any unexpected situation won't harm your truck bed.
So the truck bed has remained in the new look for a long time. Apart from that, it ensures enough beauty for your truck. 
Do Truck Beds Fill Up With Water When It Rains?
Obviously, it doesn't. However, heavy rainfall might indeed cause water leakage. But that doesn't mean the truck bed will be filled with water. Most importantly, if you can take a few steps like sealing, water leakage can also be prevented.  
Can I Go Through A Carwash With A Tonneau Cover?
This actually depends on the type of cover. Some covers are totally okay in terms of going through a car wash. But some may cause leakage when you start the car wash. To avoid such unwanted things, try to get the details from the seller. 
Read Also: 5 Common Retrax Bed Cover Problems
Conclusion
The conclusion is pretty simple.
Tonneau cover keeps the water out but not totally. You will always find either a few drops or a puddle inside the truck bed, depending on the type and quality of the cover.
If you want to avoid the latter situation, get a cover that ensures extended coverage and tighter sealing.
Read also: Can You Go Through A Carwash With A Tonneau Cover?