Having a toolbox for your Ford Ranger is a precondition to keeping your vehicle secure, well-organised, and easily accessible. But if you don't know what size toolbox is for the Ford Ranger, you will not get the proper benefit of installation.
Toolboxes for Ford Ranger trucks range in size from 36″ to 69″ long, 12″ to 24″ wide, and 9″ to 24″ deep. To choose the best-sized toolbox, you must first measure your vehicle bed. Material, accessibility, and cargo space are also factors.
What size toolbox should I get for my Ford Ranger?
A toolbox for a truck like the Ford Ranger is a large rectangular box that can hold things of all shapes and sizes, like screws and bolts. The Ford Ranger truck comes in a single cab, double cab, and super cab.
This isn't the only thing that makes truck toolboxes different sizes. They also depend on different models and variations of Ford Rangers. Each one is made in a small, medium, or large size. They come in the following sizes based on how much they can hold:
Width: 36″–69″ or 91–175cm
Length :12″–24″ or 30-60cm
Depth: 9″ to 24″ or 22-60 cm
Here are some toolbox of different sizes for your Ford Ranger Truck,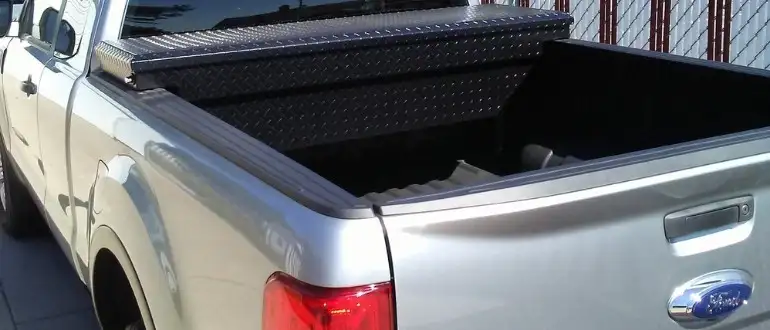 Toolboxes in Various Styles
Choosing the correct toolbox style might be tough. Here is a breakdown of the styles,
Saddle Box
This classic toolbox extends from one side to the other, floating above the bed. It's also known as the "crossover toolbox" because it has more space underneath for lengthy objects.
It makes the most of the bed's frame. This toolbox is easy to reach from either side of the bed, but restricts storage space. It includes buttons on both sides for convenience.
Porkchop
It fits over the wheel hub and is compact. It makes use of unused space behind the wheel wells. But this toolbox is hard to reach from outside the truck. It can be mounted on either side of the truck.
Chest Boxes
This low-profile toolbox stores basic tools. This type of toolbox sits on the bed floor and provides lots of storage. However, it reduces cargo capacity, easy to install and use with only one lid.
All-In-One Toolbox
It's all-purpose, as the name implies. You can store all your daily needs. This is a standard toolbox that holds most tools. It also takes up a little area on the bed. This toolbox works with a canopy. But you can't get to it from outside the truck.
Read More: Best Full Size Truck Toolbox
Things to Consider While Choosing Toolbox for Ford Ranger
The large diversity of ranger toolboxes may overwhelm you when buying. Materials, designs, and sizes vary widely, making it easy to purchase the wrong toolbox that doesn't fit.
So, what is the best toolbox for the Ford Ranger? Most toolboxes must fit between the bed rails, limiting their breadth. But their length and depth vary.
Measurement 
You should measure your truck before buying a toolbox. The bed wall's height, the distance between the outside and inner bed rails, and the distance between the wheel wells' base and the bulkhead are all vital.
The bed length is the distance between the tailgate and the bulkhead. Always measure the bed depth and the bulkhead-to-wheel well distance. Most toolboxes match industrial bed specifications of mid-size and full-size.
But knowing the exact dimensions is useful, especially if you wish to transport multiple boxes. After determining the appropriate box size, you may select features and choices.
Read More: How To Measure Tool Box Shocks?
security
You buy a toolbox for your truck to keep your tools organized. When you put your tools in the box, they should be safe and secure.
When buying a toolbox, check the storage capacity. Decide which tools you'll keep in the box, then check for secure storage space.
Look for bins with multi-level drawers so you can separate different-sized tools. The toolboxes can easily become jumbled and unorganized.
You may need drill-resistant locks, weather-stripping, or latch mechanisms. Otherwise, a durable and user-friendly box without pricey extras will be enough for most people.
Accessibility
The box should be easily accessible, especially if you use your tools frequently. Then you should be able to readily access the toolbox without having to pass by other equipment.
A toolbox in the bed may not be the best solution if you require a lot of cargo space. Instead, put the toolbox under or on the bed rails to make room for baggage.
Read More: What Size Toolbox For Dodge Ram 2500
Material
Steel, aluminum, and plastic are common materials for truck toolboxes. The material can also provide security. Thieves can simply open an unlocked toolbox using a drill or priers.
A durable plastic toolbox will hold spare fluids, screwdrivers, tow ropes, and other small items. Steel and aluminum are superior for security and storing valuables. They withstand poor weather, road debris, and normal wear and tear.
Make sure the material and seals are weatherproof to safeguard your tools from corrosion. The best materials are heavy-duty aluminum and stainless steel, powder-coated to prevent corrosion.
Plastic and aluminum are more portable than steel. But steel resists weather and theft. People who use hand tools can get hurt.
Read More: Can You Lock A Tonneau Cover?
Portability
Tools may be heavy, so if they need to be moved, the weight may need to be spread out over several toolboxes to make it easier to move.
Your friend may need a tool that you have, but your toolbox is too heavy to move or move around. This is why it's important to think about mobility when you buy a toolbox. 
Read also: How To Fix Tonneau Cover Latch?
Storage
The number of tools and storage space required by each person varies. Carpenters need different tools than homeowners doing small repairs, while mechanics need entirely different tools. Make sure that your toolbox offers enough space for your tools.
Read More: What To Keep In Truck Tool Box
FAQs about Toolbox for Ford Ranger
What Are The Main Risks Of Using Hand Tools?
Regular injuries like cuts, lacerations, and bruises can happen if people use hand tools a lot. If they don't get treatment, they can lead to long-term musculoskeletal injuries.
What Is A Meeting In A Tool Box?
Every day, everyone on the job site, including safety officers and supervisors, has to go to a toolbox meeting or a toolbox lecture before they start their work. A strong sense of workplace health and safety is also built up by this.
What Are The Tools For Trucks We Can Keep In Toolbox?
Screwdrivers or spanner
Padding ingredients
Open-ended wrench
Heavy-duty bolts
Aluminium J-hooks,
Aluminium-block type of nuts
Measuring taps
Essential screws
Safety gloves
Also read: How To Install A Truck Tool Box With J Hooks
Final Thoughts
Proper knowledge about the right toolbox size for ford ranger ensures hustle free installation and safety of the vehicle. For this reason, tool boxes are manufactured in different shapes, sizes and styles. You will have to choose the most suitable one.
Making the decision on the best tool box for your Ford Ranger appears to be a difficult undertaking. When choosing the ideal tool box for your Ford Ranger, keep the above considerations in mind.
Read also: Best Weather Stripping For Tonneau Cover