What To Keep In Truck Tool Box In 2022? (Great Idea)
We may earn commission from links on this page at no extra cost to you. We only recommend products we back!
A truck tool box can be used to store a variety of tools and equipment. Some common items that are kept in truck tool boxes include screwdrivers, wrenches, pliers, hammers, nails, screws, and other fasteners.
Some people also like to keep a flashlight, first-aid kit, and other emergency supplies in their truck toolbox. In this guideline, we will discuss what to keep in the truck tool box? Let's get started.
What to Keep in Truck Tool Box?
What you can put in the tool box depends on your profession, activity, or location. Many people put a lot of things in their truck tool box, so let's find out what to put in the tool box and why: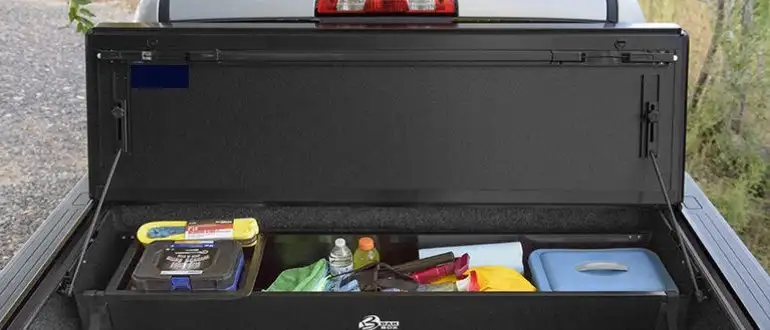 Supplies
Some people prefer to keep a variety of supplies in their truck toolbox. Such as:
Trash bags
Spare batteries for flashlights 
Basic hardware (nuts & bolts) set for unexpected repairs
Heavy-duty hand cleaner
Superglue
Cloth rag
Duct tape
A few cables tie
Paper towels
There are a few reasons why it can be beneficial to keep supplies in your truck tool box. 
First, if you have a breakdown or accident, having a few basic supplies on hand can help you get back on the road more quickly. 
Second, if you are stranded in a remote location, having a few supplies can help you stay safe and comfortable until help arrives. 
Finally, if you are working on a project away from home, having a few supplies on hand can help you complete the job more efficiently.
Basic Tools
It is very important to keep some basic tools in the tool box of your truck. Let's find out what kind of basic tools need to be kept in the toolbox.
Hammers
Mechanic's Toolset
Screwdrivers
Pliers
Wrenches
Bolt Cutters 
One of the most important reasons for keeping basic tools in a truck tool box is that it helps to ensure that the tools will be readily available in case of an emergency. This is especially important for tools that may be needed in a hurry, such as a screwdriver or a wrench.
Another reason for keeping tools in a truck toolbox is that it helps to keep the tools organized. This is important because it can be difficult to find a particular tool when it is needed if the tools are not organized.
Emergency Equipment
You can put important emergency equipment in the tool box of your truck. This will help you a lot in difficult situations. So, let's find out what kind of emergency equipment is needed: 
Non-flammable emergency fuel
Unopened water bottle
Disposable Painter Coverall
Heavy-duty jumper cables 
Collapsible water canteen
Tow cable or strap
Spare fuses
4-way lug wrench
Hazard markers
JB Weld
Tire sealant
Medical kit
There are several reasons to keep these in your toolbox. First, it provides a convenient place to store the equipment so that it is readily available in the event of an emergency.
Second, the tool box can protect the equipment from the elements and damage. Third, the toolbox can help to keep the equipment organized so that it is easy to find and use in an emergency.
Activity or Vocation Specific Gear
When you go somewhere you need a lot of things. You can carry all those essentials things in the tool box of your truck. As if these are safe and easy to find. Many people carry the following items in their tool box when they go for a travel. Such as:
Fishing: rods, reels, tackle boxes or satchel, nets, wading boots, supplies, filet knife & cutting board.
Hunting: firearms, targets, decoys, cleaning supplies, clothing.
Ranching: medical supplies, halters, brushes, sorting sticks, lariat ropes, floodlight.
Construction: power tools, level, tool bags/belts, parts satchel.
Mechanics: diagnostic equipment, spare parts, full mechanics toolset, hydraulic jack, jack stands.
Why Need to Keep These in Truck Tool Box?
There are many reasons to keep these in a truck toolbox. Some people keep them for the extra storage space, while others find them useful for organizing tools and keeping them within easy reach.
Still, others find that a truck toolbox helps protect their tools from the elements and keeps them from getting lost.
One of the most popular reasons for keeping a truck toolbox is the extra storage space it provides.
A toolbox can be used to store tools that are not used often, such as a spare tire, jumper cables, or a first aid kit. This way, they are out of the way and not taking up valuable space in the truck.
Another reason people keep truck tool boxes is for the organization they provide. A toolbox can help keep tools sorted and easy to find. This is especially helpful if the truck is used for work purposes and the tools are needed regularly.
Finally, a truck toolbox can help protect tools from the elements. If the box is kept in the bed of the truck, it can help keep tools dry and free from rust.
FAQs
What Tools Should I Keep In My Truck? 
A full set of tools should include a hammer, screwdrivers, a wrench, pliers, a saw, and a drill. In addition, you should also keep a flashlight, a first-aid kit, a fire extinguisher, and a set of jumper cables. 
It is also a good idea to keep a few spare parts on hand, such as a spare tire, a set of fuses, and a set of spark plugs. Finally, you should also keep a map of the area and a list of emergency numbers.
How Do You Store Tools In A Truck?
Several ways to store tools in a truck, depending on the size and type of the truck and the tools. One way is to use a toolbox or a tool chest that is designed to fit in the back of a truck.
Another way is to use a storage system that is designed to be mounted on the wall of the truck.
Final Thoughts
Everything you put in the tool box depends on your needs. Hopefully, you've been able to figure out what to put in the truck tools box. We hope that you find this article helpful.