Interestingly, when we want to buy a truck tool box, the weight of the boxes turns out to be a big factor as you have to move it from time to time. That's why we always prefer to have a quality box with less weight.
In this article, we also will know about certain important things which are as important as the typical weight of the boxes. 
How Much Does A Truck Tool Box Weigh?
It all depends upon the brand, model, material, etc. of the box. Small and simple standard boxes typically weigh less than 5 pounds. But the weight ranges go up to 12 to 20 pounds for the big heavy-duty boxes.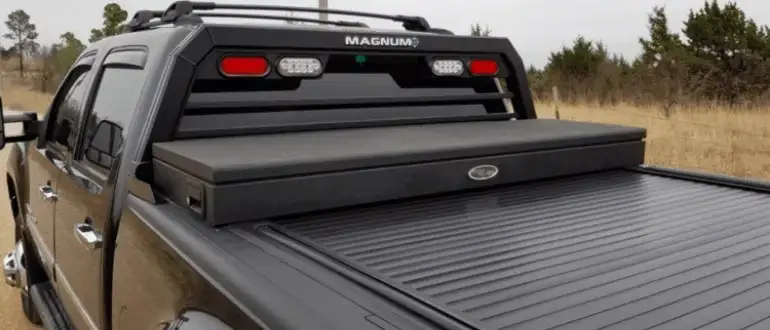 Moreover, if you are looking for a tool box that has several drawers and wheels, the typical weight range is 30 to 45 pounds, or even more.
Some example:
How to choose the best truck tool box:
There are a number of factors that have an impact on the weight of the truck tool box. So, you have to consider every aspect very carefully before buying the truck tool box that fits your needs perfectly. 
1. Pick your desired style:
Chest and cross box or saddle box are the two basic truck toolbox types. Most people utilize cross boxes since they're simple to set up.
You may also slip sheet items under it and reach your instruments from either of the sides.
The style of the box is a big factor to determine how much the box will weigh.
2. Keep security as a top priority:
To protect your valuable belongings in the toolbox, you should get a high-quality box that has robust locks, a reinforced lid, and thick sidewalls to protect the contents. 
Nevertheless, if all you want is to keep your equipment safe from the outdoor elements only, there are a plethora of options available for you in the market.
In fact, the weight and cost of this type of box will be way less than the heavy ones.
Read More: How To Install A Truck Tool Box With J Hooks?
3. The tool should have considerable weather resistance:
The majority of tool bins for vehicles are rather effective at keeping rainfall out. However, improved hinges and locks, as well as high-quality weather stripping, will be expected to keep out snow and wind or sand.
4. The construction material matters a lot:
In terms of sturdiness and resistance to tampering, there is nothing better than a steel box unless you have to face salty roadways or salt spray being located in coastal areas.
Once the paint is scratched, you'll be battling rust for the rest of your life. The reason aluminum is so desirable is that it does not corrode.
Nearly 50 lb. is the weight of an aluminum box which is more than a similar steel unit. So, in case you require the full bed, you can effortlessly remove it.
It's also possible to get an affordable plastic box for items like tie-downs or jumper wires. It will also weigh less than you can think of.
Read More: How To Install A Truck Tool Box Without Drilling
5. Consider the overall convenience:
Your tools can fit in any container, which is incredible. The simplicity with which you can open and close the box is another factor that determines the convenience of the box. 
Open, close, and lock/latch performance are all grouped together under the umbrella term "convenient" to make things easier for you. 
You can grade convenience as follows:
High-quality locks should be easy to open and shut. The convenience rating is low if the lock requires more force to open or if it needs to be adjusted on a regular basis.
There should be no lag time when a gas lift lifts the lid. The box that needs assistance or feels vulnerable is of low quality.
If you need to exert a lot of effort to secure the lid, the box is of low quality.
Chest box for tonneau cover:
Cross boxes are a big hit. However, only a chest box will fit under a tonneau cover if you already have one or plan to get one. 
Interestingly, it won't even obstruct the view that you get using the rear window as the box will just sit fine relatively close to the bed rail height or at the bed rail height.
For this type of box, there will be no scope of sliding lumber or sheet goods under the chest box as it will attach to the bed's floor. But, it can hold much more tools and accessories than any regular cross box, which is a big plus point.
Read More: Best Full Size Truck Toolbox
FAQs about a truck tool box weight
1. Are Truck Tool Boxes Universal?
Truck toolboxes aren't universal, although they should suit most vehicles in the same category.
Full-size truck versions, on the other hand, are suitable for larger automobiles such as the Titan, F-250, Tundra, Ram, F-150, etc.
2. What Are Truck Tool Boxes Made Of?
Aluminum is the most common material for truck bed toolboxes. Lightweight, strong, and free of corrosion are all characteristics of this substance.
However, stainless steel and strong polymers are used to make certain boxes.  But, aside from being non-corrosive and robust, stainless steel is also heavy and costly.
3. How Much Does A Weatherguard Tool Box Weigh?
Weatherguard tool boxes weigh between 40 Pounds 50 60 pounds based on the models. Whereas most of the models come with a dimension of more or less .19.63 x 18.2 inches.
4. How Much Does A Snap-On Toolbox Weigh?
An unfilled Snap-on toolbox typically weighs 876 pounds. The weight of the toolbox varies depending on the brand and series or models you possess.
The lightest and heaviest full-size boxes weigh 349 pounds and 1,970 pounds, respectively.
Read also: How To Fix Tonneau Cover Latch?
Final Thoughts:
The truck-bed toolbox is a must for most contractors. But we all have to carry our tools with us, right? So, there is no need to be a professional to warrant the purchase of truck tool kits. Even the cost for such boxes is within the range for most of us.
For instance, a weather-tight toolbox is available for less than $300. So, you don't have to clutter up your cab with your personal belongings anymore.  Just buy the tool box you want and ensure the optimal safety of your items.