If you wish to get the right replacements for your vehicle, then the first thing is to know their measurements. Because unless you know the detailed specifications of any part, you might order the wrong item. And if it comes to worst—a breakdown—you might have to ground your vehicle as you source another part. That would mean if your car breaks on the highway, you'd incur an extra cost of towing it away as you look for the right part. 
But this can be avoided. 
Your toolbox shocks are one of the critical parts of your entire vehicle. And when you're buying or thinking of installing it, you must know its actual measurements. 
In this article, we'll share with you simple ways to measure your toolbox shocks—even if you're not an experienced mechanic.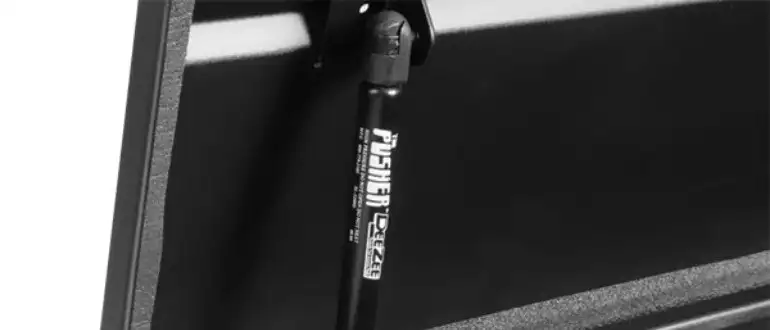 How To Measure Tool Box Shocks Like An Expert 
Whether you're experienced with cars or just new to them, there are different ways that you can master measuring shock size. Here are the simplest ways to help get the exact length of the toolbox shocks. 
1. Eyelet to eyelet measurement
In this first method, you can use a rolling meter or anything else to measure the shock length. Hold the roll in the centre of one eyelet and drag the roll to the centre of another eyelet. 
Read the meter, and you have measured the overall length of the shock. Now, you have to measure the stroke, which is a bit complicated process.
Read More: How Much Does A Truck Tool Box Weigh?
2. Measure the stroke of the shock:
Depending on your shock type, you would need to use different ways to get the stroke measurements. Here are the specific ways for different shocks. 
(i) How To Measure air shocks
Stroke measurements may indeed be obtained accurately by measuring from the wiper seal lip to the air shaft's termination point. 
The eye-to-eye distance and stroke length are engraved on some Rockshox shocks. As a result, you may not always acquire an accurate reading if your shock has a travel reduction spacer (Remember, volume reduction spacer and travel reduction spacer are totally different things).
When you observe from the outside, most of the shocks appear to have a longer stroke than they usually have. But, for safety purposes, all the manufacturers now include some sort of travel reduction spacer in their products.
As a result, we get a smaller stroke than how (how long) it actually appears.
For instance, if the stroke seems to be 55 mm, there will be a travel reduction spacer of 2.5 mm. So, eventually, you will get a stroke of 52.5 mm.
(ii) How To Measure coil shocks
Unlike air shocks, measuring coil shocks is very effortless. At first, you have to withdraw the spring from the shock.
Then find out the point where the shaft enters the shock body. Hold your roll meter on that point and take a measurement to the point where the eye begins on the shaft.
Read More: How To Clean Aluminum Tool Box?
What About The Shock Measurement Accuracy? 
If you're not careful when measuring shock size, you might end up with incorrect lengths. But that shouldn't happen if you pay attention to the following specific and careful ways of doing it. 
Note down the eyelet-to-eyelet measurement.
Carefully drain all of the air out of the shock by using any type of shock pump for shocks.
Thoroughly observe the shock and measure the distance between both eyes (eyelets) once more.
Calculate the useable stroke by subtracting this number from your original eye-to-eye length.
For instance, suppose,
The Extended Length is: 187 
The Retracted Length: 134.5
So, the useable stroke is: 187 – 134.5 = 52.5
Remember, sometimes, the same eye-to-eye distance between two shocks might result in a stroke length that is different from the other. 
So, when upgrading, ensure that the eye-to-eye distance and stroke length are the same as those on your present shock to avoid complications.
However, you can extend the stroke slightly in certain cases to get a little more travel, but we don't advocate doing so without proper training and experience.
Different Types Of Shocks That You Should Know
Measurement is not the only major concern you should consider when choosing your shocks. 
Before spending your money, ensure you are buying the correct shock. Here are different types and how they differ from each other. 
Gas Shock
These are the original shocks that come with most cars. They have nitrogen gas sealed with oil from the inside. These shocks are effective and best for smaller vehicles. And even better, they are long-lasting. 
Standard Shocks
These are basic and standard shocks. They don't have much of special features, and their lifespan is about 100,000 miles. 
Heavy Duty Shocks
These are shocks that come with a larger centre shaft, a larger diameter, and beefed-up attachment points. They are major shocks for heavy load vehicles for SUVs, Vans, and Trucks. 
Automatic Level-control Shocks
These shocks have an air pump to activate weight distribution in the vehicle. They are major shocks found in luxury cars. When you carry extra weight, the air pump adds pressure to the shocks to compensate for the load on the car. 
Air Shocks
These are shocks that work similarly to automatic-level shocks. The only difference is that these shocks are manual. The driver must pump the air in them for them to dampen and take extra weight. 
Overload Shocks 
These shocks have a spring-like coil fitted outside the shock cylinder. The coil makes these shocks effective for off-road vehicles. 
Final Thoughts
You will always be back in the shop without the right measurement and quality of toolbox shocks. And even better, you'd minimise the level of roadside assistance that you would need. This is because your vehicle won't break down unnecessarily. And when it does, you can use your spare to fix the problem without towing your car. 
So, at all times, measure your shocks. Know their specifications. And buy those that would give you the best performance depending on your vehicle type. 
FAQs About Measuring Tool Box Shocks
1. Is It Worth Buying Tool Box Shocks?
Yes, toolbox shocks totally account for your every penny. If you have a toolbox but no shocks, your toolbox package turns out to be a waste of money.
However, having the proper shock changes the scenario completely and aids your hassle-free journey every time.
In fact, there is no downside to having toolbox shocks.
2. What Happens If Your Shocks Are Too Long?
If the suspension system installed on the car is excessively lengthy, the shock absorber may "bottom out" and cause the vehicle suspension to fail.
It means that even if the shock is pushed down, the suspension will still have a certain amount of movement left in it.
3. Are Struts And Shocks The Same Thing?
These two components are unique and serve different purposes. Even though both items may improve the ride and handling of your car, they operate in quite different ways. 
The suspension system's individual components are known as shocks, while the frame, suspension, and chassis system's structural parts are known as struts.
3. What Are Some Tips For Organizing My Toolbox?
Take a look at all of your tools and figure out their types, designs, and numbers. Then decide where to store them.
Then to have an organized toolbox, simply place it all together in your toolbox or backup container.