Your toolbox can still be opened even if the key is missing or damaged. In most cases, you will get an emergency locksmith on summons and get immediate help.
They are capable of handling any type of lock. You can repair or replace the lock if required, and then manufacture a new key. 
However, If the lock isn't too hard and you think you can open it on your own, you can try. Here I'm to help you out with step-by-step instructions.
How To Open A Locked Toolbox Without A Key?
There are a few prominent methods of opening a truck toolbox without the key. In the first place, you have to evaluate the situation and the cause of your not having the key, then decide how you want to open it.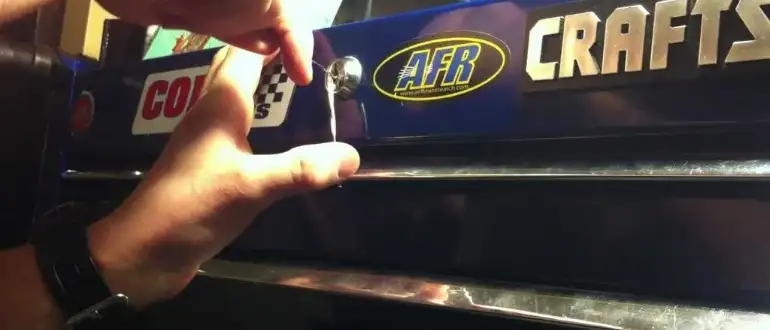 The opening methods include new keys, lock picking, drilling, prying, etc. 
Open your truck toolbox without the key:
If keyway manipulation tactics like as bypassing or lock picking are unsuccessful in opening your toolbox, only then you should consider the destructive entry. If you make the right decision, you will suffer the least amount of harm.
1. Arrange a new key:
When you don't have the key to your looked toolbox, the simplest solution is to have a new key produced. Very often, the toolbox key snaps, then producing a new key is a matter of minutes.
The key fragments can be combined to create a new key without regard to the lock. In some cases, a locksmith may still be able to produce a key from the lock itself.
Using specialized equipment and procedures, a locksmith may deduce a key code from a functioning keyway without having to open the lock. If you want to make a new key this way, sometimes you'll have to manipulate or pick the lock first.
It may even be necessary to break down a high-quality padlock to figure out how it works, but this is not always necessary.
2. Try manipulating the lock:
There are multiple different strategies for unlocking a locked toolbox rather than using a key.
Shims will work fine as a steady and handy method, which you can buy online or make using soda. Moreover, with a file cabinet lock-like mechanism on your toolbox, the following way may work:
Step 01: You will need a piece of metal equipment that is thin enough to match into the toolbox's keyhole.
Step 02: Insert the tool inside the lock till it touches the rear of the lock.
Step 03: Using a key-like motion, wiggle the tool as you spin it.
Step 04: As you proceed to wiggle the tool, adjust your rotational pressure accordingly.
Step 05: Aim to complete this process within two minutes, or you may repeat it again.
This doesn't always work. So, here luck will play a bigger role than skill. However, almost all of the time, trying such manipulation should get the locks on most toolboxes to come off.
>> How To Replace Lock On Truck Tool Box
3. Pick a toolbox lock:
If it seems impossible to arrange a new key, or the manipulation doesn't work. Your third resort would be this.
A large portion of the tool chest's locks uses the dead-bolt mechanism. So, picking your lock should work without fail for such locks.
You will need:
A tool chest lock rod or tension wrench
A snake-style lock pick
Step 1: Grab the toolbox lock rod or a tension wrench and put it to use. Use a metal stick bending on top of the tension wrench if you can't get the wrench to work immediately. bent side forward inside the lock.
Using the tension wrench, apply a steady stream of pressure to the keyhole. You must exert this force on the shear line. Rotate it counterclockwise.
Step 2: To the keyhole, insert the snake lock pick. Insert the pin in the lock's rear. Keep in mind that spinning and pushing go hand in hand.
Step 3: Simply scraping the lock pin will assist to raise it to the desired position. Gently snap the lock pin to see if it will work. Keep an eye out as all of the pins should fall out if there is a collision.
Step 4: As long as you scrape the lock pin properly, the shear pins will be set. This will allow you to twist the wrench clockwise. As you can see, you have unlocked your tool chest. Congratulations!
>> How To Pick A Truck Tool Box Lock
4. Drill the lock:
When someone drills into a lock, the lock will not be able to be used anymore. After you drill the lock, usually it is possible to change the lock.
Sometimes the toolbox's construction may not allow changing the lock. Then you will either have to purchase a new toolbox or continue using an unlocked toolbox. Prior to drilling a lock, review these scenarios.
Drilling a lock is nothing unusual. Begin with a drill bit somewhat bigger than the keyway. As you broaden the hole, use larger drill bits.
You will ultimately destroy the shear line.  The cylinder will revolve and then you can open the toolbox.
>> Best Full Size Truck Toolbox
5. Prying the toolbox:
Prying open the toolbox is not a preferred approach since it will almost probably harm the toolbox. Drilling a lock just damages the lock.
Prying a toolbox's drawer or lid might damage the actuators and lock. These parts aren't as simple to replace. So, when you have no way left, go for it as a last resort.
>> What Size Toolbox For Ford Ranger?
Read also: How To Patch A Hole In A Tonneau Cover?
FAQs about opening a truck toolbox without the key:
1. Can You Change A Toolbox Lock?
Most toolbox locks work similarly to filing cabinet locks. So, the replacement is not a difficult task.
The cylinder must be detachable to allow disassembly and reassembly without harming the toolbox. Before ordering new components, measure your lock's dimensions.
2. What Is The Fastest Way To Open A Locked Toolbox Without A Key?
Breaking a lock is the fastest technique.  However, the easiest way will be to contact a mobile locksmith, if you don't prefer to destroy the box.
Final Thoughts:
It's always unpleasant when you don't have access to your truck toolbox. Choose the most suitable option and follow simple steps to cope with this trouble.
Always consider why you don't have access to your toolbox or what has happened to the key; the method you use to crack a locked toolbox without a key will differ based on such cause.
Therefore, if you don't want to destroy or compromise your toolbox or key, you may want to consult a locksmith before attempting a destructive access method.