If you have lost your toolbox key, you may be worried about how to open the box without the tool box key. You may think that the only way to get out of this situation is to break the lock. 
But "NO", there are some strategies to get out of this situation. In this article, we will discuss how to pick a truck tool box lock. Let's get started.
What Is Lock Picking?
Lock picking is the act of opening a lock without the use of a key. A lock pick set is a collection of tools used to open locks without the use of a key. Lock picking is a skill that can be learned and mastered with practice.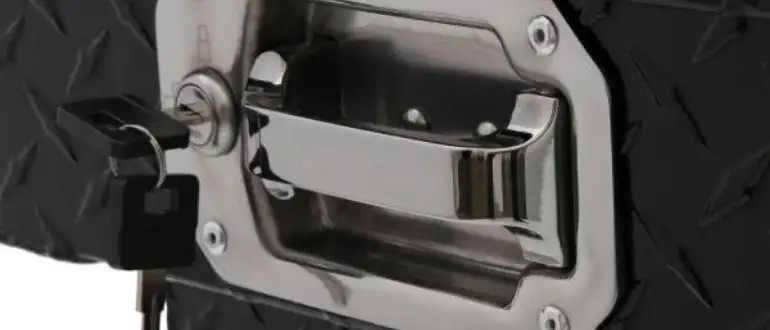 Lock picking is a useful skill to have if you lose your keys, or if you need to get into a locked room or safe. Also, lock picking can be used to open locks that have been damaged or jammed.
How to Pick a Truck Tool Box Lock
You can easily open the lock using two methods.
Pick a Tool Chest Lock with Paper Clips
Pick a Toolbox Lock with Tools
So, let's find out how to open the lock through the above two processes.
Read More: How To Replace Lock On Truck Tool Box
Pick a Tool Chest Lock with Paper Clips
Sometimes you can't afford special tools to unlock the box. This is because it locks all your equipment inside the box.
In this situation, you manage two powerful paper clips and see how to unlock a tool chest without locking tools.
Step 1
You will need one or two paper clips to do this. First, open with one or two paperclips and straighten them. Now take a paperclip and bend it 90 in the middle. 
A paperclip has two parts, take any one of them and bend it 90° inwards again. Then one tool will act as a tension wrench and the other clip will act as a lock rod.
Step 2
Insert the tension wrench into the shear line of the keyhole and press the ball continuously. Rub the tension along with pushing. At the same time, rotate in the clockwise direction.
Step 3
Now, insert another pin on the top of the lock and turn it upwards. Make sure the pin reaches the end of the hole. Keep doing it until you reach the end.
Step 4
Rack the pin and press to pull. Then you can feel that all the pins of the lock are set for the unlock position. You can click lock there. Shake the clip pin to unlock the lock pin. 
You will hear a clicking sound. Rotate the tension wrench and unlock the toolbox. Finally, you will see that the lock is unlocked.
Pick a Toolbox Lock with Tools
Most tool chest locks are dead-bolt system locks. All you need for this method is a little patience and two tools. The tools are:
A tension wrench or tool chest lock rod
Pick a lock
Step 1
Take the tension wrench or tool chest lock rod in your hand. If you do not have a tension wrench. Then take one of the metal sticks and bend the top slightly like a tension wrench. Insert the curved side of the tension wrench into the key-way.
Now press the keyhole continuously with the tension wrench. You have to put this pressure on the shear line. Try to rotate it clockwise.
Read More: How To Open A Locked Toolbox Without A Key
Step 2
Now insert a snake lock pick into the keyhole and press the pin behind the lock. Remember that rotation and pushing go together.
Step 3
Now push the lock pin upwards and start scrubbing it on the pin. Also, try to gently snap the lock pin. See that all pins should be out with a collision.
Step 4
Remember, if you scrub the lock pin correctly, the shear pins will be set. And you can turn the wrench clockwise. As soon as you turn the wrench, you see that your lock is unlocked.
How Easy is it to Pick a Lock?
Picking a lock is a skill that must be learned and practiced. It is not as easy as it looks in the movies.
There are many different types of locks, and each must be approached differently. The most important tool for a lock picker is a good set of picks.
These are thin pieces of metal that are inserted into the lock to feel and manipulate the pins.
A good set of picks will also include a tension wrench, which is used to apply pressure to the lock while the picks are inserted.
Read also: How To Patch A Hole In A Tonneau Cover?
FAQs
Is Lock Picking Legal?
There is no definitive answer to this question as it depends on the laws of the specific country or state. In general, lock picking is considered to be a legal activity unless it is done with the intent to commit a crime.
While lock picking itself is not illegal, the possession of lock picking tools can be considered illegal in some jurisdictions if there is evidence that the tools are intended to be used for criminal purposes.
Can You Pick A Lock With A Credit Card?
Yes, you can pick a lock with a credit card. However, it is not as easy as it looks in the movies. It takes practice and a lot of patience. But keep in mind that this method will not work on all locks. 
If your lock is only used to open cabinets or drawers. Then it can be opened with a thin plastic like a credit card. Although we do not advise you to try to pick a lock with a credit card. 
On the other hand, if you want to open the door using this method then it will take some time for you. Some locks are designed to be more difficult to pick.
Final Thoughts
As you can see above, you can easily apply these methods to unlock your truck tool box. However, you must be proficient in this task. we hope that you can easily unlock your lock by trying a few times. If you still fail, then you must take advice from a skilled person.