For Rambox, selecting the finest tonneau cover might be a difficult choice to make. In the end, though, finding the one that usually works best for you is just a matter of trial and error.
Tonneau covers are purchased for a variety of reasons by people who wish to protect the bed of their vehicle. This cover has several advantages in terms of both fuel efficiency and design.
However, the question we get most of the time is "can you use a tonneau cover with Rambox or not?"
Can you use a tonneau cover with Rambox?
Yes, you can use a tonneau cover, not the normal ones, with Rambox. In fact, these covers are the most effective means of securing your truck's bed and preventing theft. These truck bed coverings fit perfectly with even Ram 1500.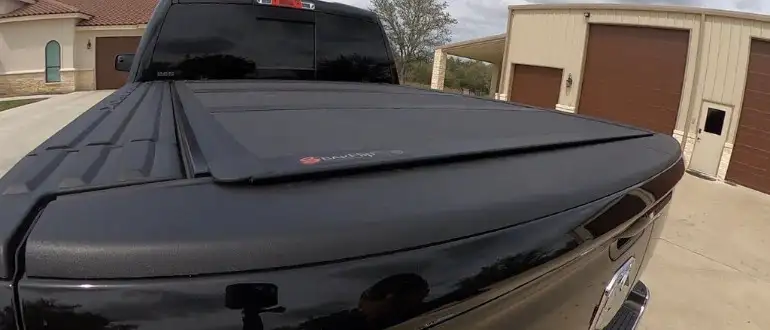 Tonneau ensures a protective barrier and an attractive appearance that enhances the aggressive appearance of the robust and durable Ram vehicle.
Are RamBoxes worth it?
Over the years, the RamBox cargo management system has been a popular method of storing tools and cargo equipment safely among users.
The majority of the RAM truck today carries the Rambox system for insane popularity among the mass public.
The system offers considerable space for both the small and larger items of our daily needs. Fishing rods, shovels, pickaxes, shovels or the like can easily fit on the bed during transportation.
So, the RamBox system is fantastic. This truck's RamBox locks and unlocks with the use of a key fob. Even, while you're driving, the deep front and rear wells assist to keep items in place.
Even after driving through heavy muck, the RamBox's contents will remain clean and dry. So, indeed the RamBoxes are totally worth it.
What Ram trucks have the RamBox?
Currently, the followings Ram models come with a RamBox cargo management system:
RAM 2500 Crew Cab.
RAM 3500 Mega Cab.
RAM 2500 Mega Cab.
RAM 1500 Quad Cab.
RAM 3500 Crew Cab.
RAM 1500 Crew Cab.
RAM 1500.
Currently, among all the Ram pickups, 85 percent or offer the RamBox feature.
As far as the bed size of the bed concerned, the newer models are 60 inches in length with a 6-foot-4-inch bed, compared to 50.5 inches for the previous 5-foot-7-inch variant, representing an increase of 18 percent in length.
The ideal tonneau cover for Ram 1500:
Premium Tri-Fold or folding tonneau covers are best for a 5.7-foot to 6.4-foot bed. These folding tonneau covers offer a lightweight aluminum structure that is both sturdy and long-lasting.
The covers are so well made and feature r rust and corrosion-resistant structural foam panels.
From the rear, removing and mounting the hinged cover is a straightforward two-step procedure that takes only a few seconds.
One-piece tonneau covers:
For other models of the Rambox, the one-piece tonneau cover is also a "go-to" choice for a lot of people. To match the color of the car, the One-Piece tonneau cover is painted and customs options are available.
It has a durable dual-wall construction that has both an outer liner and an inner lining to keep it from cracking. 
Two gas-assisted dampers help this cover rise up. The Tonneau has a built-in tailgate deadbolt for extra security. All these tonneau covers are custom-made to match the style of your truck.
Read More: Can You Break Into A Tonneau Cover?
Ram Multifunction Tailgate:
Recently, the major trend in automotive innovation has been a concentration on environmentally friendly automobiles, which has been the industry's dominant trend.
While everyone appears to be focused on developing stronger batteries, Ram has taken advantage of the situation to do something that nobody else thought of before: completely redesigning the tailgate of its Ram 1500 pickup truck. 
For the first time, the all-new Multifunction Tailgate is available on all Ram 1500 pickup trucks. Accessing the bed adjacent to the bumper enables ramping up easier.
You do step over the tailgate as you would otherwise if you don't use any RAM multifunction tailgate. 
It also makes lifting large boxes or freight much easier. It also makes it easy to unload your belongings because you won't have to strain your back attempting to hoist over the barrier.
Even the newest models with such tailgates are also a perfect match for tonneau covers.
FAQs about using a tonneau cover with Rambox:
1. How Much Is The RamBox Option?
All the Ram truck comes with a sophisticated in-bed storage system. The system, which comprises 2 storage compartments positioned on either side of the bed and costs $995-1500 or more.
It enables you to store items that you may choose not to have in the car's cabin while traveling in the trunk of the vehicle.
2. Do People Like RAM Boxes?
There are very few individuals who have the Rambox option that ever posts anything stating that they would not purchase them again or that they do not utilize them. 
Even though there is just a handful of them, the great majority of people truly enjoy them.
3. How Much Weight Do RAM Boxes Add?
When we compare to a standard tailgate without a ram box, the ram box adds around 150 pounds and the MFT adds approximately 100 pounds.
As a result, two of them, if you install them together, reduce the total payload by around 250lb. The usual payload for a standard RAM 1500 is roughly 1500 b.
4. Does RamBox Have Dividers?
Yes, the dividers will come as a set of two huge dividers with bag holders, a pipe holder, and a fishing rod holder; there will be one of each size. 
To divide the space. there is a long longitudinal divider.  On either side, there is a smaller side divider.
To complete both the driver and passenger side RamBoxes, you would need to order two sets of RamBoxes.
5. What Comes With The RamBox Cargo Management System?
The RamBox Cargo Management System is equipped with sliding tie-down cleats and cargo rails and other essential hardwires. The top rail coverings come as a gift with the package.
The multi-position box divider also functions as a box extender and maybe put to a countless number of different applications.
Final Thoughts:
So, to summarize, we can say that Rambox is a highly practical storage solution that makes use of the area between the outer fender and the bed wall of your vehicle.
But regular tonneau covers don't fit Rambox-equipped trucks since the side rails on these vehicles are larger to accommodate the system.
Always keep in mind that the metal slats and industrial-grade vinyl constructed of a RamBox hard tonneau cover are mandatory.