Yes. If you've been wondering whether you can install a Tonneau cover on a Rambox, then it's possible. All you need to do is choose a Tonneau cover that's compatible with a Rambox.
When you use a cover over a Rambox, you give your cargo extra and secure protection. So, it's always recommended to use the Rambox together with a good cover. With both of them, you'd even see a better performance. 
Do I Really Need A Rambox?
Over the years, the RamBox cargo management system has been a popular method of storing tools and other equipment. It offers a better secure system as compared to a toolbox. That's why it's mostly recommended to people who drive their trucks in areas that pose a huge risk of theft. 
It also has considerable space for both the small and larger items of our daily needs. Fishing rods, shovels, pickaxes, shovels, or the like can easily fit on the bed during transportation.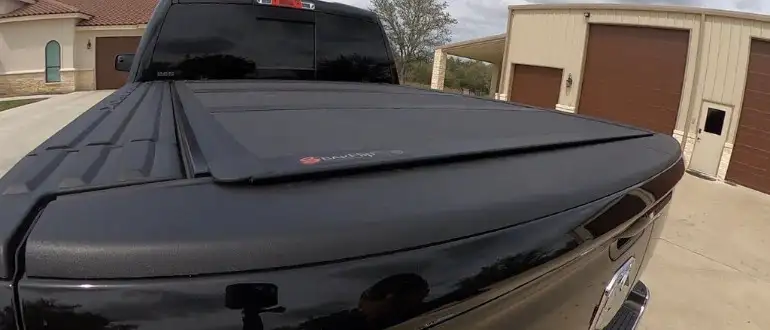 What Ram trucks have the RamBox?
Currently, the followings Ram models come with a RamBox cargo management system:
RAM 2500 Crew Cab.
RAM 3500 Mega Cab.
RAM 2500 Mega Cab.
RAM 1500 Quad Cab.
RAM 3500 Crew Cab.
RAM 1500 Crew Cab.
RAM 1500.
Currently,  85 percent of all the Ram pickups have features for installing a Rambox. 
As far as the bed size of the bed is concerned, the newer models are 60 inches in length with a 6-foot-4-inch bed, compared to 50.5 inches for the previous 5-foot-7-inch variant, representing an increase of 18 percent in length.
Best Tonneau Cover For RAM 1500 with Rambox
The Following are different types of covers for RAM 1500. These covers you can install them on a truck with a Rambox. 
Folding Tonneau Covers
Premium Tri-Fold or folding tonneau covers are best for a 5.7-foot to 6.4-foot bed. These folding tonneau covers offer a lightweight aluminum structure that is both sturdy and long-lasting.
The covers are rust and corrosion-resistant structural foam panels.
Removing and mounting the hinged cover from the rear is a straightforward two-step procedure that takes only a few seconds.
One-piece tonneau covers
For other models of the Rambox, the one-piece tonneau cover is also a "go-to" choice for many people. To match the car's color, the One-Piece tonneau cover has different colors. And even better, you can customize them. 
It has a durable dual-wall construction that has both an outer liner and an inner lining to keep it from cracking. 
Two gas-assisted dampers help this cover rise up. The Tonneau has a built-in tailgate deadbolt for extra security. All these tonneau covers are custom-made to match the style of your truck.
Read More: Can You Break Into A Tonneau Cover?
Top Tonneau Covers in Market To Use With A Rambox 
Here's a comparison of different Tonneau covers that you can buy now and install on your truck. 
| | | |
| --- | --- | --- |
| Cover  | Features  | Buy NOW |
| BAK Revolver X4s Hard Rolling Truck Bed Tonneau Cover | All matte black One hand operation All-access 5 year warrant | Click here to check the price |
| TruXedo Lo Pro Soft Roll Up Truck Bed Tonneau Cover | Roll-truck bed cover Low profile design No drill installation  | Click here to check the price |
| extang Trifecta 2.0 Soft Folding Truck Bed Tonneau Cover | Easy installation Durable Soft folding cover Extang engineered | Click here to check the price |
Parting Shot
If you've been wondering whether you can use a Tonneau cover with a RAMbox, then here's the answer. It's possible. All you need to do is find the right Tonneau cover and install it over your RAMbox. 
FAQs about using a tonneau cover with Rambox:
1. How Much Is The RamBox Option?
All the Ram truck comes with a sophisticated in-bed storage system. The system comprises 2 storage compartments positioned on either side of the bed and costs $995-1500 or more.
It enables you to store items that you may choose not to have in the car's cabin while traveling in the trunk of the vehicle.
2. How Much Weight Do RAM Boxes Add?
Compared to a standard tailgate without a ram box, the ram box adds around 150 pounds and the MFT adds approximately 100 pounds.
As a result, if you install them together, two of them reduce the total payload by around 250lb. The usual payload for a standard RAM 1500 is roughly 1500 b.
4. Does RamBox Have Dividers?
Yes, the dividers will come as a set of two huge dividers with bag holders, a pipe holder, and a fishing rod holder; there will be one of each size. 
You can use these dividers to organize your items in the Rambox. 
5. What Comes With The RamBox Cargo Management System?
The RamBox Cargo Management System is equipped with sliding tie-down cleats, cargo rails, and other essential hardwires. The top rail coverings come as a gift with the package.
The multi-position box divider also functions as a box extender and may be put to a countless number of different applications.