Truck beds are the most useful part of a pickup. But a truck bed doesn't come with the protection it requires from the factory.
So, we tend to protect our truck's bed with tonneau covers. When we haul cargo, we need bed rails. However, it's possible to combine them to get the most out of them!
This article will guide you through the process of installing both these equipment together on your truck and ensuring utmost safety.
Can you put a tonneau cover on a truck with bed rails?
Yes, you can put a tonneau cover on a truck with bed rails. It adds to the functionality and securement of your truck, especially, while hauling cargo.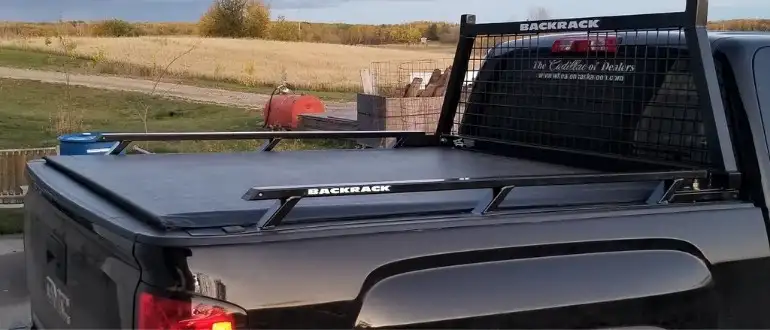 Installing a tonneau cover with bed rails also helps with tightening the cover and preventing the back and forth from sliding every now and then.
One of the best tonneau covers is the RetraxONE MX Retractable Truck Bed Tonneau Cover, which works perfectly with bed rails.
Truck bed rails enhance the looks and utility of your vehicle. It makes it simple to secure merchandise in the truck's bed without risking damage to it.
How do truck bed rails work?
To put it simply, truck bed rails are long metal bars that span the width of a truck bed. When it comes to vehicle upgrades, installing bed railings is a fantastic idea.
Truck bed rails are intended to protect your pickup bed from dents and scratches that might occur when loading and unloading cargo into your truck. It protects your truck bed during long-distance traveling, or when a huge object may stretch over the edge of the bed.
Read More: Can You Use A Tonneau Cover With A Bed Liner?
Types of bed rails for tonneau cover:
Broadly, there are two types of bed rails that work fine with most of the tonneau covers, except for the surface mount tonneau covers.
The majority of the time, selecting a design is easy-peasy and will be determined by how your truck is now outfitted or how you intend to adorn it in the future. 
However, there are a handful of important considerations to keep in mind.
Read More: How To Install Tonneau Cover With Bed Liner?
1. Bed rail installation kit:
These kits are a standard set of bed rails, and pretty different from the heavy-duty bed rials. If you have any type of inside mount tonneau cover, the best match for your cover will be the bed rail installation kit.
A half-inch gap between the top edge of the bed rail and the edge of the cover is sufficient. The rail is easy to use, as long as the cover's upper edge does not overhang the bed rail's upper edge by more than half an inch.
In some instances, some inside-mount tonneau covers extend a little further over the bed rail than others.
In most cases, you can cut the extra-wide aluminum lip so that it doesn't get in the way when you put the rack in the stake pockets. In this process, there won't be any compromise of the cover's sealant properties.
2. Heavy-duty bed rails:
The length and form of the heavy-duty kit rails make them different from the standard kits. Being perfectly compatible, these rails go fine with tool box as well compatible.
They feature a lip that extends from the inner edge to where the tailgate meets the body of the vehicle. Almost any style of tonneau cover may be used with these bed rails. To ensure that the tool box has a smooth surface to sit on, they're significantly longer (24 inches vs. 11 inches).
If you want to use your headache rack to store a large number of accessories, you may want to consider purchasing the 'Heavy Duty' installation kit. 
Determine the size of the bed rail:
To calculate the maximum width of a tool box that can be used with our headache racks, measure the bed rail gussets on each side and subtract 1″ to obtain the maximum width of the box that can be installed.
The bed rails in any kit offer a highly secure and strong installation, but heavy-duty ones distribute the additional load over the sheet metal of your truck bed much more effectively. Even if you do not intend to use a tool box in your truck bed.
Read More: Should I Put A Tonneau Cover On My Truck?
Precautions for surface mount tonneau covers:
Bed rails don't usually go with the surface mount tonneau covers. So, if you have such a cover, you might need a hand from experts.
If you hire an upholstery expert, you might be able to make a surface-mounted tonneau cover work with your truck's bed rails.
The best way to make sure your truck bed is strong and secure is to mount it directly to your truck following only the instructions of the manufacturer.
FAQs about putting a tonneau cover on a truck with bed rail:
1. Do I Need Bed Rails For Tonneau Cover?
Although bed rails are not necessary for tonneau cover installation, experts highly advise using bed rails with a tonneau cover. Doing so will eventually prolong the life of your tonneau cover.
2. Can A Tonneau Cover Be Installed On A Truck With A Bed Liner Already On It?
Under-the-rail and spray-on bed liners are generally compatible with most tonneau covers. You may even need to reduce the liner at the bulkhead in some circumstances for retractable coverings.
In order to install an over-the-rail bed liner and a tonneau cover, the process will take longer and demand more work.
3. Can You Use A Headache Rack With A Tonneau Cover?
Installing a headache rack on your vehicle requires a special installation kit, which you can get from the company.
Both the standard bed rails (which fit most inside-mount Tonneau Covers) and heavy-duty bed rails are readily available as options for you to choose from for your rack.
Final Thoughts:
Following the discussion, it is safe to say that you can put a tonneau cover on a truck with bed rails. We can conclude that adding bed rails to your vehicle will be really beneficial. It supplies you with a variety of services, such as carrying hefty items, as I have discussed.
So, ensure more functionality and superior protection of your cargo by utilizing the two together.
Read also: Best Hard Tonneau Cover For Jeep Gladiator