If you don't already have roof racks on your pickup, carrying a kayak will be difficult. However, if you have previously installed a Tonneau Cover on your vehicle, transporting a kayak on it without harming the Tonneau Cover in some way may be challenging.
However, it isn't necessary to make things that difficult. A vehicle with a tonneau cover makes it simple to transport a kayak in it if you know how to do it. Let's find it out.
How do you haul a kayak on a truck with a tonneau cover?
There are a few ways to haul a kayak on a truck with a tonneau cover. Some people tend to haul a kayak on a truck with a tonneau cover using a kayak trailer.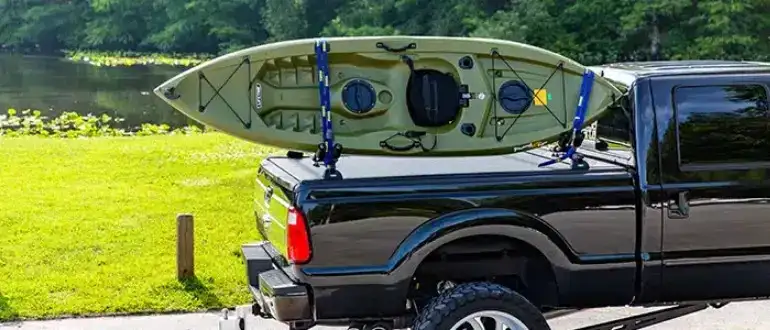 Some people also open the tailgate of their vehicle to transfer their kayak. As an alternative, some people even opt for an extender aided by a low rack on top of the truck. We will discuss all of the methods here.
Haul a kayak on a truck with a tonneau cover effortlessly:
Even if a truck bed has a tonneau cover fitted, it should not impair the ability to move a kayak. All you have to do is pick one of the options that work best depending on the specific truck you have to transport the kayak.
1. Keep your tailgate wide open:
To transport their kayaks, the vast majority of the people who possess tonneau covers keep the tailgate unfastened or wide open.
If you do this, when you drive, you may hold the tonneau cover in place using this method, which also gives a measure of weather protection.
Having said that, the possibility of losing additional equipment from the back of the truck with the tailgate wide open is just too great to take the chance.
Because of this, some people who possess tonneau covers employ a different approach.
Read More: Do Tonneau Covers Keep Water Out?
2. Keep your tailgate close:
A tri-fold or bi-fold design is nowadays very common among many tonneau covers. While it's not always possible, depending on the specific design of your kayak cover, folding it back and stowing it at an angle may enable you to zip up/close your tailgate.
If you're successful in doing this, you'll be able to keep your kayak and other kayaking gear in your truck's bed. Just don't assume that your tonneau cover is sufficient to keep your kayak in place.
Note: When you have a tonneau cover and you place the kayak sideways on the truck bed, the kayak will just stay fine for some time without strapping.
That's why, sometimes, you may not need to strap down your kayak if you are traveling only a short distance.
However, the kayak will eventually start to move here and there with road bumps. So, the safest move is to strap down the kayak on the truck bed with the cover to ensure safe transportation.
>> Can You Use A Tonneau Cover With Rambox?
3. Kayak Trailer:
In some cases, folks who don' like complications and are straightforward, choose to opt for a kayak trailer to move their kayak.
While it may assist you in keeping the Tonneau Cover in good condition, the kayak trailer may, very often, kill a lot of time.
While driving, you'll need to be extra cautious of the bumps. Consequently, to be really honest, this really isn't a fail-safe method.
4. Use Kayak racks:
Those who don't like much hassle and want secure transportation of their kayak with the tonneau cover on, prefer investing in the kayak racks.
Modern-day kayak racks are particularly built and manufactured to allow individuals to transport their standard-size kayaks securely on vehicles equipped with a Tonneau Cover, which are available for purchase online and in local stores.
Most interestingly, these kayak racks for vehicles with Tonneau Covers are simple to install and need little to no upkeep.
Read More: Can You Break Into A Tonneau Cover?
5. Three-part solution:
The three-part solution consists of three pieces of equipment:
There is a bed extender
A retractable and lightweight aluminum tonneau cover
A series of compact and low racks that attach to the truck's rails and work in conjunction well with the tonneau cover
This type of tonneau cover shrinks back into a canister that is installed inside. There's a basic latch mechanism in place. It's as simple as unlatching it and giving it a nudge.
This is how everything works. You have two options for pushing the truck: push it straight from the rear, or go along the side of the truck and push it.
You can even lock the railing's bars in any position. The railings are only a few inches taller than the wall of the truck bed.
Read More: How Much Does A Hard Tonneau Cover Cost?
The bed extender does the rest of the job. Just place the kayak on top of the racks and get going.
Read Also: 5 Common Retrax Bed Cover Problems
Read also: How To Fix Tonneau Cover Latch?
FAQs about hauling a kayak on a truck with a tonneau cover:
1. How Far Can A Kayak Hang Out Of A Truck?
Based on your vehicle type and the exact kayak type, the majority of kayaks will expand anywhere between 2′ to over 4′ over the back bumper of your truck, depending on the conditions.
So, a red or orange flag should always be attached to the back of your kayak! It's not only for your own safety but also to protect your valuable equipment!
2. Can You Put Weight On A Tonneau Cover?
No, you shouldn't put weight on an ordinary tonneau cover. Even the majority of rigid hard covers are not designed to support weight on the top.
Some of the manufacturers of hard tonneau covers, on the other hand, guarantee that their product is robust enough to walk and stand on.
Fortunately, there are load-bearing tonneau coverings available, which the manufacturers design specifically intended for this purpose.
3. Do You Transport A Kayak Upside Down?
A kayak stacker can securely carry rotomolded kayaks on its edges or upside down. For composite kayaks, on the other hand, you should always transport them on their bottoms with cradles to avoid deformation.
Read also: Roll N Lock Bed Cover Problems And Solutions
Final Thoughts:
There is no doubt that installing a tonneau cover on your truck is certainly a great investment that benefits you in numerous ways. It safeguards your truck bed and cargo singlehandedly.
So, even if you have to carry your kayak on your truck with the tonneau installed, just don't overlook the importance of the cover and remove it.
You can still securely transport your kayak with the tonneau cover on. Just follow one of the ways discussed above and have a safe journey all the time.