The LEER HF650M tonneau cover ensures two-finger operation, four lightweight fiberglass panels, and a sleek look, making it highly appreciated for a convenient experience.
However, expecting only the positives, whether it is the leer hf650m tonneau cover or another typical one, can backfire. So it's wise to learn about the leer HF650M problems so you can go for it confidently.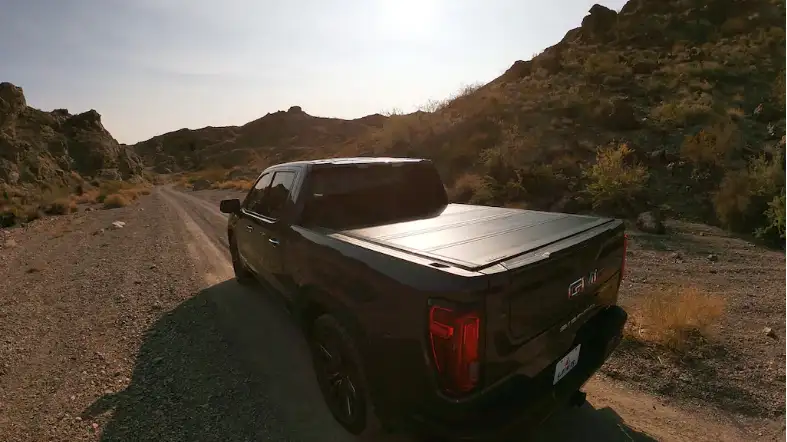 Read also: How To Patch A Hole In A Tonneau Cover?
This will not only prevent you from being frustrated but also help you prepare to avoid those difficulties and get only the best.
LEER HF650M hard quad-folding truck bed cover
LEER HF650M Hard, Quad-Folding, Low Profile Tonneau Cover
FITS PERFECT/EASY TO LATCH – LEER's industry exclusive CYNC latching system allows easily opening the cover with two fingers from either side of the truck bed. Latches with open or closed tailgate.
SLEEK LOOK – The patented HF650M Hard Folding Cover has a sleek, 12MM low-profile design with thinner rails, allowing for a true flush mount and more cargo space inside the bed.
FOUR LIGHTWEIGHT PANELS – The HF650M offers ultimate flexibility with four lightweight, durable, dent-resistant panels made of fiberglass reinforced plastic polymer. When opened, the quad-fold design keeps the third brake light and window visible and protects the back of your cab and window by locking into position away from the cab. 450 lbs. evenly distrusted load rating.
NO-DRILL INSTALLATION – With an easy and fast installation process, the HF650M comes with the tools and instructions to install your tonneau. This allows you the ability to easily take your cover off or put it back on.
THREE YEAR LIMITED WARRANTY – The HF650M from LEER comes with a 3-Year Limited Warranty. Warranty is valid only on products that are sold and/or shipped by Leer Tonneau Covers.
FITS THE F150 LIGHTNING – This tonneau cover fits the new F150 Lightning Electric Truck.
Check Latest Price On Amazon
The LEER HF650M hard quad-folding tonneau fits flush and offers a sleek look and ultimate security. Its textured matte finish increases the overall appearance of the vehicle's weather-resistant surface to protect the contents and the truck bed. 
This hard fold tonneau cover comes to offer highly convenient operation using only two fingers, thanks to its auto-lock latching system and CNYC release mechanism.
With its customizable design, you can either open this tonneau ¾ or fully to get complete bed access to store large items. This hard folding tonneau cover sits only a half-inch higher than the truck bed to offer a seamless and low-profile look.
With a combination of a built-in seal in the panels and an optimum water management system, this tonneau can keep water away without using a drain tube.
Apart from that, this leer HF650M truck bed cover is designed with four fiberglass-reinforced polymer panels that can handle 450 pounds, and its drill-free clamp installation makes it a breeze to set up.
Read Our Leer HF650M Full Review Here.
Leer HF650M Problems
Defective items
Leer's hard folding tonneau cover is constructed with fiberglass-reinforced polymer with a textured matte finish.
So you can question its durability and capability to handle harsh weather or challenging weather, or test the knives. But sometimes the third party creates the problem and it affects the reputation of the brand. 
In the case of shipping service, some customers receive their leer tonneau cover with punctured holes in the locking mechanism that usually penetrate the outer side of the panel.
It can also be a manufacturing defect. Whatever the reason is, shopping from Leer means you will get free, trustworthy customer service as well. 
So, after noticing any damaged parts, simply pack the tonneau backdrop and UPS it to return. If you bought it from Amazon, you'll get a refund within 14 days, or you can replace it as well.
>> Do Tonneau Covers Make Noise? Find Out Now!
Weather protection issue
LEER produces quality tonneau covers in a variety of styles and sizes that fit different makes and models. In the case of weather protection, the manufacturer uses a superior water management system and a built-in seal all around the panels. 
And they are confident enough that this will block the water. But the tonneau doesn't contain any drain tubes to pass the water. But the experience of the users is quite different.
They complain the seals at the front, side, and tailgate aren't thick enough to ensure a perfect weather seal. Even after adjusting a couple of times, the contact is insufficient.
>> Leer HF350M Problems (Find Out The Main Issue Right Now!)
Some users, however, report leaks through the hinge and folding panels after a few months of use.
The reason is that the glue on the weather strip and the panel frame heaved up and caused leakage. Combining all of these issues, this Leer hf650m tonneau cover may not offer complete protection from water. 
Water can enter from the front and side of the cover on rainy days and soak the contents of the bed. Thus, you shouldn't drive on a highway at speeds during heavier rain with this tonneau cover.
>> Is Leer A Good Tonneau Cover?
Read also: Bakflip Mx4 Problems
Useless instructions
Some customers complain that the instructions found in the box with this tonneau cover aren't effective enough. After following their instructions, you can end up with an installation with a leaking mess. 
For example, the tonneau comes with butyl tape, but the instruction doesn't say anything about where to put it. Instead of following their instructions, you can watch a YouTube video on the installation of this Leer hf650m tonneau cover, and it works well.
Read also: How To Fix Tonneau Cover Latch?
Final words
The LEER HF650M hard quad-folding truck bed cover is the optimum choice for saving loads and bed from dust, snow, as well as the eyes and hands of thieves.
But when it comes to hauling large cargo or other items in the bed during heavy rains, you may face an unexpected situation. 
Except this, the other leer hf650m problems won't hurt you much and you have enough solutions for those as well. Overall, this Leer HF650M tonneau cover is perfect for truck owners living in sunny areas.
Read also: How To Keep Dust Out Of Tonneau Cover?
Read also: Best Weather Stripping For Tonneau Cover