The soft roll-up tonneau cover from Gator is highly popular for its simple and convenient operation with quality protection from weather and theft.
But when it needs to choose between top-selling models like Etx and SRX, the situation becomes complicated. In this case, a detailed comparison of Gator ETX vs SRX can help you decide which is best for your needs. 
We have come up with a good research debate guide on etx and SRX tonneau covers to lead you through the best tonneau cover for your truck.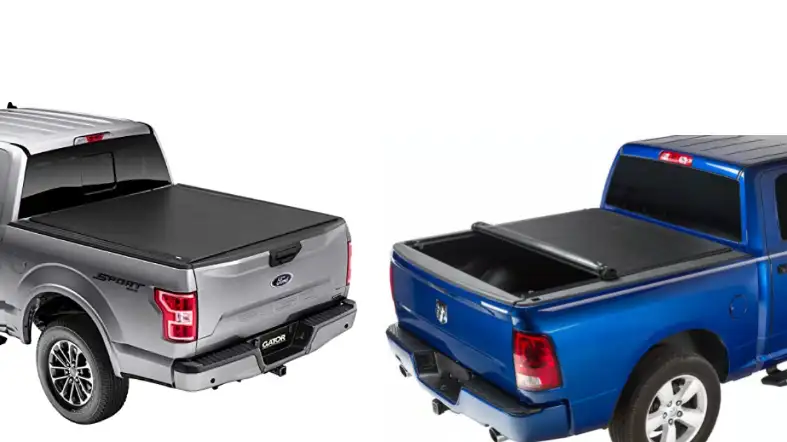 Gator ETX Soft Roll-Up Truck Bed Tonneau Cover 
If you need a truck bed tonneau cover for faster operation with optimum protection, then this Gator ETX Soft roll-up tonneau cover is the best option for you.
This truck bed cover ensures drill-free, 10 minutes installation while its storage strap makes it suitable for smooth operation and secure in position. 
With a combination of tough craftsmanship and industrial-grade vinyl, this highly durable tonneau cover is perfect for keeping rain, snow, and dust out of the truck bed.
This soft roll tonneau cover is also mounted on top of the truck bed rail to offer a clean and low-profile look.
Gator SRX roll up Tonneau Cover 
The Gator FX roll up tonneau cover is the best solution for the truck owner who needs something for hauling large cargo with enhanced security.
This truck bed cover allows you to fold completely up against the rear window of the vehicle to offer full bed access to load large items efficiently. 
Another exciting feature is hook straps to ensure superior security and truck bed protection. Made of heavy-duty construction, this tonneau cover requires around 30 minutes installing without drilling or using special tools.
Gator ETX Vs SRX Tonneau Covers- Comparison Of Different Features
While researching for the best tonneau cover for your truck bed, gator ETX and srx are two of the most qualified name.
But both of the tonneau are soft roll-up types, come from the same brand, and have plenty of differences, making it challenging to decide on one.
That's why we compare both of the tonneaus in different aspects so you can set them apart efficiently.
>> Gator SFX Tri Fold Tonneau Cover Reviews
Material
Edge: ETX tonneau cover
Both the ETX and SRX tonneau covers are designed with quality in mind, so manufacturers use pretty much the same materials. The ETX soft roll tonneau cover is made of leather-grain vinyl, while the SRX is made of the heavy-duty trap.
So, if you consider durability, ETX is clearly durable and can withstand harsh weather. However, the SRX soft roll-up tonneau also won't disappoint you if you use it for the purpose it is intended for light use.
>> Gator ETX vs SFX (In Depth Comparison)
Appearances 
Edge: Both
Both of these gator tonneaus covers are mounted on the top of the truck bed rails, about 1.5 inches above the truck bed.
In this way, both tonneau covers add a traditional black look to the overall appearance of the vehicle. If you are looking for a low-profile look, go for any of these tonneau covers.
Ease of use
Edge: ETX tonneau cover
Both the tonneau covers are very easy to use with their user-friendly design. For the ETX tonneau, it needs to fold the panel toward the cab.
You can secure this tonneau cover into place with its integrated storage strap. You can also drive your truck by keeping the bed open and securing the tonneau tightly with the fastening buckles.
In the case of operation, SRX makes it more efficient with its trigger latch. You can also fold it completely against the rear window to carry larger items. Considering the bed access, both ETX and SRX offer complete bed access.
Tri Fold Vs Roll Up Tonneau Cover | Which One is Best?
Security
Edge: Both
Apart from industrial-strength vinyl, the ETX tonneau cover also has superior adjustable tension control. Combining these features, this tonneau cover keeps the rain, dust, and snow out of the truck bed.
The vinyl is also challenging for a thief to cut and take the accessories off. Conversely, SRX also offers quality protection with its storage straps. This feature allows you to haul large cargo securely.
This gator tonneau cover also has an adjustable tension control to protect the contents from weather and bad guys. Plus, its hook strap keeps the cover in place while driving the truck and hauling large items.
Installation
Edge: ETX tonneau cover
Both the ETX and SRX tonneau covers don't need any drilling or special tools to install. Still, they have a difference in the duration of the operation.
The ETX tonneau cover requires only 10 minutes to install if you follow the instructions properly. All it needs is to clamp the rails.
Conversely, SRX requires 20-30 minutes to install. The time may be slightly longer than that of the ETX counterparts, but it is much faster than that of the other typical soft roll-up tonneau cover.
The inside mount design keeps the tonneau flush against the truck bed. Plus, it requires using a wrench and socket.
Read Also: 5 Common Retrax Bed Cover Problems
Warranty
Edge: Both
In terms of warranty, you'll find both the ETX and the SRX tonneau covers are worth the money. Both the roll up tonneau cover and the tarp come with a lifetime warranty on the frame and a 10-year warranty on the guarantee.
How To Adjust Tonneau Covers? (Helpful Tips)
Price
Edge: Both
Both the Gator ETX and SRX tonneau covers are an extremely affordable options compared to the typical truck bed cover. They also have an impressive warranty policy.
So, if you're on a tight budget but want a long-lasting tonneau cover with convenient protection, consider any of these tonneau covers.
Read also: How To Fix Tonneau Cover Latch?
Gator eTX vs SRX: Which one is best for you?
As said earlier, both the etx and srx tonneau covers are different in their intended purposes. So it won't be wise to buy one tonneau as an alternative to the other. If you consider the price, both the Gator etx and SRX will be a much more affordable choice. 
However, the etx will offer as durable and advanced protection as the SRX tonneau cover. So consider whether you require convenient or advanced protection, and then go for any of these techniques.
Final words
Gator is a US-based tonneau cover manufacturer that is dedicated to offering the best protection for the truck bed and loads within budget.
The ETX and SRX are two of the best-selling items from the brands in terms of quality, capability, and protection. But when it comes to choosing one between Gator etx vs srx, the customer feels confused. 
They can't decide whether to go based on security or functionality. But after reading this brief debate guide, I hope you now know which tonneau is best for what and which one to opt for.