Gator etx and SFX tonneau covers is the custom fit model and carry plenty of similarities, making it challenging to opt for the one.
So it will require deep and long research to separate and compare them to declare the winner. But you can save all that effort and time and achieve the goal by simply reading this Gator etx vs SFX Tonneau Cover debating guide. 
Table of Contents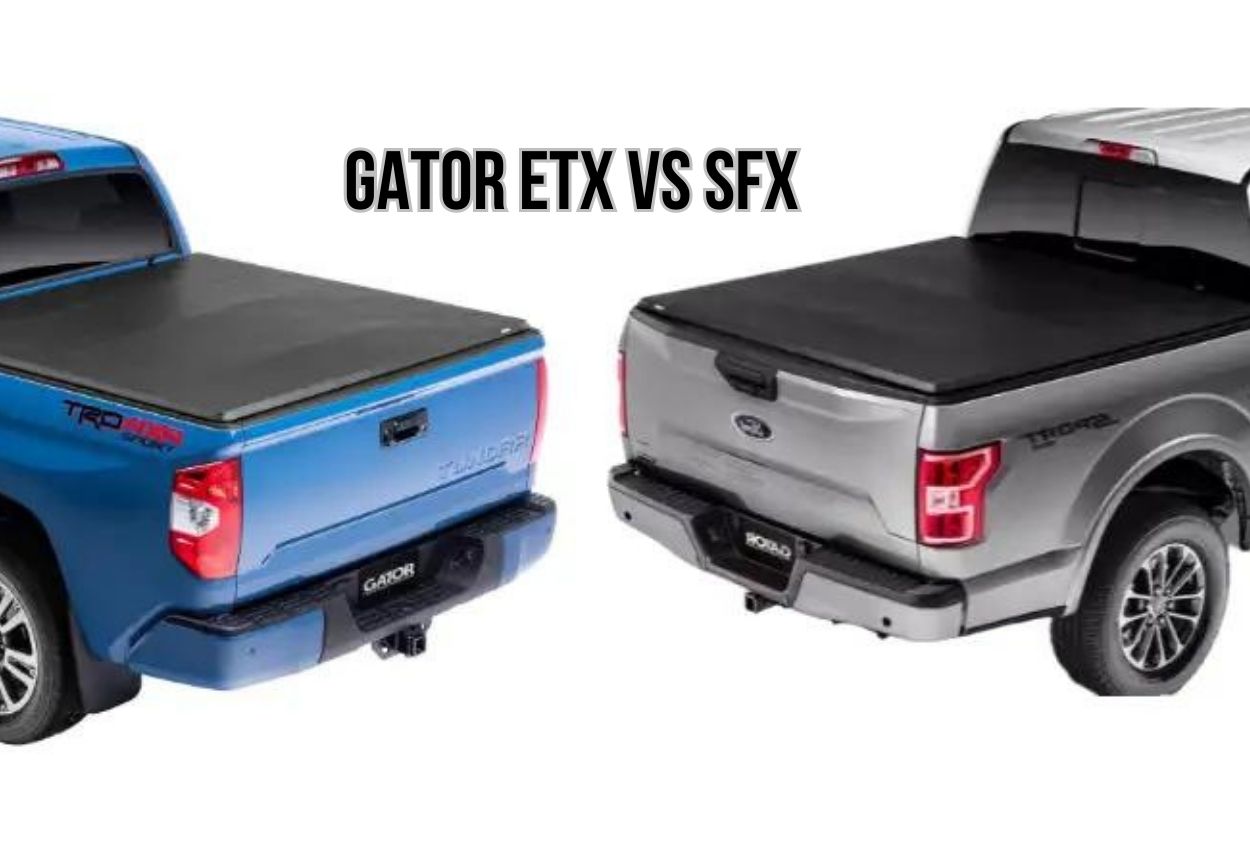 Following, we have compared these tri-fold tonneau covers in several aspects so you can judge them and pick the most appropriate one.
Gator ETX Soft Tri-Fold Tonneau Cover 
If you are looking for a soft tri-fold tonneau cover for convenient cargo and bed protection at an affordable price, you can invest in this Gator ETX truck bed cover. Its frame and crossbows are made of heavy-duty aluminum and have industrial-strength vinyl. 
It's a tear-resistant tri-fold tonneau cover that can withstand any harsh weather elements and last a long time.
To keep the water, dust, and snow out of the truck bed, the manufacturer uses extra-strong sealing around the perimeter. This tonneau will offer you 2/3 bed access while remaining secured tightly with the fastening buckles. 
This soft tri-fold tonneau is also perfect for quick installation within 10 minutes as it doesn't require drilling and special gears. Lastly, you can enjoy a 10-year warranty by buying this tonneau from Amazon.
Gator SFX Soft Tri-Fold Tonneau Cover 
Installing this Gator SFX tonneau cover will let you keep out prying eyes and weather, thanks to its improved weather protection design. Its frame and monster bows are also made of thick aluminum, and the top surface consists of tear-resistant vinyl. 
This tonneau will withstand heavy rain, snow, and other weather elements to keep the contents dry, retaining its longevity. For improved water-tight protection, this tonneau has foam rubber seals along with the length. 
Despite its fastening straps, the truck driver can keep the tonneau secure to avoid flapping. This tonneau also doesn't take much time to install and is perfect for convenient operation.
Gator ETX VS SFX: Quick Comparison table
| | | |
| --- | --- | --- |
| Features name | Gator ETX | Gator SFX |
| Type  | Soft tri fold | Soft tri fold |
| Material  | Aluminum and vinyl | Aluminum and vinyl |
| Installation  | Clamps on installation  | Latch installation  |
| Operation  | integrated buckling system | fastening buckles speed clamps system |
| Security  | extra strength sealing around the perimeter | Foam rubber seals along the length of the cover |
| Bed access  | 2/3 Bed Access | 2/3 Bed Access |
| Warranty  | LIMITED Lifetime | LIMITED Lifetime |
Gator ETX vs SFX: Comparison in Different Features
Construction
Edge: SFX tonneau cover
This ETX tonneau cover is made up of tear-resistant vinyl, which is supported by heavy-duty aluminum. Its frame is also made of thicker aluminum, making it lightweight and durable enough to withstand snow and rain pressure.
The construction also offers a sleek look on the cover while its superior seal keeps the inside safe from the weather elements.
Like the ETX, the SFX tonneau cover is also made of a combination of vinyl and aluminum. But it has monster bows to keep the heavy rain and snow sliding off, while its foam rubber weather seals prevent moisture from entering the bed.
>> Gator SFX Tri Fold Tonneau Cover Reviews
Security
Edge: Both
The Gator ETX features extra-strong sealing to ensure water-tight protection around the perimeter. This way, the tonneau cover will protect the truck bed and loads from rain, dust, and snow.
Despite this, its aluminum frame and vinyl are also sufficient enough to withstand rough weather pressure.
The SFX soft-folding tonneau cover, on the other hand, also protects the loads and bed from extreme weather and temperatures along with its aluminum and heavy-duty vinyl construction.
Apart from that, its rear and front monster bows feature reinforced corners to support the cover during heavy rain and snow.
Ease of use
Edge: Both
Both the ETX and SFX soft tonneau covers are extremely straightforward to install, operate and remove.
The Gator ETX tri-fold tonneau cover only requires around 10 minutes to install without drilling or utilizing any special tools. All it needs is to clamp the rails onto the truck bed and then your tonneau is ready for use.
To open this tonneau cover, fold its panels towards the cab and secure it in place using the integrated buckling system.
You can also drive the truck while keeping the tonneau in the 2/3 open position to get the required bed access for hauling large cargo. Despite this, you can also get complete bed access by removing the tonneau completely.
Like the ETX, the SFX tri-fold tonneau cover is also extremely easy to install and use. There is a need to lay the tonneau cover in the truck bed first.
Instead of clamps, it needs to attach the latches found at the front and rear of the cover. You can open and close this tonneau cover within a few seconds using its speed clamp system and load and unload the cargo efficiently.
To drive the truck while keeping the cover open, you have to secure it first using the fastening buckles located in the bulkhead area.
Convenience
Edge: Both 
Both of these Gator soft tri-fold tonneau covers mount on top of the truck bed rails to offer a low-profile look. They also enhance the appearance of the vehicle and contribute to improved gas mileage. 
Apart from that, both of the tonneau covers are made in the USA and backed by the Gator Guarantee for up to 10 years.
Gator ETX vs SFX: Which one is best for you?
You should check the compatibility of these tonneau covers with your vehicle's make and model. If you are matched with the compatibility, you can purchase any of the covers. I'm not kidding; both of these tonneau covers offer almost the same level of protection and longevity. 
Their price, warranty, and customer service are also pretty much the same. But these covers are different in their installation systems as one features clamp-on installation while the other requires attaching the latches. 
The folding and securing systems of these tonneaus are also different. So it all depends on your preference in which way you'll want to install, operate, and secure the tonneau.
Read also: Roll N Lock Bed Cover Problems And Solutions
FAQs: Gator ETX VS SFX
Which Gator tonneau cover is best?
The best Gator tonneau cover for you will depend on your specific needs and preferences. It's important to consider factors like the type of truck you have, the level of security and weather protection you require, and your budget when determining which Gator tonneau cover is the best fit for your situation.
Are Gator tonneau covers good?
Gator tonneau covers have generally received positive reviews from customers for their durability and functionality. However, the "goodness" of a Gator tonneau cover ultimately depends on your specific requirements and expectations, so it's important to research and select a Gator cover that aligns with your needs and preferences for truck bed protection and style.
What is the warranty on Gator ETX?
The Gator ETX tonneau cover typically comes with a limited warranty that covers defects in materials and workmanship. Warranty terms can vary depending on the specific model and retailer, but it's common to find warranties ranging from 3 to 5 years for Gator ETX tonneau covers. To get precise details on the warranty for a specific Gator ETX cover, it's advisable to check with the manufacturer or the retailer where you plan to purchase it.
What's the best truck bed cover?
The best truck bed cover for you depends on your specific needs and priorities. Some popular options include retractable tonneau covers for a sleek look and easy bed access, folding tonneau covers for versatility, and hard shell tonneau covers for maximum security and weather protection. Research and select a truck bed cover that aligns with your particular requirements in terms of functionality, style, and budget.
Read also: How To Fix Tonneau Cover Latch?
Final words: Gator ETX VS SFX
Hope you have found this gator ETX vs SFX debating guide helpful enough to set them apart and purchase the best one. Both of these tri-fold tonneaus are the cult favorites of recent times and get a lot of attention from truck owners. 
Still, they are unique in their installation and operating system. So whichever tonneau you'll get, these won't disappoint you in terms of convenient use, security and longevity.
Read also: How To Keep Dust Out Of Tonneau Cover?
Read also: Best Weather Stripping For Tonneau Cover