The Roll-N-Lock bed covers are popular among truck owners due to their flexible design. It allows you to cover the whole bed and retract it to get more space.
Unfortunately, you can experience some Roll-N-Lock cover problems with time or for other reasons. 
Following that, we will discuss some common problems that can occur with Roll-N-Lock bed covers and how to overcome them.
I hope this will help you retain your Roll-N-Lock cover longevity, keeping it in optimum condition all the time.
Table of Contents
A Few Most Common Roll N Lock Cover Problems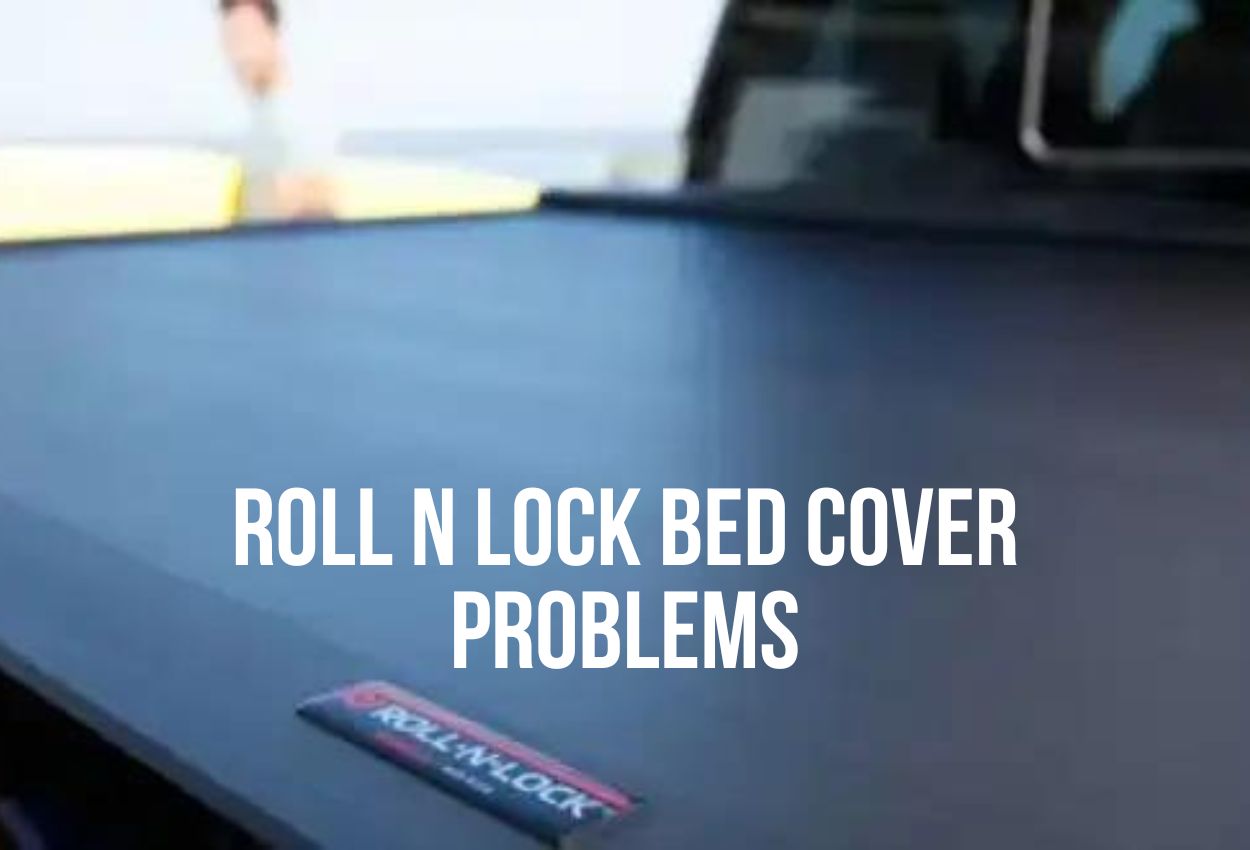 Roll N Lock Cover Problems. Cover don't Stay Latch and Close
A tonneau cover has to cover the truck bed and protect the cargo from harsh environmental conditions and theft. Jumping into the Roll-N-Lock bed cover description, you will discover this truck bed cover has several locks to ensure optimum security.
It may sound great to you, but lots of users complain that this truck bed cover doesn't stay latched and closed.
If you roll this roll 'n' lock bed cover, it will fasten easily. But after a short drive, the bed cover will open automatically.
It can be quite risky, especially during a long drive when you concentrate on controlling the car, assuming that the back is secure.
However, this roll 'n' lock bed cover issue can cause your cargo to rain or scorch in the sun. your valuable stuff can be stolen if the bed cover is exposed in public.
Read More: Recommended Truck Bed Tonneau Cover
Causes
The most potential reason for opening your roll n lock bed cover automatically is faulty locking systems. Even the mechanism can get damaged due to excessive use that latches the cover to the truck.
It can also be the operator's fault, as the thing that can happen is that he damages the machine during operation.
Solution
It's always better to check the bed cover whether or not it is faulty after installing it by the deal. But if it's happening due to the locks and latches, replacement of these parts can solve the problem.
If the misaligned rails are causing the problem, take the bed cover to the dealer and let them inspect it. They will reposition the rails to make sure the bed cover stays in place.
Roll n Lock bed covers also have a hard time remaining closed if the dealer installs the wrong cover.
Roll n lock bed covers come in two types, including with and without rail caps. You must tell the dealer about your vehicle type so they can install the right roll n lock cover on your truck.
Leakage
The manufacturer of Roll-N-Lock covers also promises that their bed covers are water-resistant. Though it's true, the cover allows water to enter.
The user complaint said the roll n lock tonneau cover tends to leak. It occurs in the back and front.
Read More: Best Weather Stripping For Tonneau Cover
Causes
According to the design of this bed cover, it has an open space that may let water get in during the car wash or when it's raining.
Solution
In this case, you don't have many things to do to prevent this water leakage except be mindful while carrying cargo during harsh weather. It also suggests that you shouldn't carry delicate cargo that can be damaged by rain.
Unfortunately, using this roll n lock tonneau cover will be inconvenient for you during the rainy season, especially if you are living in an area that experiences lots of rainfall.
Roll N Lock Bed Cover Problems. Get Damage during shipping
This is also among the most commonly reported roll n lock bed cover problems. Undoubtedly, the manufacturer delivers each roll n lock bed cover in decent packaging.
However, some buyers notice a bend at the edge of it after opening it for installation. Some also notice crooks in the rails.
Honestly, we don't have much idea whether the dealer packages damaged covers or got damaged during delivery.
Solution
Unlike those above-mentioned issues that can be prevented, this time you can only pray to avoid this experience. However, you can ask the dealer to install the cover to prevent this frustrating experience. 
This way, you will have a replacement if any damage occurs. You may pay slightly extra for this decision, but it will help avoid returning the bed cover or refunding it.
Gets Stuck While Retracting
Getting stuck during retracting is another problem with the roll n lock bed cover. This cover gets stuck so badly that the user needs to push it away rather than retract it.
Cause
Your bed cover can get stuck for plenty of reasons. For example, something may block the cover's movement along the rails.
Solution
Inspect the tonneau cover if there is debris blocking its movement. You can also apply lubricant to the vehicle's edge where the bed cover slides into. If your newly installed tonneau cover gets stuck, contact the dealer to see if it's their fault.
Roll-N-Lock Care and Maintenance
You can avoid those Roll-N-Lock bed cover problems by caring for and handling them properly. The following are a few Roll-N-Lock bed cover maintenance tips that can keep you far away from experiencing those difficulties:
Clean the bed cover 
Clean your roll n lock tonneau cover frequently whenever you go to the car wash. Give your tonneau cover a thorough wash, including its lid, rails, and other aspects.
Lubricate the moving parts
Grease the moving parts of your retractable cover to let them function optimally.
Check for clutter
Debris can enter your bed cover's rails with time, which can lead to it getting stuck. So check and remove the mess inside the cover to prevent it from sticking.
Apply a protectant to the cover
The tonneau cover is often exposed to lots of things, including sun, rain, debris, and wind. Sunlight affects the tonneau cover significantly. So, after cleaning the cover, seal it with a protectant.
Read also: How To Patch A Hole In A Tonneau Cover?
FAQs About Roll N Lock Bed Cover Problems
Are Roll-N-Lock Bed Covers Durable?
Hard tonneau covers are typically more durable than retractable covers, but the latter is more versatile. You can get up to 7 years of service from your Roll-N-Lock bed cover.
However, it depends on how properly you care for and maintain your bed cover. 
Are Roll-N-Lock Covers Noisy?
No, you won't experience any noise during the opening and closing of your Roll-N-Lock tonneau cover. Still, if you experience any noise, check the installation.
Does The Roll-N-Lock Universally Fit All Truck Beds?
You won't find any universally fit-bed covers on the market. So check your truck size before buying any bed cover even if it is a Roll-N-Lock bed cover.
Read also: Bakflip Mx4 Problems
Final words: Roll N Lock Bed Cover Problems
Throughout the guide, we have discussed the four most common roll n lock bed cover problems along with their causes and solutions. Understanding those issues will keep you prepared to handle them if you become a victim in anyhow.
More importantly, let the dealer install your tonneau cover for assurance of perfect installation or replacement if something goes wrong.
Read also: Best Hard Tonneau Cover For Jeep Gladiator
Read also: Best tonneau cover for snow and ice