It doesn't matter if you have a leer, Roll-N-Lock tonneau cover, M-Series, A-Series, or E-Series tonneau cover; you should begin protecting it as soon as you buy and start using it. 
To keep out water and other impurities like dust and sap, the manufacturers take the initial steps and treat the covers to some extent.
But this initial treatment fades with time and your cover soon becomes unprotected from harsh weather or other environmental hazards.
To guarantee that your cover lasts as long as possible, follow these simple steps.
What can I use to protect my tonneau cover?
Tonneau cover cleanser and protectant kits, which are created exclusively for tonneau covers, are the most effective method to maintain and protect your cover.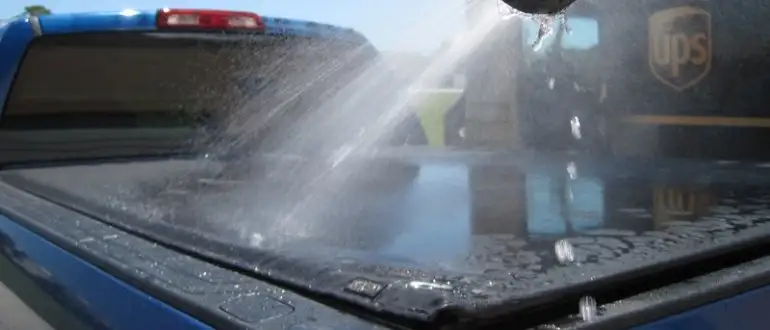 All of the high-quality kits come with a tonneau cover cleaner as well as a tonneau cover protectant as standard.
Choose the perfect kit:
Choosing the best tonneau cover protectant kit for your needs might be a challenging undertaking because there are so many different brands to choose from. 
However, there are several characteristics of the good ones that you should take into consideration.
The Cleaner:
In the kit, the cleaner must be non-toxic, pH balanced, and biodegradable, and it must be suitable to use on all types of surfaces. Paint, glass, and chrome are all safe to be sprayed with the cleaner because they will not do any damage whatsoever. 
These cleaners always win over any form of grime, filth, or bird droppings, and they are quite effective as well.
Check Here: 303 Tonneau Cover and Convertible Top Cleaner
The Protectant:
The tonneau cover protectants are very good at protecting against hardening from the sun, cracking, and fading. 
Most of them offer a patented formula that you can use over any vinyl, plastic, or rubber trim that you want to keep clean. The protectant should not have silicone in it.
So, it will not streak and will make the thing it's on look better. When the protectant is used on the tonneau cover, it will be a lot easier to clean and keep clean in the future. 
Check Here: Pro-TeX Protectant Spray
Clean your tonneau cover:
While cleaning your tonneau cover, follow our step-by-step instructions:
Step 01:
If you are a starter, use a high-quality cleaner (kit) or any automotive detergent to clean your car.
Instead of attempting to clean your automobile in the sun, consider parking it in your garage or under a tree.
Step 02: 
To begin with, remove any loose particles from the truck bed by scrubbing with a stiff brush. It may be cleaned with any cleaning solution, including the one included in the package (kit).
It may be cleaned with any cleaning solution, including the one included in the package (kit).
Afterward, wash the cover thoroughly, but avoid rubbing too hard in the region around the tailgate handle. Make sure the interior is spotless. Using the cleanser, scrub as much as necessary.
Step 03:
Next, spray the cover with a fabric protector of your choice. Good grade fabric conditioner or fiberglass-reinforced will produce greater results if used together.
Step 04:
Wait for the protector and cover to dry completely before moving on to Step 5. It might take as long as 48 hours. 
Be cautious enough not to leave any moisture or other liquids behind. The protectors aren't going to last long if they're not properly dried.
Step 05:
You have to apply a second layer of the protector if need be. Inspect very closely.
Then rub any type of residue of the cleaner or protector.
Step 06:
Finally, put the cover back and let it shine.
Tips to maintain your tonneau cover:
Inspect your cover regularly for any types of damage. Look for scratches, bumps, dings, nicks, debris, corrosion, or any looseness. 
Make sure your cover is secure by tightening the loose parts, nuts, cramps. Make sure the cover sits tightly and all the mounting hardware is well attached.
Never overburden your cover. Review your cover manual or contact the manufacturer if need be.
Keep the cleaner and protectant kit steady and utilize it. 
Keep your cover clean following the tips given above, and make sure the protectant is of good quality.
Overall, take proper care altogether.
Read More: How Long Do Tonneau Covers Last? Few Unbelievable Truth
FAQs about protecting tonneau covers:
1. Can You Use Tire Shine On Tonneau?
It is possible to coat the tonneau cover with tire shine provided that a thin coating is applied. Thick or heavy coats will leave a heavy amount of tire shine residue on your vinyl, which may eventually peel or break.
2. How Do I Make My Tonneau Cover Waterproof?
In some cases, water-resistant elements are included like the rubber seals that cling to the sides of a tonneau.
For those regions where a tonneau cover leaves a tiny gap, most of the manufacturers, most of the time, supply the seals and should install them properly.
3. Can You Repair The Tonneau Cover?
It's possible for leather-look vinyl truck bed coverings to dry out and crack or rip if they aren't properly cared for.
You can simply use a leather and vinyl repair kit to address a small area of damage when this occurs. 
There's no guarantee that the fixed region will appear as good as new, but you can minimize its visibility while also keeping it from becoming worse.
4. Can You Use Tire Cleaner On Vinyl?
If you intend on displaying your vehicle, you will want to make sure that your tires are not covered with mud before doing so. 
So, yes, fortunately, you can use tire cleaners sometimes for restoring their appearance and cleanliness. Such cleaners also help in cleaning any other rubber or vinyl surfaces as well.
Read also: Best Weather Stripping For Tonneau Cover
Final Thoughts:
If you spend a fortune on a tonneau cover, investing a small sum of money every now and then might be a wise decision for both the cover and your vehicle.
An appropriate tonneau cover protectant prevents the cover from getting faded or mildewed, and it also provides protection and durability against dust, water, UV rays, moisture, dirt, and other environmental risks. 
Eventually, they provide long-lasting protection while maintaining a non-glossy appearance. 
Read also: How To Keep Dust Out Of Tonneau Cover?