Have you seen the recent Ford F150 commercial? Like their truck quality, the ad was mindblowing and will make people consider buying those new f-150s.
But what about truck bed covers? Does Ford make a tonneau cover?
Ford makes 7 types of Tonneau covers in 6 sizes for 4 of its truck models. The covers vary in materials, installation process, and outlook. Ford has all the options if you need a glossy or low-profile look for your truck. The cover size ranges from 5.0' to 8.0' and can withstand harsh conditions.
Let me help you to figure out the details about those high-quality Tonneau covers. I am sure it will help you to pick the right one according to your need.
So let's hop in!
Does Ford Make A Tonneau Cover? Sizes, Types, and Models
Ford makes a wide range of truck bed covers for multiple models in different sizes and types. I have put together every detail in one table for your convenience.
Ford Tonneau Cover
Bed Sizes
Types
For Models
8.0'
Retractable
F-150
6.75'
Retractable with T-Slot
Ranger
6.5'
Hard Cover (1 piece)
Maverick
6.0'
Folding (Hard)
Super Duty
5.5'
Folding (Soft/Canvas)
5.0'
Roll up (Hard)
Roll up (Soft)
Types of Ford Tonneau Covers
Are you feeling lost seeing the table and thinking about how to approach it? Well, in my opinion, figuring out according to tonneau cover types is more convenient. Let me explain how.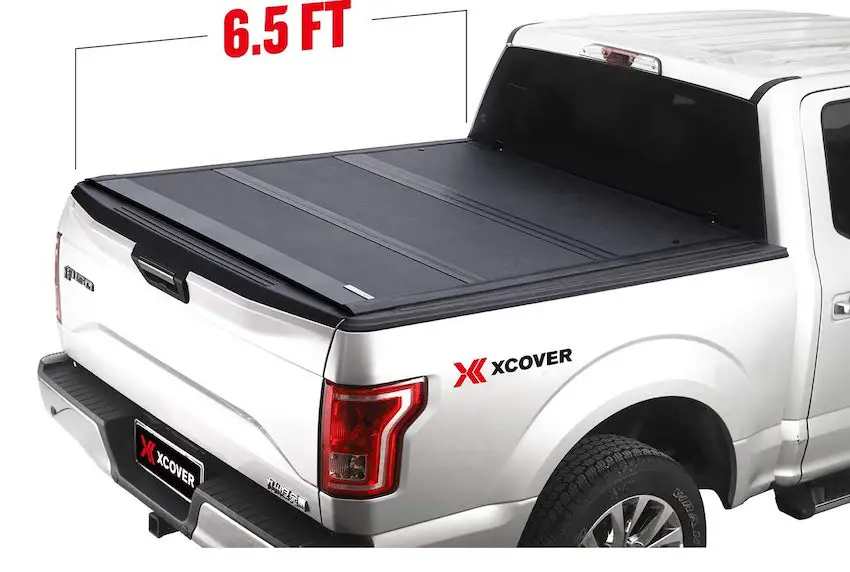 Hard One Piece Tonneau Cover
Model Compatibility: F-150 and Super Duty
Sizes: 6.75', 6.5', 6.0', 5.5', and 5.0' truck bed
This is a hand-painted one-piece cover that comes with maximum water protection. The covers are lightweight with a strong ABS polymer plastic composition built.
The contoured borders fall snugly over the bed's edges. A full-circle weatherproof seal is optimal.
A battery-powered LED interior light will help you find and arrange stuff at night. The ignition key is coded to unlock the stainless steel door.
Quick-release struts make it possible to take apart and reassemble the rack without special equipment or drillings. There are wall-mount hangers you can arrange your tools and goods without cluttering or congestion.
Retractable Tonneau Cover
Model Compatibility: F-150, Ranger, and Super Duty
Sizes: 8.0', 6.75', 6.5', 6.0', 5.5', and 5.0' truck bed
The metal surface of retractable tonneau covers is strong and secure. You can operate them with the touch of a button. These covers can also be operated with a remote, making them very convenient.
The electromagnetic brake locks can operate in any position. You can still open the cover if the power goes out by pressing a release lever. A matte black powder coating offers you a trendy but low-profile look.
The covers feature drain tubes at the front and back of the rail, allowing efficient water management. Clamp-in systems are simple to set up because they don't require drilling.
Folding Tonneau Cover
Model Compatibility: F-150, Ranger, Maverick, and Super Duty
Sizes: 8.0', 6.75', 6.5', 6.0', 5.5', and 5.0' truck bed
This robust tonneau cover is the best way to safeguard your Ranger's cargo area. This truck bed cover has a low-profile, minimalist design that offers superior protection from the elements.
Allows for full use of stake pockets and is compatible with various bed accessories like rails, extenders, and liners.
Panels are 3″ thick and stiff, making them sturdy enough to support up to 300 pounds (evenly distributed).
All-weather durability is guaranteed with synthetic seals and hinges.
You can use the prop rods to lock the cover in an open position that allows accessing the entire bed without taking it off.
Clasps that are both concealed and easy to open.
Roll Up Tonneau Cover
Model Compatibility: F-150, Ranger, Maverick, and Super Duty
Sizes: 8.0', 6.75', 6.5', 6.0', 5.5', and 5.0' truck bed
This sturdy roll-up tonneau cover will keep your Super Duty's bed safe and secure. Easily open and close this truck bed cover with only one hand, thanks to its innovative rolling design.
You won't have to strain to open or close this because of the smart one-handed rolling design. Having the stake pockets and other attachment points conveniently located between the rails is a significant advantage of this design.
The covers allow complete bed access when rolled up. The rear window view is unobstructed, thanks to the compact design.
You can keep the rolls secured in an open state with buckle straps on the surface. A locking rail system also keeps the cover security stuck with the rails.
The durable vinyl covering with a leather-like texture creates a traditional tonneau design. Rear gate slat adjusted for optimal use of Ford Auto.
And lastly, clamp-on, no-drill setup; no special skills required.
Benefits Of Using a Tonneau Cover On a Ford Truck
There are a few benefits to using a tonneau cover on a Ford truck. Which we have discussed below. Let's take a look:
Tonneau covers can help keep your truck bed clean and organized by providing a covered storage area.
It can help protect your truck bed from the elements like rain and snow.
Also, it can help improve your fuel economy by reducing wind drag on the truck bed.
Besides, tonneau covers can improve your truck's appearance by giving it a sleek, finished look.
Lastly, it can provide security for your cargo by keeping it hidden from view.
Read Also: 5 Common Retrax Bed Cover Problems
Final Thoughts
I am sure you will not ask does Ford make a tonneau cover. Because you know they do and do for multiple models.
If you have any compatible truck models, this article will be a comprehensive guide to help you pick the right one. Let us know how helpful we were in choosing the best ford Tonneau cover for you.
Read also: Roll N Lock Bed Cover Problems And Solutions
Also read Bak Revolver X4 Problems