It's downpouring like hell, and a great tonneau cover can protect the cargo from it. But what about the truck bed when the cargo moves over it while you are making a sharp turn or hitting potholes?
Are you sure about the safety and aesthetic of the truck bed? I am sure you are not.
Therefore, if you need protection for both the truck bed and cargo simultaneously, you need a bed liner, even with a tonneau cover. This combo ensures the safety of the truck bed and cargo and the resale value of your truck.
I am sure you are seriously thinking about getting the combo. If yes, you need to know which covers go best with which bed liner. I have rounded them up all here.
Is a bed liner necessary with a tonneau cover?
It depends on how much you love your truck. Do I sound crazy? Well, I am not.
Tonneau covers are common accessories to protect the cargo from sticky hands, preying eyes, frying heat, or drenching rain. They may not give you the full waterproof cover, but at least there won't be any puddles on your truck bed.
But what about the truck bed itself? If you carry large boxes, metal tools, or anything with edges can scratch or even damage the truck bed.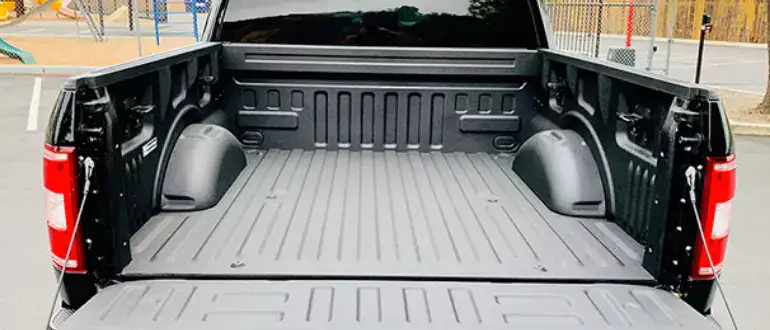 Thus, to keep the cargo in place and prevent any movement, you will need a bed liner. Slip-resistant truck bed liners keep the boxes, tools, or any load in place and prevent sliding over the bed.
A moving or sliding cargo can bump on the railing walls and make dents. I am sure you won't the scenario after removing all the loads. This will also reduce the resale value of the truck.
Types of truck bed liners
You will need a bed liner with a tonneau cover to get maximum safety for your truck bed and cargo. However, it is a tricky decision to make when choosing the appropriate bed liner.
Here are four bed liner types that you will find in almost any truck accessories shop or website.
Bed Mat Bed Liner
If you're trying to save money and keep your belongings from shifting around in bed, a mat is a wonderful investment. They have great traction and can absorb impact because they are manufactured from recycled rubber.
They are among the most affordable options because they are recycled rubber. You should expect to pay roughly $100 for one.
Although they will fit, they won't be tight because rubber is difficult to shape. In most cases, these liners will only protect the bed's floor and not the walls.
Drop-In Bed Liner
A drop-in bed liner is standard equipment on all modern pickup trucks. They are plastic and are custom-made for each make and model of vehicle. They do a good job of dampening impact.
They often cost less than $200. This is an excellent choice for those working in construction or any other industry where the truck bed is frequently loaded with unstructured goods.
Bed Rug Bed Liner
Bed rugs can be compared to drop-in liners in many ways. They are custom-made to fit your automobile. They will not damage your vehicle bed or necessitate drilling. The carpet liner is simple to remove for washing.
Regarding liners, rug liners are the coziest to deal with. Therefore, this is a great choice if you spend a lot of time on your hands and knees in the back of your vehicle when moving. About $450 is the average price tag for one of them.
Spray-On Bed Liner
Spray-on bed liners for trucks can be made in various colors and patterns to suit your preferences. However, they need the most effort and expense to set up.
The typical cost of having a professional spray on a liner done is between $500 and $600. Truck bed spray-on liners are ideal for transporting chemicals, paints, and other liquids because there is nothing for the liquid to get caught under.
Type of covers that can be used with a bed liner
Be sure your bed liner and tonneau cover are compatible before installing them on your truck.
Tonneau covers can be used with any spray-on, paint-on, or below-the-rail bed liner.
If you use a bed liner that goes over the top of the bed rails, you won't be able to use the standard mounting points for your tonneau cover, which could lead to a sloppy installation.
Let's look at some tonneau cover types that work perfectly with a bed liner.
Roll-up covers
It will be pretty easy for you to install roll-up covers. Apart from that, these are available at a very affordable cost. So you can buy without having a huge budget.
Not just that, the covers are heavy enough to ensure the safety of your truck bed. If you can adjust the bed liner with this cover, surely you will be benefitted.
Read More: How To Cut Bed Liner For Tonneau Cover?
Retractable Truck Bed Covers
This truck bed is costly compared to the roll-up types. But as it will cost extra money, I will give extra security to your truck bed. And, of course, it is easy to install.
This cover is clamped on the rail, so they work perfectly with any bed liner. If you already have a bed liner installing this cover will be like a breeze.
>> Extang Solid Fold 2.0 Review (Complete Guide)
Folding Covers
If you plan to get a beautiful truck bed view, you can try this one. These covers are usually made with two to three vinyl-coated aluminum panels, making them easy to operate.
The cover stays on the rail using screws or clamps, so they are perfectly compatible with any bed liner.
>> How To Stretch A Tonneau Cover?
Painted Fiberglass Lids
This cover comes with the facility of painting it according to your wish. So that means you can easily match the truck's color with the color of the cover. Apart from that, this cover usually lasts a very long time.
This is perhaps the best tonneau cover type that fully supports almost any bed liner. The cover typically does not create any hassle whether the bed liner is already there.
>> Truxedo Sentry Vs Sentry CT (Detailed Comparison Guide)
How to Install Tonneau Cover With A Bed Liner
Read also: Bakflip Mx4 Problems
FAQs
Do All Trucks Come With A Bed Liner?
Yes, almost all the truck includes a built-in bed liner. This bed liner is usually pure plastic to ensure the best possible output.
Should I Remove The Plastic Bed Liner?
You must remove the plastic bed liner when cleaning the entire truck. Apart from that, sometimes you have to upgrade the spray in the bed liner.
You may also have to remove the plastic in this kind of situation. 
Do Spray-On Bed Liners Work?
It does. Let's explain how. Say, for example, you must carry many things on your truck bed. So obviously, sometimes these will leave a scratch on the bed liners.
So if you use spray, the scratches won't damage the new look.
Can The Truck Bed Liner Be Removed?
Yes, you can remove it. You can complete the task by using various tools. Say, for example, you can go with a heat gun. This will make your work easier.
Apart from that, you can also try a paint scraper. But we always suggest going with the heat gun.
Conclusion
As we are about to conclude the article, it's better to sum up, the entire article in a short speech. In short, if you want the best possible output, you are suggested to use a bed liner with a tonneau cover.
Though 'Do I need a bed liner if I have a tonneau cover is a question that is tough to answer in a few words. But still, we tried to share all the things which may become necessary for you.