Choosing the right tonneau cover means a delicate balance between quality and price. The Extang Solid Fold leans more towards the price. But it doesn't mean you have to compromise with quality.
It won't be fair to compare Extang Solid Fold 2.0 vs BAKFlip MX4 (the comparison is at the end of this article), as the latter has great features, an extended warranty, and many more.
Nevertheless, in the case of Extang Solid Fold 2.0, you are getting a good share of durability, security, and outlook under a grand.
I will help you check almost every feature in this Extang Solid Fold 2.0 Review so you can decide whether to go with affordability or enhanced quality.
Extang Solid Fold 2.0 Compatibility
| | | | |
| --- | --- | --- | --- |
| Model | Chevy/GMC Silverado/Sierra | Classic Dodge RAM 2019-20 | Toyota Tacoma |
| Truck Bed Size | 6'10" – 8'10" | 6'4″ | 5'1″ – 6'2″ |
Extang Solid Fold 2.0: Quick Overview
The Extang Solid Fold 2.0 tonneau cover is the re-engineered version of Extang's most iconic cover. It comes with the following features.
Easy-to-operate trifold design giving full access
Sturdy 1″ thick EnduraShield polypropylene panels
Rugged EnduraShield skin resists damage
Lifetime installation support
The super secure design uses the tailgate lock
Custom-made for your truck for a perfect fit
Watertight design – keeps your gear dry
Ships fully assembled and ready to install
30-days return Guarantee
Simple JawGrip and EZ-Lock Clamp require no tools for installation!
3-Year Warranty
7 Most Common Extang Solid Fold 2.0 Problems (Find Out Now)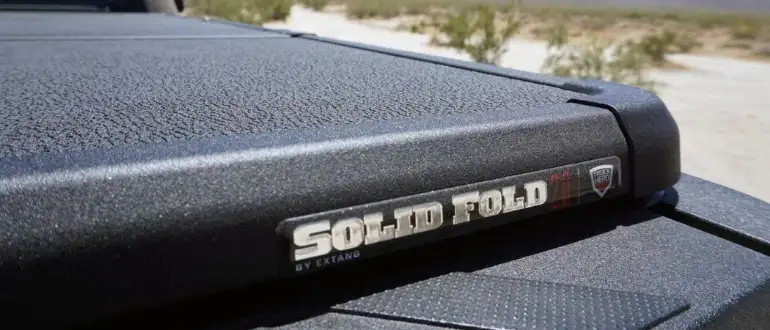 Extang Solid Fold 2.0 Review
Yes, this affordable tonneau cover indeed comes with several effective features for your trucks. But are they enough to protect your precious cargo from harsh environments, cheeky thieves, or simple bumps on the road?
Let's check the features in detail before you click the BUY NOW button!
Performance
You can expect premium performance from this tonneau when you know that the Extang solid fold tonneau cover is made of reliable material and has a top-notch design.
The hard polymer rubber corners, snap-on seals, and hinge caps hold the cover in place to protect your cargo and bed during the toughest weather. These parts work as a near-perfect barrier to ensure ultimate weather protection.
Specifically, this Extang solid fold 2.0 tonneau cover is three times stronger than its soft fold counterparts. A common rule is that hard folds are the way to get optimum protection, and this Extang 2.0 won't disappoint you.
However, the only difficulty you can face using this tonneau is that it won't let you cover or uncover the desired amount of space. A soft tonneau cover will have the upper hand in this situation. 
In the end, it depends on the user's preference. For bed access over security, go for a soft fold tonneau cover. Otherwise, buy this Extang solid fold tonneau cover to ensure robust protection for your bed and cargo.
Are Tonneau Covers Waterproof? (Find Out The Real Things)
Panel Material
Extang engineered this bed cover with EnduraShield panels and a polypropylene core to keep the strongest protection in mind. 
Because of this feature, the tonneau cover is dent and scratch-resistant. It will look the same even after using it during heavy rain or hail. The panels are durable yet lightweight, making them easy to install and operate.
Extang Solid Fold 2.0 tonneau has a triple-fin seal that functions in combination with fitted polymer corner pieces. Therefore, your loads or cargo will remain safe from snow, rain, or other elements.
Moreover, the material doesn't absorb heat, making it suitable for use throughout the year without discoloration.
Are Truck Bed Covers Interchangeable?
Design
This Extang tri-fold solid fold 2.0 tonneau cover looks impressive on almost any compatible truck model.
Thanks to its black, matte finish, powder-coated aluminum frames, and hinge, this tonneau cover looks appealing with this combination.
Unlike the other bright-colored tonneau covers, Extang Solid Fold 2.0 goes with almost every truck model and still looks perfect.
More importantly, its matte finish also matches the OE bed caps to a level. So you'll feel the tonneau is a factory-made part of the truck.
>> Extang Trifecta 2.0 Problems
Ease of Use
The Extang solid fold 2.0 tonneau cover is also preferable for those truck owners who want to avoid complicated installation processes.
How to install Extang Solid Fold 2.0?
This hard tri-fold tonneau comes fully assembled so that you can install it easily within 10 minutes. Tighten the clamps to the truck bed, unfold the cover to the tailgate, and lock it into place.
However, many customers receive unassembled tonneau covers. If you experience the same, call Extang's customer support and complete the job conveniently.
When it comes to operation, this Solid Fold 2.0 is easy to handle for anyone, thanks to its EZLock clamps. Its spring-loaded design keeps the clamp in place and allows it to operate with one hand smoothly.
Warranty
You may feel this Extang solid fold 2.0 tonneau is slightly more expensive than a typical hard fold tonneau.
But considering its life span and durability, this item is worth long-term use. Its warranty policy will also impress you. The manufacturer offers a three-year warranty for this Extang solid fold 2.0 tonneau cover.
>> Roll N Lock A Series Vs M Series
Pros
It comes in a tri-fold design to offer full bed access to haul oversized cargo.
The tonneau cover is UV and scratch-resistant.
It is fully assembled to ensure quicker and easier installation within 10 minutes.
Excellent build quality.
Resists dents, fades and doesn't absorb heat.
It has a water-repellant triple-fin seal. 
Has an EZLock clamp for easier operation.
Offer three warranties.
Cons
Doesn't have a lock mechanism.
Need to uninstall the tonneau cover to get complete bed access.
The utility track version doesn't show how to connect it to the utility track.
Extang Solid Fold 2.0 vs BAKFlip MX4
| | | |
| --- | --- | --- |
| Features | Extang Solid Fold 2. | BAKFlip MX4 |
| Materials | Dent-resistant TPO composite material | Lightweight, rustproof aluminum |
| Weight Rating | Up to 600 pounds of evenly distributed weight | Up to 400 pounds of evenly distributed weight |
| Installation | JawGrip and EZ-Lock Clamp installation. No tools are required. | Bolt-on clamps installation. Require tools but no drilling. |
| Water Resistance | Triple-fin seals line the perimeter of the cover. | Sealed at the sides, tailgate, and bulkhead. It channels water into drain tubes and routes out of your truck bed. |
| Bed Access | Partial access (folds up to its last panel but not tilted up) | Full access (folds up to its last panel and can be tilted up against the cab) |
| Warranty | 3-years | 5-years |
Read also: Best Weather Stripping For Tonneau Cover
FAQs About Extang Solid Fold 2.0
Does The Extang Solid Fold 2.0 Leak?
Tonneau covers aren't completely waterproof, whether they are from Extang or other top-class brands. Still, you can keep the inside dry by installing this Extang solid fold 2.0 properly. But if you don't secure the hinges perfectly, water can leak in and run inside.
Does This Extang Solid Fold 2.0 Come In A Different Color?
No, the Extang Solid Fold 2.0 comes in only a black matte finish. But the tonneau will match most of the truck to enhance its overall appearance and style.
Are The Replacement Parts Of This Extang Solid Fold 2.0 Available?
Yes, you can buy replacement parts for this tonneau directly from the exchange's official website.
Is This Extang Solid Fold 2.0 Compatible With A Drop-In Bed Liner?
Yes, this Extang solid fold 2.0 tonneau cover perfectly fits with a drop-in bed liner, even if it goes over the bed rails. However, you'll need to make some modifications.
You will have to notch the area where you'll place the clamps. And you have to keep the clamps flush against the truck's metal.
Read also: Bakflip Mx4 Problems
Final words
The dilemma will remain there whether you will go for affordability with a few drawbacks or an expensive one with tons of features.
One thing I have ensured in this Extang Solid Fold 2.0 review is to highlight every helpful feature. They are essential to securing the truck bed and the load on it.
Of course, you can get more from a high-end tonneau cover but not that much from a trick bed cover under a grand.
If it's your first time, I recommend you go for this reengineered version of Extang Solid Fold. You won't get disappointed.
Read also: Roll N Lock Bed Cover Problems And Solutions