A Series and M Series are two of the popular and high-end retractable tonneau covers from roll n lock brands, often confusing the customers to deciding which one.
Still, you need to go for the most qualified cover as both are quite expensive investments. In this case, a roll n lock a series vs m series debating guide will be the most intelligent way to set them apart and pick the appropriate one for your needs.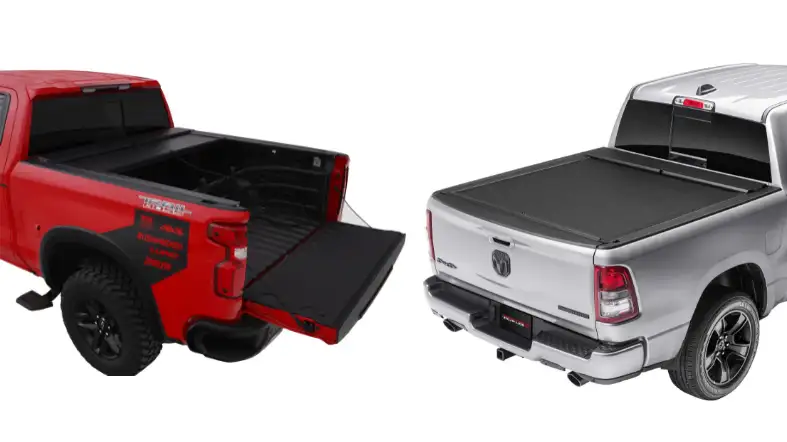 Following that, we have made a deep comparison of them based on plenty of features so you can realize their capability to choose the right one.
Roll-N-Lock A-Series Tonneau Cover
Seeking a weather-resistant tonneau cover that is easy to use and offers premium protection? Then this A-Series retractable cover from Roll-N-Lock deserves your attention.
The double-layered aluminum slats of this retractable cover are connected by a patented hinge system to offer a seamless look while protecting contents from the weather elements.
You can also lock its tailgate, keeping the cover shut to prevent opening the tailgate when the tonneau is closed. For efficient operation, you can open the tonneau through a latch and retract it into the canister to get full bed access.
You can also lock this retractable tonneau cover in a different position to haul taller cargo. An impressive feature includes single-piece construction with hidden seals.
It means this tonneau keeps the water out of the truck bed and its durable powder coating adds a level of wear and tear protection. This tonneau is backed by a 3-year warranty and is perfect for faster installation.
Read also: Best tonneau cover for snow and ice
Roll N Lock M Series Tonneau Cover
Along with the convenience of a retractable cover, this M-Series tonneau cover will also benefit you with the smooth appearance of a soft cover and the security of a hardcover. It is one of the best retractable tonneau covers available on the market from Roll N Lock.
Whether you are looking for optimal bed security or all-season protection, this M Series truck bed cover will be your preferable option, thanks to its vinyl-over-aluminum hybrid cover design.
The tonneau is also exceptionally easy to operate and retracts into the compact canister. To ensure high-end security, this M Series tonneau has a locking latch and patented rear extrusion.
You can also lock this cover in multiple positions to get quick access to the contents and the truck bed. It offers a 3-year warranty and a simple installation experience.
Quick Comparison Table
| | | |
| --- | --- | --- |
| Features Name | A Series Tonneau Cover | M Series Tonneau Cover |
| Type  | Retractable  | Retractable |
| Material  | Aluminum  | Vinyl |
| Finish  | Matte Black | Matte Black |
| Storage capacity  | Full bed access | Full bed access |
| operation | twist latch and closing strap | rear-mounted latch |
| Security | the patented tailgate locking mechanism | Locking latch |
| Warranty  | 3 years | 3 years |
Roll N Lock A Series vs M Series: comparison is different aspects
Construction
Edge: A-Series retractable tonneau cover
The A-Series retractable tonneau cover is constructed with two layers of powder-coated robust aluminum and unique hinge seals. This single-piece tonneau cover also has a matte black finish top surface and hidden seal. 
Thus, this retractable cover can withstand hundreds of pounds of load and resist snow, water, and corrosion. Its patented hinge also ensures frictionless operation.
Conversely, the Roll-n-Lock M-Series tonneau is made of a combination of heavy-duty vinyl and industrial-grade aluminum slats.
Therefore, this rustproof tonneau cover resists leaks, and weather and makes it challenging for thieves to get the contents.
>> How To Open Tonneau Cover When Tailgate Won't Open?
Security
Edge: A Series tonneau cover
This A Series tonneau cover ensures impeccable security with its patented tailgate locking mechanism. This system prevents the tonneau from opening after closing the tonneau cover. Its powder-coated body avoids scratching and fading due to UV rays. 
For water-tight security, the roll n lock a series has hidden seals all around. This feature also offers an extra level of wear and tear protection.
The M Series, on the other hand, has a locking latch to operate the tonneau. After closing the cover, its patented rear extrusion prevents the tailgate from opening even if you unlock it. 
Apart from that, this retractable cover is resistant to all weather elements and makes it challenging for experienced hands to get into the truck bed.
>> Roll N Lock Bed Cover Problems And Solutions
Storage
Edge: Both
The A series retractable cover is only 8 inches deep, therefore taking less bed space than the typical retractable cover. Its canister is also extremely compact and leaves maximum space for loads.
It means you'll have sufficient storage after installing this A Series tonneau cover to carry larger and more items.
The M series tonneau cover is also 8 inches deep. Thus, you'll have more room for gears in the truck bed. More importantly, this tonneau cover features an aerodynamic housing lid to retain maximum truck bed cargo space.
>> 10 Best Retractable Tonneau Cover For F150
Ease of use
Edge: Both
Both the roll n lock a series and m series tonneau covers are extremely easy to use for anyone.
For the series, it has an easy-to-use rear-mounted twist latch and closing strap for convenient operation. All you need to do is turn the lever and key and slide the cover smoothly.
Retract it into the compact canister and enjoy instant access to the partial or full bed. You can lock this tonneau in three intermittent positions between open and shut. 
The tonneau features different locking points in the bed rails to haul taller cargo. It also features a unique key slot that prevents the rain and snow from freezing the lock and causing an interruption during operation.
Despite this, its patented hinge system delivers frictionless, quiet operation. For the M series, it is also very easy to operate thanks to its insulated grip lever and unique frictionless contoured hinge.
Simply unlock the tonneau using the keys and start opening the cover towards the cab. 
Then retract the tonneau into the canister. More importantly, you can open, lock, and close this retractable tonneau without opening the tailgate and keep it locked in several positions for bed-required bed access.
Both the retractable tonneau cover is simple to install using clamps instead of drilling or using special tools.
>> Do Tonneau Covers Keep Water Out?
Read also: How To Fix Tonneau Cover Latch?
Roll N Lock A Series vs M Series: Which one should you choose?
Both the series and m-series tonneau covers are appropriate for their respective classes. So it is up to you to decide which retractable tonneau from the Roll 'n Lock is best for you. 
Apart from their similarities, they are clearly different in construction materials. The A series tonneau I made of three-layer aluminum slates.
So it will offer better durability and strength compared to the vinyl construction. But the vinyl will keep the tonneau cool during driving on hot days.
When it comes to the price, the m series tonneau cover is pretty affordable compared to the m-series, which can also be a deciding factor.
Read Also: 5 Common Retrax Bed Cover Problems
Final words
It wasn't easy to make a roll n lock a series vs m series tonneau cover comparison guide. These retractable type covers come from the same brand, offer a similar warranty, and operate and protect pretty much the same way. 
Still, we have been able to set them apart based on their minimal differences, which will help you decide on one.
Lastly, any of these tonneau covers won't disappoint you in their security, durability, and ease of use, making them the best for any compatible truck bed.
Read also: Best Weather Stripping For Tonneau Cover