Truxedo offers a wide variety of tonneau covers to allow the pickup truck owner to accessorize the ride and protect cargo at a time. And the models that boost the hype are lo pro and truxport.
But these soft roll-up tonneaus get plenty of similarities and tiny differences, making them tricky to set apart. In this case a TruXedo Lo Pro Vs TruXport comparison guide can be your way to go.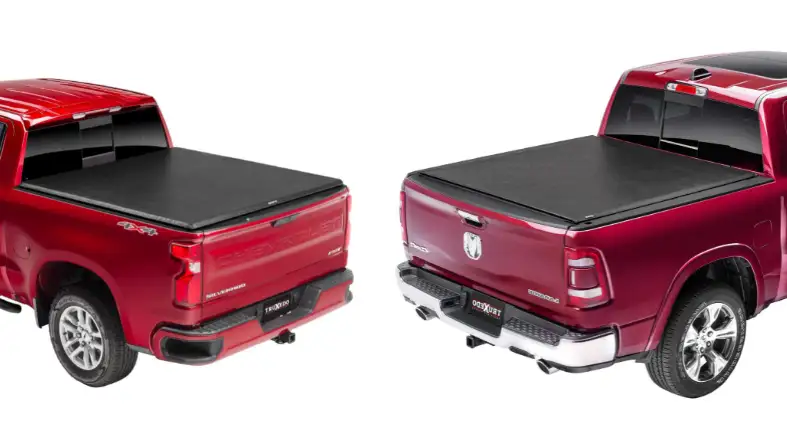 Following we have compared both of these truxedo tonneau covers on similarities and dissimilates and mention a recommendation so you can decide the best very easily. 
TruXedo Lo Pro Soft Roll Up Tonneau Cover 
Comes in a pack of features, this TruXedo Lo Pro Tonneau Cover is one of the top choices among American pickup truck owners.
This soft roll-up tonneau is very easy to use and features a stylish design, simple functionality as well as quality bed protection. 
It sits only ¾ inches above the bed to offer a sleek and low-profile look while staying tightly to the bed during all harsh weather and extreme temperature. 
This soft roll-up tonneau mounts inside the truck bed and offers easy access to the stake pocket for installing extra accessories.
Finally, its drill-free installation and quick release system make this tonneau cover the most convenient in the class.
TruXedo TruXport Soft Roll up Tonneau Cover 
TruXedo TruXport Tonneau Cover is a budget-friendly choice for use in a rainy area. Its leather grain black material guard against heavy rain and snow quite impressively.
Though this tonneau sits 1.5 inches above the bed, still it offers a sleek look.
An exciting feature includes, that this tonneau doesn't flap or move during driving on the highway and rolls up tightly and securely while the truck is in motion.
Apart from installing, you won't have to use any tool to remove this soft roll-up tonneau. 
Quick comparison
| | | |
| --- | --- | --- |
| Specifications  | Truxedo lo pro | truxport |
| Type | Soft roll-up | Soft roll-up |
| Material  | Leather-grained tarpand metal frame | Double coating vinyl and aircraft-grade anodized aluminum |
| Operating Latch | Single latch placed on just one side of the cover | Paddle latches open the tonneau on either side of the tailgate |
| Exterior | Black | Black |
| Profile | Sits 3/4″ above the truck bed | Sits 1.5″ above the truck bed |
| Bed access  | Offer complete bed access | Don't offer complete bed access |
| Warranty  | Limited Lifetime | 5 Years |
TruXedo Lo Pro Vs TruXport: Major Similarities
These truxedo lo pro and truxport tonneau covers share plenty of features along with minor differences. It's better to check what are common in these truck bed cover before looking at the dissimilar functions.
The Roll-Up Design
Both of these tonneaus covers roll back and out of the way instead of folding in place. After retracting completely, this tonneau allows to lock in a rolled position using Velcro.
This roll-up design makes these tonneau covers easier to remover especially compared to the tri-fold type.
The Material
Truxedo uses thick leather grain vinyl material to construct both of these tonneaus. Vinyl is known for watertight protection and the ability to withstand high wind driving without fluttering.
This material is also thinner, making it effortless to roll up whenever desired. Another exciting benefit of using these vinyl-made tonneaus is that they won't fade over time using direct sunlight.
Built-in Tensioner
Both of these truck bed covers are designed with a tensioner system to remain tight and secure to the bed during use.
Their pre-set tension control is integrated into the dual latching system conveniently to maintain a tight fit and look great in extreme conditions.
TruXedo Lo Pro Vs TruXport: Differences
Protection comparison
Edge: Lo pro tonneau cover
TruXport is constructed with the largest top rails, Velcro closures, and hook fasteners at the tailgate, a weather-resistant loop, and a tension control system.
Combining these features makes an unbeaten seal to protect cargo and truck bed from any incursion during adverse weather. 
These functions also keep the tonneau securely in place maintaining a balance between the contraction of temperature changes and material expansion. It means this truxport will protect your loads from hefty snow even at -20°F. 
Despite this, its manual tension control system will allow you to adjust the tightness of the cargo to prevent the water from entering inside. 
Conversely, the manual tension control of the Lo pro makes it effortless to operate. Its lid closes automatically to protect the bed and loads from dust and moisture.
This lo pro tonneau cover sits almost completely flat against the bed to perform as a seal and protect the inside from unpleasant weather.
Though both of these truxedo tonneau covers keep the cargo dry and resist moisture, lo pro still does a better job than truxport. The reason is that it fits flat against the truck bed and w work as a seal.
The truxport remains secure by rails to the bed's edge but it can let the water run between the rails. 
Read also: How To Fix Tonneau Cover Latch?
Durability comparison
Edge:  Lo pro tonneau cover
TruXport is made of a combination of leather tarp and metal frame. Its 1.5 inches metal structure is sturdy enough to endure heavy rain and snow. Despite this, its leather-grained tarp is also quite durable and able to protect from any weather elements. 
Lo pro on the other hand is constructed with double coating vinyl and aircraft-grade anodized aluminum. Its tarp is UV ray and tear-resistant to seal loads from the weather.
If you need to carry and protect fragile items, you'll find the Anodized aircraft-grade aluminum more beneficial than others. Apart from a longer lifespan, lo pro is fairly robust and harder than TruXport.
Ease of use 
Edge: TruXport tonneau cover
TruXport soft roll tonneau cover is incredibly simple to operate and values customer convenience. However, you have to open its two paddle latches before rolling this tonneau to get the bed access. 
This tonneau also has a cab buckle to keep the tonneau in place during folding up. Its pre-set tension avoids flapping, making this perfect for better gas efficiency.
You won't also need more than 20 minutes to install this soft roll-up tonneau cover.
Lo Pro tonneau cover is designed with an automated tension system. So you don't need any manual participation while rolling this tonneau cover.
Though you can fold this tonneau within seconds, it won't let you remove it completely.  
In this case, TruXport is a far better choice as you can remove its lid completely and get complete bed access.
Security Comparison 
Edge: Both
TruXport has two paddle locks on both sides of the tailgate to lock it securely after closing the cover.
Despite this, its locks are also connected with a preset tension adjustment to constrain the cover to the bed rail. Therefore you can access the paddle latches from the side of the rear of the truck.
Lo pro design with aluminum single trigger latch to allow you to trigger the cover using a single finger without ruining the protection and security. 
Apart from that, its four-way sealing system with hook and loops seal the cargo tightly and firmly.
Thanks to its rear fastening system which doesn't allow moving the cover without opening the rear, resulting in ensures improved protection against theft.
TruXedo Lo Pro Vs TruXport: which one is best?
Deciding on the TruXedo Lo Pro Vs TruXport requires plenty of considerations. The TruXport is considerably cheaper however offers a shorter warranty. It also sits higher, is less water resistant, and isn't much removable. 
Conversely, by investing a little extra, you'll have a lower profile appearance, a bit more security, and complete detachability. Ultimately, the right decision is depend on the buyer's preferences.  
Final words
Hope now you can decide on the best soft roll-up tonneau easily based on this TruXedo Lo Pro Vs TruXport guide.
Throughout we have compared both the Lo Pro and TruXport in possibly every aspect and set them apart based on their capability. 
So now it's your turn to pick the best between these Lo Pro and TruXport based on your budget and preferences. 
Read also: How To Keep Dust Out Of Tonneau Cover?