Owning an excellent pick-up truck brings immense pride. However, picking the wrong tonneau cover can be costly and ruin all your expectations. And this is why going with a reliable brand like BAKflip is extremely essential.
While checking the models, the names that confuse most are MX4 and fibermax. Still, you need to proceed and pick the best. This is where BAKFlip Fibermax vs MX4 plays the best role.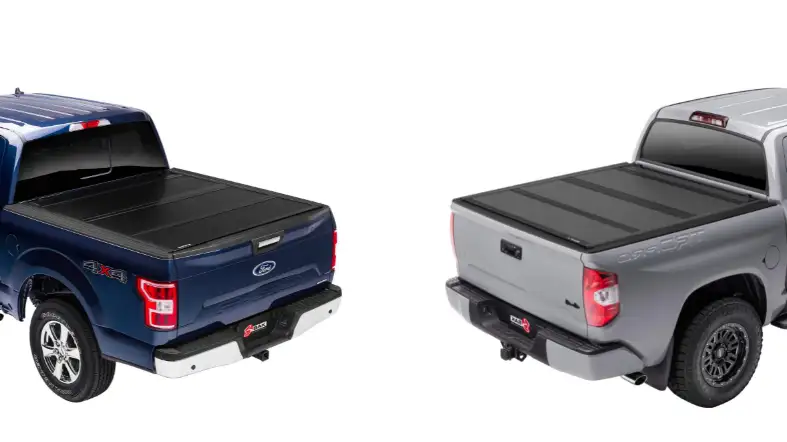 In the following, we have compared these two tri-fold tonneau covers in plenty of features and mentioned the similarities along with the recommendation.  So let's get the best bakflip tri-fold tonneau cover for your needs.
The BAKflip MX4 tonneau cover
The BAKflip MX4 foldable tonneau cover maintains the ideal balance between ease and security, making it one of the most popular tonneau covers among truck owners.
Featuring a tri-fold design, this four-panel tonneau cover ensures impressive functionality and durability. 
Extremely easy to install, operate and remove, this truck bed cover provides quick access to carry cargo and loads.
Apart from the matte black finish appearance, this tri gold tonneau holds the truck bed tightly to protect the load and bed from harsh weather and water damage. 
Despite its drain tube and EPDM seal, the bed keeps the moisture out of the bed. Last but not least, this MX4 truck bed cover comes at an affordable price with a 5-year warranty.
The BAKflip Fibermax tonneau cover
The BAKflip Fibermax tonneau cover is lightweight, tough, and affordable, making it perfect for the long run. Made of dent resistance Fiberglass reinforced polymer, this truck bed cover is made of fiberglass reinforced polymer. 
It ensures extra safety and convenience. Along with protecting from scraping, this tonneau fights unpleasant weather conditions. 
If you are concerned about the ability, this tonneau can carry heavy-weight cargo safely in long run, thanks to its sturdy aluminum layer. This fibermax tonneau cover offers 3 years warranty and comes at an affordable price.
Comparison Table
| | | |
| --- | --- | --- |
| Specifications | MX4 | Fibermax |
| Type | Foldable | Foldable |
| Material | Aluminum | Aluminium / FRP |
| Appearances | Matte-Black | Gloss-Black |
| Installation | Bolt-on / Drill-free | Bolt-on / Drill-free |
| Weight Capacity | 400 lbs | 300 lbs |
| Bed Access | Full | Full |
| Resistance | Dent, Scratch, and UV Resistant | Dent, Scratch, and UV Resistant |
| Warranty | Limited 5-Year | Limited 3-Year |
BAKFlip Fibermax vs MX4: Similarities
BAK produces some high-end hard folding tonneau covers, and these two come out on top. Both MX4 and Fibermax share plenty of features, and it's wise to understand the similarities to pick the vest cover for your needs.
Both are hard folding tonneau covers and are made for superior security. These tonneaus also open towards the cab by folding.
This tri-fold tonneau covers the lock with the truck's tailgate. So you can keep the bed secure by losing the cover and locking the tailgate.
These hard folding tonneau covers mount between the bed rails and leaves a stake pocket free for a tie down, truck racks, and more.
Both MX4 and Fibermax channel the water along the cover rails and drain it out through tubes.
You need to pull the string of these tonneaus to release the latch and open the cover.
BAKFlip Fibermax vs MX4: Differences in features
Design
Edge: MX4 tonneau cover
The MX4 tonneau cover is made of aluminum panels with a matte-black powder top finish. Combining these, this hard folding tonneau cover will offer an ultra-low-profile appearance to your truck.
Its rail end caps, corner caps, elevator bolts, and clamps are also finished matte-coated to offer the ultimate sleek texture.
The exterior of this tonneau cover can be either, painted, polished, or chromed to offer an attractive final touch. Combining these features, this MX4 cover offers a sleek, patented, and flush-fit design.
Though the fibermax tonneau is also made of an aluminum panel, its top surface is finished with FRP for a gloss-black look. An exciting benefit of these FRP panels is that they remain cooler under direct sunlight.
This tonneau cover flushes with the truck bed to offer a snappy and low-profile outlook. Because of the FRP construction, the fibermax tonneau is slightly thicker than the MX4.
Compared to these two, the MX4 tonneau is better due to its matte black coat and its more sleek and attractive design.
Composition
Edge: MX4 tonneau cover
With a combination of industrial-strength aluminum panels and premium matte-black finishing, the MX4 tonneau is highly solid and durable.
Despite this, its other attachments are also resistant to dents, scrapes, and UV light. It also has rubber bumpers and pre-molded die-cut panels that absorb shock during driving over rough roads.
Fibermax, on the other hand, is constructed with high-grade aluminum panels and FRP coating. This tonneau cover is also resistant to scratches, dents, and UV radiation, as well as shock. Despite this, the fibermax tonneau is thicker than the MX4.
Between these two, the MX4 is considerably more resistant to scratches and dents due to its matte-black texture. The coating also makes the tonneau more durable than its counterparts.
Performance
Edge: MX4 tonneau cover
The MX4 tri-fold truck bed cover allows locking it in three different positions. It has string latches under every panel that needs to be pulled towards the cab to fold up.
The tonneau also has buckle straps to secure the panels efficiently in a 2/3 position. But if you need full bed access, you have to lock the panels in a vertical position with the back window using prop rods. 
An impressive feature includes a dual-action tailgate seal with an injection molded latching system. It means you can shut the truck bed cover with the closed or open tailgate.
On the other hand, the Fibermax tri-fold tonneau cover, on the other hand, allows locking partially in two positions and one for complete bed access.
It also has string latches to unfold the panels and buckle straps, as well as strut rods to secure the panels and get full bed access.
Despite this, the fibermax tonneau has a flap tailgate seal and an aluminum latching system to pull the last panel to lock the tailgate. However, you can't close the tailgate after shutting it.
Considering the performance, both of these tri-fold tonneau covers are equally efficient. However, the dual-action tailgate seal of the MX4 tonneau keeps it top over its counterparts.
Read also: How To Fix Tonneau Cover Latch?
Water Resistance
Edge: Both
This tonneau is designed with enhanced side rails so that the rainwater pushes through the drain tube. Then its tube funnels the water directly out of the truck bed and the load is dry.
The tonneau also has high-quality EPDM rubber seal end caps to keep the excess water out to ensure improved protection of the cargo.
Fibermax is also highly resistant to water and includes water drainage side rails and a drain tube. It also has EPDM rubber seals and hinges to keep the loads dry during extreme rain.
When it comes to water resistance, both tonneau covers are equally functional and protective as they have a similar design.
Warranty
Edge: MX4 tonneau cover
The MX4 hard folding tonneau cover is considerably more durable. As a result, the manufacturer confidently offers a 5-year warranty.
Fibermax, on the other hand, provides a three-year warranty.
Read also: Bakflip Mx4 Problems
BAKFlip Fibermax vs MX4: Which one should you choose?
After comparing the MX4 and Fibermax tonneau covers, we discovered that both are suitable for your truck bed.
If you are looking for the best one, you have to consider your preferences, climate, and the area where you live. 
If you need a more durable one to carry heavy loads and live in a rainy area, consider the MX4. But if you have a slightly lower budget, live in a sunny area, and need to carry considerably lighter loads, go for fibermax.
Read also: Best Weather Stripping For Tonneau Cover
Final words
In this BAKFlip Fibermax vs MX4 comparison guide, we have compared both of these tri-fold tonneau covers in almost everything.
Although we have mentioned a recommendation, you can still go with your own decision based on the information we have mentioned. 
Lastly, none of these tonneau covers disappoint you in terms of operation, convenience, and longevity.