Both Peragon and Retrax are renowned brands in the tonneau cover market and both companies have been doing business for a long time. It is very common to get baffled choosing only one between these two.
So, Peragon vs Retrax – which one should you choose? 
The Peragon tonneau covers are made with aluminum while the Retrax covers are made with polycarbonate and aluminum. The installation and cover opening processes of Retrax are easier and smoother than the Peragon. Unlike Peragon, the Retrax has a UV-ray protective shield. However, Peragon is more budget-friendly than Retrax and unlike Retrax, it has a 100-day return policy. 
If you want to know more differences between these two tonneau covers, keep reading!
Table of Contents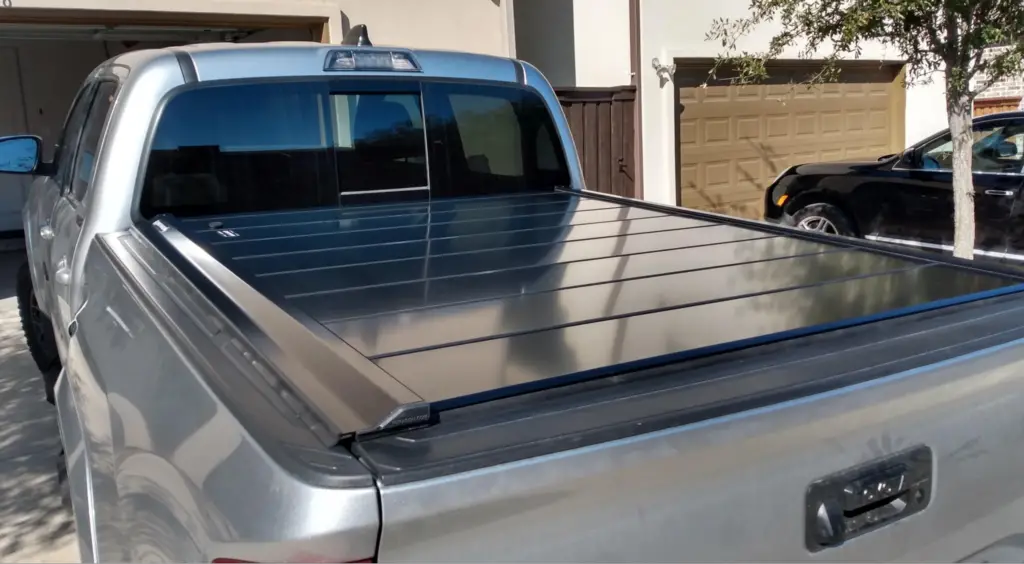 Peragon vs Retrax: Quick Comparison 
Before going into the in-depth discussion, let me share a quick difference between Peragon bed cover and Retrax bed cover in a table.
| | | |
| --- | --- | --- |
| Features | Peragon | Retrax |
| Materials  | Aluminum | Polycarbonate and aluminum |
| Installation Time & Process  | 2-3 hours (Complex Process) | 30-45 minutes (Easier Process) |
| Cover Release  | Comparatively rough  | Smoother  |
| Sun protection  | Not Available  | Available  |
| Waterproof  | No | No |
| Weight | 300 lbs (distributed)50 lbs (concentrated)  | 500 lbs (distributed)150 lbs (concentrated)  |
| Return Policy | 100 days | No return option  |
| Warranty  | 1 to 5 years | 2 years to a lifetime |
| Price  | Starts from $999 | Starts from $1139 |
Peragon vs Retrax: In-depth Comparison 
Here is a detailed discussion of the dissimilarities between Retrax truck bed cover and Peragon truck bed cover for a better understanding.
Materials:
All Peragon bed covers are made with solid-tempered aluminum while the Retrax is made with Polycarbonate and aluminum depending on the model. 
Both aluminum and Polycarbonate are excellent materials for tonneau covers. But the polycarbonate is slightly less durable and less costly than aluminum. That's why Retrax bed covers that are in the lower price range are made with this material. 
As a result, the regular Retrax bed covers might be less durable than the Peragon bed covers. However, the premium Retrax bed covers are very durable. And as Retrax bed covers are thicker than Peragon, they last way longer than Peragon.  
Installation Time & Process: 
The installation process of Peragon bed covers are much more complex than Retrax. It will take you around 2-3 hours to install a Peragon tonneau cover, whereas, for Retrax, you will only need around 30-45 minutes.  
You can take help from the following videos to install Peragon truck bed cover and Retrax tonneau cover. 
Depending on your truck's model, the installation process for both tonneau covers can be different. Read the user manual thoroughly for detailed instructions. If you are confused about the tonneau cover installation process, take help from your dealer.  
Cover Release: 
Opening the Peragon tonneau cover is comparatively rougher than opening a Retrax tonneau cover. 
Many owners complain that while opening the Peragon tonneau cover, there is loud banging noise which can be very annoying. Also, sometimes, the rails get stuck on the bed wall and you have to lean on the cover to open it up. 
As the cover can not bear your weight, this process can lead the cover to break prematurely. Also, when you open the Peragon cover, the cover rolls up at the front. So, you can not keep any stuff in from the side when you roll the cover-up. 
On the other hand, the Retrax tonneau cover doesn't stick at all while opening up. In the premium models, you can open up the cover just with a click of the remote button.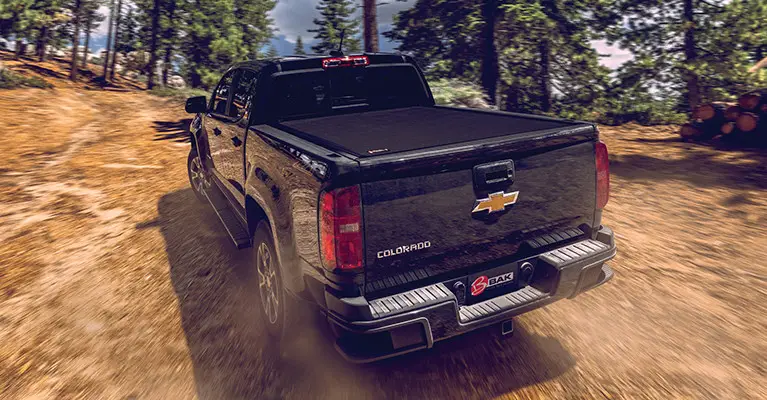 Sun Protection: 
Unlike the Retrax Tonneau cover, the Peragon Tonneau cover is not protected from the sun. 
The retrax tonneau cover has a UV ray protective layer, which protects the bed cover from getting damaged due to extreme sunlight. So, the color and integration of this cover stay the same for way longer than a Peragon tonneau cover. 
Waterproof: 
Neither Paragon nor Retrax tonneau cover is waterproof just like any other tonneau cover. 
In Peragon tonneau covers, the rails are sealed with EPDM rubber seals which restricts water to penetrate and enter the truck. 
On the other hand, unlike the Peragon, the Retrax has drain pans to collect and dispose of the accumulated water on the cover. 
Manufacturers of both tonneau covers tried their best to provide support from rainfall and snowfall. 
Even if after all the features the tonneau cover leaks excessively, this is not normal and you should have it repaired. 
Load Capacity: 
You can take up to 300 pounds of distributed load on a Peragn tonneau cover while a Retrax tonneau cover can take up to 500 pounds of load. 
If you provide a concentrated load or keep things in one place, the Peragon tonneau cover can take up to 50 pounds, on the other hand, the Retrax tonneau cover can take up to 150 pounds of concentrated load. 
The Retrax can take a heavier load than the Peragon due to its material thickness and rigidity. 
Return Policy:
Unlike the Retrax tonneau cover, The Peragon gives you the benefit of a return policy. 
If you don't like the product, you can return the Peragon tonneau cover within 100 days without any hassle. However, you have to pay a specific amount of return charge to avail of this option. 
Warranty:
Depending on the model, the Peragon provides 1-5 years of warranty on tonneau covers while Retrax provides even a lifetime of warranty. 
The Peragon provides 1 year of warranty on their classic tonneau covers and 3 years of warranty on their Platinum covers. And for LimitedHD covers, they provide 5 years of warranty. 
And for Retrax, their aluminum series tonneau covers have 2 years of warranty. These series don't have any lifetime warranty. 
For the composite series and premium Aluminum series, Retrax provides 1 to 3 years of full warranty and a lifetime of limited warranty. Remember that this warranty is non-transferable and only belongs to the first owner. 
Price: 
The Retrax tonneau covers are more expensive than the Peragon tonneau covers. The price of Peragon tonneau covers starts at $999, while the price of Retraxs starts from $1139. 
The price of Peragon classic tonneau covers is around $999 while the Platinum covers cost around $1,199. And the most expensive series of this brand, LimitedHD costs around $1,599. 
On the other hand, the aluminum series of Retrax starts from $1139 and Composite Series starts from $1459. The cost of the Premium Aluminum Series of this brand starts from $2079.
Just like Pergon and Retrax, the difference between Gator fx and fx3 is another popular debate. However, these two are great options to choose from. 
Peragon vs Retrax: Which One to Choose? 
If you are concerned about durability and lifelong good service, you should go for the Retrax tonneau cover. It is also a good option if you are looking for a cover with easy installation and opening facility. 
On the other hand, if you are more concerned about budget, Peragon is the right choice for you. It is also a good choice for those who want the option open to return the product if they don't like it. 
However, both the tonneau cover brands are of excellent quality. So, you won't face many problems with either of them as owners face other tonneau covers. For example, the Lomaz tonneau cover shows problems from time to time. 
FAQs: Peragon Vs Retrax
How Do You Clean Retrax or Peragon?
You can clean the Retrax tonneau cover by using mild soap and water. This cover is very easy to maintain. However, remember not to use any kind of harsh chemicals like plastic cleaners,s protectants, and gasoline on the cover. 
How Secure Is The Retrax Tonneau Cover?
The Retrax tonneau covers are very safe as they are lockable. All Retrax tonneau covers come with a key-locked security system. Depending on the model, you can unlock the lock with a key or remote. And you have to lock the tonneau cover in any position you want. 
Do All Tonneau Cover Leak?
Yes, more or less all the tonneau cover leaks. No tonneau cover in the market is 100% waterproof. Manufacturers try to water seal the cover by different methods including rubber seal and drainage system. However, when there is heavy rainfall or snowfall, the tonneau cover will leak so prepare according to that.
Conclusion: Peragon Vs Retrax
Here goes my verdict on the popular Peragon vs Retrax debate. I hope this thorough discussion of their differences helped you with your purchase decision. 
Also, after purchasing the tonneau cover, don't forget to perform regular maintenance. It will ensure the longevity of the tonneau cover. 
That's everything I had to say. All the best and goodbye!
Read Also: 5 Common Retrax Bed Cover Problems