Gator truck bed covers are a popular aftermarket addition to pickup trucks that provide protection, security, and style. However, choosing the right one among Gators various models can be a bit confusing as they are all pretty good. Such two competitive models are Gator Fx and Gator fx3.
In this article, we will be differentiating two popular truck bed cover options: Gator FX vs FX3.
Gator Fx offers covers that are fully made of aluminum, whereas the FX3 offers a combination of aluminum and polymer materials. Both FX and FX3 use a tailgate lock system as their lock mechanism. However, Gator FX offers aluminum powder coat finishes, whereas fx3 offers fibreglass reinforced polymer coating. 
Well, that just the start! You are gonna require more details to pick the ideal truck bed cover. Keep reading this article to make a better decision.
Gator Fx VS Fx3:  Quick Overview 
When it comes to comparing gator fx vs fx3, a number of factors need to be considered. These would help you differentiate the truck beds.
Factors like their material, design, scratch resistance, weather protection, lock mechanism, ease of use, price, etc will be compared here.
| | | |
| --- | --- | --- |
| Differentiating Factors | Gator FX | Gator FX3 |
| Material | Aluminium  | Aluminum sub-panels,RFP coated top panels |
| Design | Trifold configuration, Provides complete bed access | Provides complete bed access |
| Scratch resistence | Black aluminum powder coat finish | Fibreglass reinforced polymer coating |
| Weather Protection | Excellent | Excellent |
| Weight Capacity | 300 lbs | 300 lbs |
| Lock Mechanism | Tailgate lock system | Tailgate lock system |
| Ease of use | Very easy | Very easy |
| Price  | $949.00 | $939.00 |
Gator Fx VS Fx3: Detailed Comparison 
In this part, I will be going over each of the factors in detail. So, you get a more clear idea about both of the products. Also you will be able to make a better decision in picking the one that is perfect for you.
Material: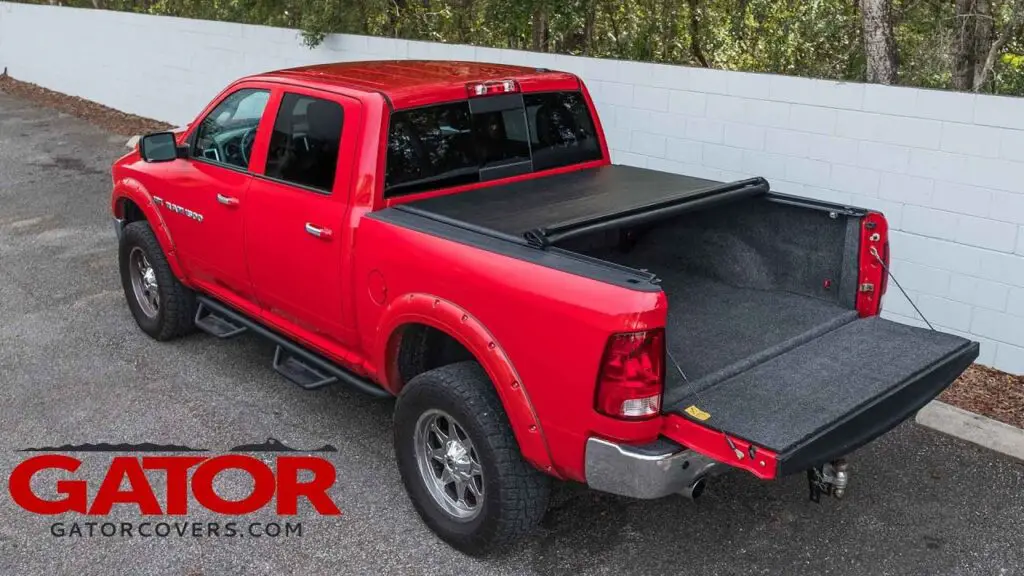 Gator FX mainly produces aluminum covers. The entire cover, including sub panels and the top panels, is made of aluminum. This is to ensure that the material remains secure, robust as well as corrosion-resistant. 
The FX3 cover is a mix of both aluminum as well as polymer material in their construction. The covers feature powerful aluminum sub-panels which increases durability. It will also protect the material from getting damaged sooner.
However, what sets this cover apart from Gator FX is its unique fiberglass-reinforced polymer (RFP) coating on its top panels. 
This special coating provides superior protection against various elements such as dents, scuffs, UV rays, and harsh weather conditions. 
With this added layer of defence, your vehicle and the aluminium panels are shielded from potential harm, ensuring a hassle-free experience for years to come.
Design:
The Gator FX's trifold configuration offers outstanding convenience and guarantees unobstructed entry to your truck bed. It has an elegant, low-profile design that also conforms to your truck very well. 
Additionally, you can easily fold the cover towards the truck's cab, allowing the third brake light to remain visible. Furthermore, the cover can be entirely laid against the rear window, thus, enabling complete bed access for your benefit.
The Gator FX3 again sticks to its hallmark of looking extremely great. The brand emphasizes on its design and build quality. This low-profile design is also very realistic along with being very pleasing to the eye. Drivers have the option to operate their vehicle with the cover fully opened or closed.
Scratch Resistance:
The black aluminum powder coat finishes in Gator FX cover guarantees long-lasting durability with its scratch and UV-resistant properties. Also, allows it to maintain its appearance for years. 
On the other hand, for added protection, the Gator FX3 features aluminum sub panels that provide a fibreglass reinforced polymer structure. They help prevent any sagging or warping. Its RFP is also heat-resistant and can resist scratches and dents much better than FX while remaining UV-resistant lock Protection 
Weather Protection:
The FX tonneau cover ensures that the cargo within remains protected against adverse external weather conditions. It is equipped with powerful hinges which helps keep the cover attached to the bed rails. It also prevents any possible leakage of moisture. 
Also, the EPDM seals further reinforce the hinge protection to offer the ultimate safeguarding. With its strong build, the tonneau cover is capable of withstanding even heavy rainfall and high temperature without any damage.
For the Gator FX3, it includes an array of features dedicated to weather protection and water management. The perimeter seals are well-known for securely sealing the cargo area, preventing any water or dust seepage. 
The FRP material effectively shields the cargo from harmful UV rays, ensuring the protection of any raw or delicate items within the truck bed. To enhance its protective measures, the Gator FX3 also comes with drainage tubes that channel away any water. 
Both include pretty good weather protection features. But FX3 stays a bit ahead due to its FRP coating and drainage tubes system. However, you need to always be prepared to fix a Tonneau cover leak.
Lock Mechanism: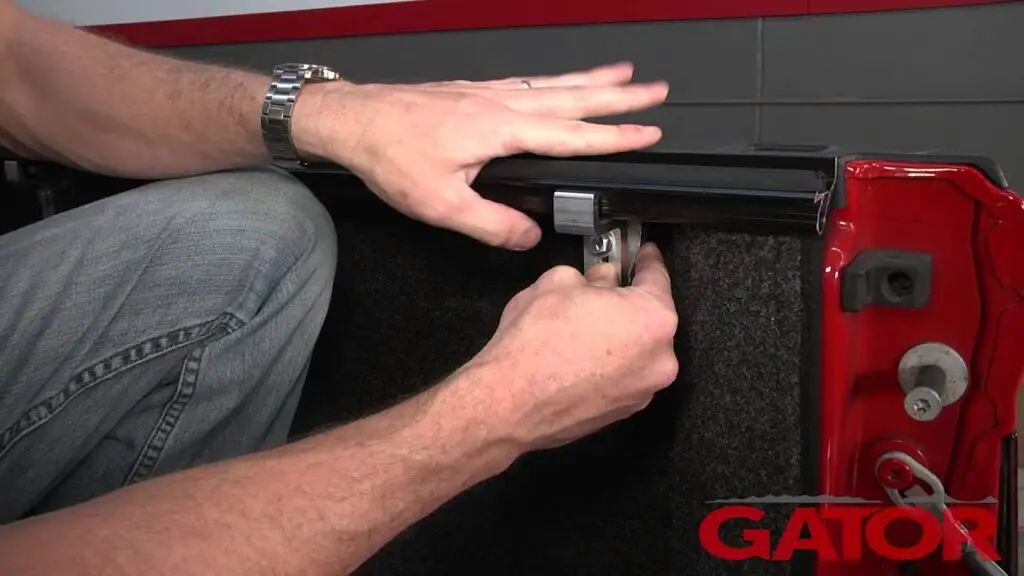 The Gator FX is a durable truck bed cover that provides unmatched cargo protection for any truck driver. Equipped with slam latches, it automatically secures the truck rails to the tonneau cover, offering essential security. 
Also, the cover features a tailgate lock system that provides optimal protection against both thieves and harsh weather conditions. The cover's sturdy construction material and infrastructure guarantees dependable and strong security.
The Gator FX3, in addition to featuring the tailgate lock system, boasts a dual-functional tailgate. To secure the cover, you can effortlessly pull it down to the tailgate and lock it with the included lock or their preferred lock. 
Moreover, with it you are also able to access the truck bed through the tailgate. And you even have to lift the bed cover. The slam latches included in this model serve to keep the cover firmly attached to the truck bed rails, resulting in superior protection.
Ease of Use:
The Gator FX is exceptionally easy to handle. It effortlessly glides on the truck bed rail without requiring excessive manual labor. The automatic slam latches further minimize the need for manual effort.
The cover is equipped with buckle straps that support it in a 2/3 open position. Also, enabling drivers to drive with the cover fully opened, flipped, or entirely closed, offering unmatched convenience.
The Gator FX3, too, is designed for effortless opening and closing. Its prop rod support system allows for easy maneuvering. The rubber bumpers protect the truck cab when opening the cover completely. 
Additionally, slam latches minimize the effort needed to manually close and open this hardcover tonneau cover. If you need help trying to install the Gator Tonneau covers watch this video:
Gator Fx VS Fx3: Which One to Choose?
As you could see from the discussion above, both FX and FX3 provide some pretty good features. The differences between FX vs FX3 are not very significant. At least not enough to make one much greater than the other, unlike the difference between Gator and Tyger covers.
What it all comes down to is your own personal preferences.
If you want a few additional features,  FX3 might be a more suitable one. Because it is apparently more advanced in terms of its features than the Gator FX. 
If you are a truck owner who favors fibreglass over aluminum, you will find the Gator FX3 to be an excellent option. Because it includes corrosion-resistant materials and high resistance to scratches and dents.
However, my advice would be to weigh both options well and go for the one that suits your preferences better. You should also look at how the Gator FX3 compares to Bakflip MX4.
Read Also: 5 Common Retrax Bed Cover Problems
Frequently Asked Questions (FAQs): 
Can Gator covers go through car wash?
A tonneau cover made of hard plastic or fiberglass can. It includes a solid roof that should be able to withstand a car wash without causing any damage. However, if your tonneau cover is painted, it is recommended to use a touchless car wash to avoid any scratching or scraping of the finish.
Which tonneau cover is most secure?
One-piece tonneau covers are known for their exceptional weather protection due to their tight sealing. They also provide excellent security that makes them the most secure type of tonneau cover available. Compared to other hard tonneau covers, one-piece covers usually come at a more affordable price point. However, one potential disadvantage is that they don't allow complete access to the truck bed.
Are tonneau covers noisy?
Tonneau covers are typically designed to fit snugly over your truck. However, If it doesn't, it can rattle, flap around, whistle, as you drive. The noise can get really annoying, while driving. Also, it is not good at all for your cover's durability.
Read also: Best Weather Stripping For Tonneau Cover
Wrapping Up 
Hope you now have a good idea about the difference between Gator fx vs fx3.
To conclude, consider all of these factors above before making a final decision. And pick the one which fits within your budget.
That is all as of now. Have a terrific day!