Polycarbonate and aluminum, are two of the most common materials used to make retrax tonneau covers.
Since the material determines the durability, longevity, and capability of a tonneau cover, you must have a clear idea about them. 
That's why we prepared this retrax polycarbonate vs aluminum comparison guide to help you decide which is best and go beyond your expectations.
Retrax Polycarbonate Vs Aluminum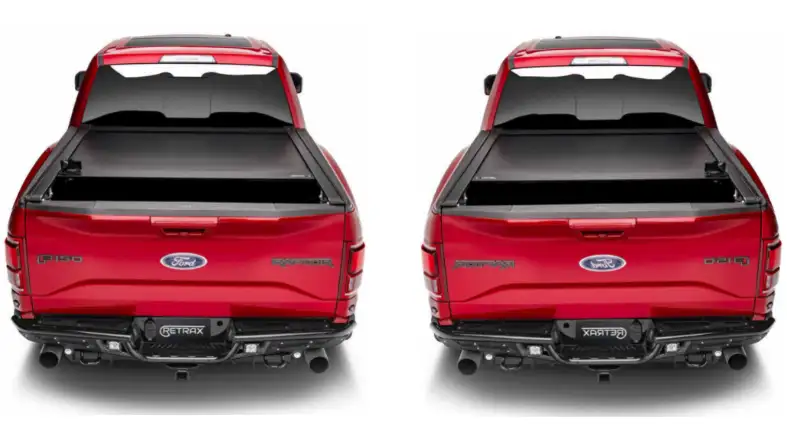 Retrax tonneau covers are usually made of two different materials, including industrial-strength aluminum slats and rigid polycarbonate.
Both of these materials are highly durable and strong, as well as lightweight to install, operate, and remove.
Still, it's essential to set these apart as you can't purchase the same retrax tonneau cover made of a different material.
But before looking into their key differences, let's check out the Retrax series made of both polycarbonate and aluminum
| | |
| --- | --- |
| Retraxone polycarbonate series | Retraxpro aluminum series |
| RetraxONE MX | RetraxPRO MX |
| PowertraxONE XR | RetraxPRO XR |
| RetraxONE XR | PowertraxPRO XR |
| PowertraxONE MX | PowertraxPRO MX |
Load carrying capacity
Edge: Aluminum
The key difference between Retrax polycarbonate and aluminum tonneau covers is in their load holding capacity.
The Retrax polycarbonate truck bed cover can carry up to 200 pounds, while the aluminum-made cover can hold a max of 500 pounds. 
So if you need to carry heavy loads or cargo frequently or drive under snowfall, aluminum will be the right material to go with.
Durability
Edge: Aluminum
When it comes to selecting a tonneau cover material, durability is the crucial factor to consider. For retrax polycarbonate, its one-piece sheet of polycarbonate sheet is designed to retract without hinges or joints. 
It means the polycarbonate retrax tonneau cover won't trap dust and wear out. This tonneau won't get frozen due to driving in heavy rain or snowfall.
Instead, polycarbonate retrax truck bed covers are scratch resistant. It means this tonneau not only adds style to the truck but also retains the shiny look for a long time. This tonneau cover is also impacting and UV resistant and withstands any climate.
When it comes to resistance, the aluminum-made retrax tonneau is also scratch resistant and allows it to retract without trapping dust. Although this tonneau cover is more durable and heavy-duty than its counterpart. 
That's why we rescind the offer of a 1-year warranty for the polycarbonate tonneau while the aluminum-made one gets a limited lifetime warranty.
Benefits of Polycarbonate Tonneau Covers
Polycarbonate tonneau covers are more lightweight than aluminum-made models. These are also resistant to scratching, incision, and braking.
The polycarbonate truck bed cover greatly resists impact and endures a higher degree of abuse.
In terms of appearance, polycarbonate tonneau covers are antithetically appealing and provide a glossy appearance due to their stable color.
Compared to aluminum, polycarbonate cover protect cargo from moisture and prevent mold and mildew build-up far better.
Benefits of Aluminum Tonneau Covers
Aluminum-made tonneau covers are quite popular due to their ease of work. This material is also lightweight and makes the products cheaper. Aluminum tonneau covers vary in styles, finishes, and colors. 
Despite this, its rigidity and strength are also comparable with other materials. Apart from being corrosion resistant, aluminum cargo keeps the cargo safe from weather and bad hands. That's why the Retrax Pro MX is highly popular among pickup truck owners.
Retrax Polycarbonate vs Aluminum: which one is best?
When it comes to the overall design, both materials are rigid and durable. Between these two, polycarbonate can be slightly less rigorous, still, it can withstand regular use and harsh weather. Conversely, aluminum is strong but can cause dents and scratches.
The scratches can be obvious for a long time on the aluminum tonneau cover. Though polycarbonate scratches, it shows better resistance.
Despite this, polycarbonate doesn't fade away over time like a painted surface. This type of material also shows resistance to rough weather elements like salt and sunlight.
Both of these materials can go through a beating during trucking. However, you can depend on their durability and go with your personal preferences and budget.
For the Retrax tonneau cover, scratch and dent resistance are also deciding factors.  Despite this, Retrax aluminum tonneau covers are stronger than polycarbonate. 
Its load carrying capacity is far more than a polycarbonate tonneau. So if you need to carry things on top of the tonneau more often, consider this factor to decide which is best.
Final words
Retrax polycarbonate tonneau cover offers an aesthetically pleasing design while retrax aluminum offers more protection.
In this retrax polycarbonate vs aluminum debating guide, we have compared both the capability and expectations of the material. 
But the fact is that only the material isn't the deciding factor. You have to compare their overall functionality, quality, and capability to pick the best retrax tonneau cover.
Also read Bak Revolver X4 Problems