The Extang Solid Fold 2.0 tonneau cover is a top-tier model with its toughness, durability, and ultimate security. But, not all bed covers are 100% perfect and you may face some Extang Solid Fold 2.0 problems. 
Most of them are related to installation and the way you maintain it. That said, learning about those Extang Solid Fold 2.0 problems will help you avoid those issues and enjoy the best security and service life.
Most Common Extang Solid Fold 2.0 Problems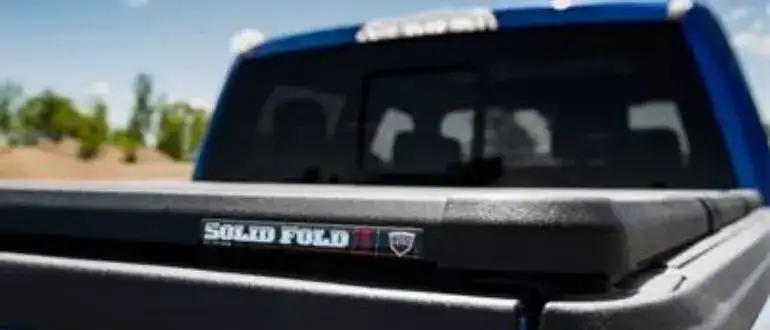 Tailgate remains hanging
The tonneau's corner near the tailgate remains hanging over the truck bed's corner. Even after moving the tonneau to the front, there is still some space above the tailgate.
Cover Is Not Tight Enough
The panels of this Extang solid fold 2.0 tonneau cover may not sit while installing. As a result, the owner may discover a gap of up to two inches near the tailgate and at the back of the box rail.
Yet, you can fix it by pushing the tonneau down very hard on the back corner. Another effective solution is to compress the spring in the tail clamp to the limit.
You may also notice some inches gapping around the back of the panel, particularly while trying to spring the cover back up. Sometimes you'll be able to tighten the front clamps securely except for the rear clamps.
Shortness
Extang solid 2.0 may cause you another issue like shortness. This tonneau cover may only sit on the front rail channel and hardly on the tailgate to let you seal the front of the bed and tailgate.
Cover Scratches and Dent 
The scratches on its paint finish may lead the tonneau to dent. Many users also complain about the leftover glue on the surface.
Despite this, incorrect installation can prevent the tonneau from aligning in both the front and rear panels. Thus, one end of the tonneau becomes higher or lower than the other.
Luckily, fixing these extang solid fold 2.0 problems is quite straightforward. For the scratches, smoothen the place up using sandpaper. But apply putty first before giving paint touch up. 
Read More: Extang Solid Fold 2.0 Review (Complete Guide)
Leaky Cover
Many users complain that the Extang solid fold tonneau cover gets leaks, especially at the hinges. In this case, read the cover's user manual diligently and re-install the tonneau to avoid such difficulty.
You can also hire a professional technician to install your Extang solid fold tonneau. Instead, request a replacement of the defective tonneau cover or a complete refund.
>> Do Tonneau Covers Make Noise? Find Out Now!
Installing Problems 
Though installing an Extang solid fold tonneau is quite easy, many owners do it in the wrong way. Poor installation can cause lots of problems, and leaving a gap in the braces of the truck is one of them. 
It can also cause leakage of water. If you fail to tighten the screws securely, you may hear abnormal sounds along with leakage.
Read More: Lomax Tonneau Cover Problems & Solutions
Getting torn in
You can't completely stop a tonneau cover from causing problems. But it's possible to slow down the process and solve it if it happens inevitably.
A fiberglass type extang solid fold tonneau's fabric can tear.You can solve this issue by either yourself or taking the tonneau to an auto workshop.
To do this at home, you will need an Expoxy fiberglass repair kit, repainting, sanding, and reapplication of clear paint coating.
The quality of this operation depends on your creativity, preferences, and the amount of money you want to spend. Whatever the cost will be, it is still better to repair than replace the whole tonneau cover.
>> Extang Trifecta 2.0 Problems
Top 3 Extang Solid Fold 2.0 Alternative
FAQs About Extang Solid Fold 2.0 problems
1. Does The Extang Solid Fold 2.0 Leak Over Time?
Most of the tonneau cover materials can withstand heavy rain or water completely. But, the new Extang solid fold tonneau doesn't leak too quickly. The people discover leakage in the Extang solid fold 2.0, most of them are a couple of years old.
2. What Is Extang Solid Fold 2.0 Made Of?
The Extang solid fold 2.0 truck bed cover is lightweight and has a 1-inch thick EnduraShield panel. This tonneau cover is made of a polypropylene core and an automotive-grade polymer skin.
Combining these two, the tonneau offers ultimate protection from scratches and dents. It also helps prevent fading due to UV.
Final words
Extang Solid Fold 2.0 truck bed cover is one of the best tonneaus covers particularly if you need solid, tri-fold covers. It is tough, durable, and resistant to weather, UV, and scratches. But, you may face some problems using this Extang Solid Fold tonneau. 
But most of the Extang Solid Fold 2.0 problems aren't serious and can be solved at home. Installing and maintaining the tonneau correctly will help avoid most of those difficulties.