If your Tonneau cover is noisy, then you probably know how annoying it can get. Sometimes it even gets you worried, thinking it could damage your cargo. But is it normal for Tonneau covers to make noise? Or is it something that can be rectified?
The answer is simple. If your Tonneau cover is making any noise, it could be installation issues. When the cover is perfectly fixed, it won't really make noise, as you might experience. 
The covers are designed to mask any noise, even when driving at the highest speed. In this article, we'll share with you the top reasons why a Tonneau cover might be making noise and how to fix it.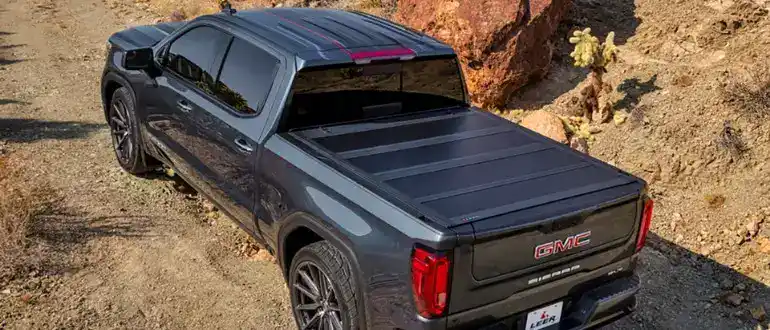 Why Do Tonneau Covers Make Noise?
There are a few reasons why a tonneau cover might make noise. The following are major reasons why your cover could be noisy. 
Loose snaps or fasteners
 One possibility is that the snaps or fasteners that hold the cover in place are not properly secured, which can cause the cover to flap in the wind.
Improper fitting
Another reason is when the cover is properly fitted to the truck bed. This creates air pockets that cause the cover to flap. When the cover is not installed correctly, it can cause it to rattle and vibrate. If this is the case, it is important to have the cover properly installed by a professional to avoid any further noise.
Poor Construction Materials
A cover made with material that is not sufficiently noise-canceling. If this is the case, adding a layer of padding or insulation between the cover and the truck bed might help to reduce the noise.
Wrong Cover Size
When the cover leaves any gap on the truck bed, it allows the wind to blow it. And as you drive, it keeps crashing on truck bed rails. But when you install the right size of truck cover, you won't have to deal with this issue. 
How to Tighten Your Tonneau Cover and Reduce Its Noise
As you may know, the way to tighten a tonneau cover properly will vary depending on the make and model of the cover. Check whether the cover was installed properly. It's even important to check the manufacturer's recommendations. 
If you realize the cover is not tight or well installed, use the right tools to fix it. 
When tightening a tonneau cover, it is important to do so in a crisscross pattern. This will ensure that the cover is evenly tightened and that there are no gaps or loose spots.
It is also important to check the tonneau cover periodically to ensure that it is still properly tightened. If the tonneau cover is not properly tightened, it can come loose during windy conditions or while driving. This can lead to damage to the cover and the vehicle.
Read More: Can You Break Into A Tonneau Cover?
Best Soundproof Tonneau Covers 
If you're looking for a cover that won't disturb you with lots of noise, then consider either of the three covers for your Tonneau truck bed. These covers will give you an excellent soundproof ride at all times. 
Final Thoughts
Tonneau covers are a great way to keep your cargo safe and secure. Their wind resistance abilities help cut down fuel consumption. However, when the cover gets noisy, you should fix it immediately. Luckily, all you need to do is ensure you install the right cover and do it properly.