Going with a reliable and reputed brand only shortens the list of the store instead of the choices. Taking about tonneau cover, BAKflip is a trustworthy and world-class brand but the models like F1 and MX4 won't let you decide smoothly.
Still, if you are dedicated to picking the best hard folding tonneau cover between these models, a BAKflip F1 vs MX4 comparison guide is your only way to go.
In this case, this article will help you decide on the right hard folding tonneau cover from these two options efficiently as we dig them in deep.
Table of Contents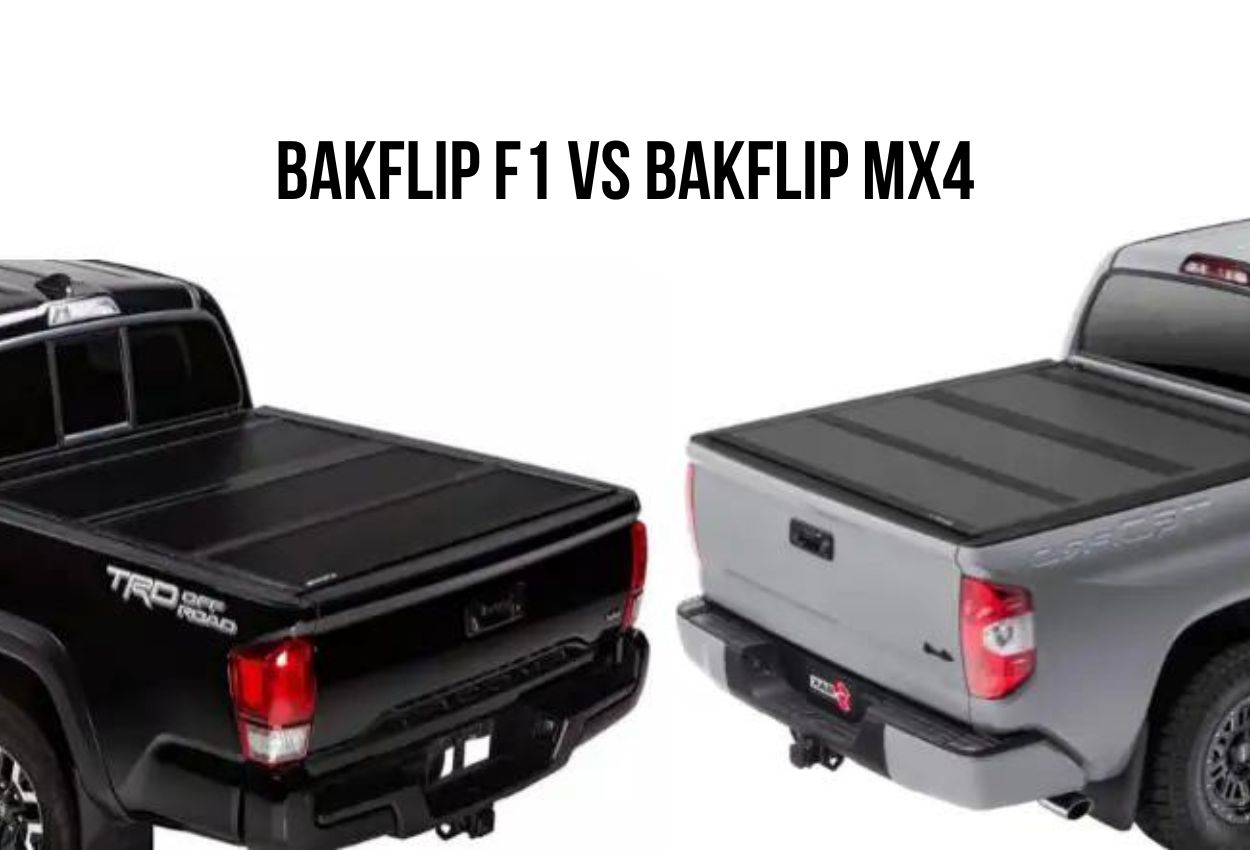 In the following, we have listed their shared features and compared them in almost all aspects, so you can set these BAKflip tonneaus apart very easily and pick the most preferred one.
BAKFlip F1 Hard Folding Tonneau Cover
The F1 is advertised as the most advanced truck bed cover from BAKFlip in the tonneau cover industry.  The feature that sets this tonneau cover apart from the herd is the material used in its construction. 
Its top layer is made of fiberglass-reinforced polymer, while the underside is engineered with impact-resistant aluminum. Combine these; it's the lightest yet strongest truck bed cover of all the BAKFlip series. 
Apart from that, its polyester finish offers the tonneau, a factory-finished appearance, and the refined latching system makes it an impenetrable fortress.
Its latch-seal design will also offer you a convenient operating experience for both weekend road trips and professional projects. Last but not least, this F1 hard folding tonneau cover is backed by a 3-year warranty.
BAKFlip MX4 Hard Folding Tonneau Cover
The MX4 tonneau cover, on the other hand, is made of aluminum panels along with premium density foam cores. Combining these features, it's an incredibly lightweight yet solid truck bed cover that also improves gas mileage. 
Its panels are also resistant to UV rays and scratches and have a matte black finish, making them perfect for using on sunny days and enjoying a glossy look throughout the years. 
Combine with a locking tailgate, this tonneau cover ensures premium security and makes it tougher to get into. Like the F1, this MX4 tonneau cover also carries a 3 year warranty.
BAKFlip F1 vs BAKFlip MX4: Shared features
Apart from being made in the USA and coming from the same brand, the F1 and MX4 have lots of similarities.
Before setting the two models apart based on differences, it is worth their shared features to realize which advantages you won't miss choosing any of these. The features that are common in both the F1 and MX4 are:
Secure hard folding locking system that keeps the tonneau secure to the truck's tailgate.
Has a dual-action tailgate seal to shut the tonneau when the tailgate is open or close.
Made of corrosion and weather-resistant durable aluminum panels.
Both the tonneau can support up to 400 pounds evenly distributed.
Both of these truck bed covers are compatible with UnderCover Swing Case and BAKBox 2.
Quick comparison table
| | | |
| --- | --- | --- |
| Features name | BAKFlip F1 | BAKFlip MX4 |
| Type  | Hard folding | Hard folding |
| Construction material | Aluminum | Aluminum |
| Top surface | Fiberglass | Aluminum |
| Finish | Gloss | Matte |
| Folding panels | 3 | 4 |
| Weight capacity | 400 lbs | 400 lbs |
| Dent and scratch resistance | High | Low |
| Visible 3rd brake light when open | No | No |
| Warranty | 3 years  | 3 years |
BAKFlip F1 vs BAKFlip MX4: Comparison in different features
Construction
Edge: Both
This F1 is a 5/8″ thick hard folding tonneau cover that is constructed with three different layers.
The first layer is made of sturdy aluminum to offer durability and strength, while the middle layer consists of closed-cell foam to increase the strength and ensure up to 400 lbs.
lastly, it has a glossy powder coat finish to offer a sleek and sheen look. The MX4 tonneau cover, on the other hand, has a 0.75-inch thick core and is constructed with aircraft-grade aluminum panels. Its middle layer is made of premium density EPS foam to ensure the same load as the F1 tonneau.
Extang Xceed Vs Bakflip Mx4 (New Comparison)
BAKFlip F1 Vs BAKFlip MX4. Top surface
Edge: F1 tonneau cover
The bakflip F1 has a fiberglass-reinforced polymer top surface which is impact, dent, and scratch-resistant compared to the aluminum surface.
Another exciting benefit is that this FRP keeps the top surface cooler during sunny days as it doesn't absorb much heat like an aluminum surface.
But if you consider durability over weather protection, the aluminum surface is still the top choice. In this case, the MX4 will be a better choice as its top surface is made of aluminum. 
Plus, aluminum is also more lightweight, making it efficient to use and remove with the least effort. Lastly, its black matte finish will offer a stylish look to the vehicle.
Undercover Ultra Flex Vs Bakflip MX4 (Comparison Guide)
BAKFlip F1 Vs BAKFlip MX4. Durability
Edge: MX4 tonneau cover
Made of premium FRP material, the F1 tonneau is highly durable and can withstand regular use. Its heavy-duty aluminum panels ensure enough support and make the tonneau stronger to use for a long time. 
Its upgraded latch housing system and sturdy prop rods ensure all-around durability to carry heavy weights and endure harsh weather pressure while driving on the highway at high speed.
The bakflip mx4, on the other hand, also has enough strength and offers durable service, thanks to its aluminum panels. 
Unlike the F1-type locking system, this MX4 has an injection molded latch system that makes it tougher than the aluminum one. Its pro rods are also strong enough to keep the panels upright while driving.
Most Common Bakflip Mx4 Problems
BAKFlip F1 Vs BAKFlip MX4. Weather-proof protection
Edge: MX4 tonneau cover
For improved weather protection, F1 has a rubber flange on top of the gasket and fiberglass-reinforced panels. Combining these, this hard folding tonneau cover protects the tonneau and bed from dents, scratches, dew, snow, hail, and damage. 
The panels also protect the tonneau from UV rays and avoid the casing fading to retain its glossy look.
This tonneau cover also has a drainage system to divert the water outside and keep the contents dry. Its rubber flange sits on top of the gasket to ensure optimum moisture protection.
When it comes to weather protection, the MX4 tonneau won't disappoint you either. It has plenty of handy features like enhanced EPDM seals, two drain tubes, shock-absorbent bumpers, and a matte-finish texture.
It means this tonneau will direct the water outside the vehicle through the tubs if some water gets anyhow past the seals.
The tonneau also won't fade and retain a good look, making it suitable for any weather. More importantly, its shock-absorbent bumpers will prevent the panels from hitting the cover during driving over uneven terrain.
Read also: How To Fix Tonneau Cover Latch?
BAKFlip F1 Vs BAKFlip MX4. Security System
Edge: F1 tonneau cover
This BAKFlip F1 hard folding tonneau cover has a dual-action seal at the tailgate to ensure improved security against thieves. 
Plus, its refined latching system also ensures reliable protection for the cargo and truck bed after locking the tailgate. The latches are also enclosed by injection-molded plastic to keep the valuables safe from bad hands.
This MX4 doesn't have an inbuilt lock system. But its aluminum panels offer reliable security to the loads and cover.
Its slide latch secures the tonneau in position and only offers access after folding down the tailgate. Despite this, its dual-action tailgate seal also increases security to keep the bad guys out.
Ease of Use
Edge: MX4 tonneau cover
The BAKflip F1 tonneau cover is very lightweight to operate and remove. You can fold this tonneau cover smoothly and quickly.
You can also move this truck bed cover upward and lock it in place to dredge more loads. Its installation process is also straightforward and only requires a socket and wrench.
An impressive benefit of this F1 tonneau cover is that you can open or close it without operating the tailgate. It means you can operate the tonneau while keeping the tailgate open or closed.
The BAKflip MAX4 tonneau cover is also easy to install by one person. It also offers full bed access without removing the tonneau and allows you to open either side of the vehicle. This truck bed cover also allows using the tailgate, keeping it closed.
The feature that makes this tonneau more convenient to use than the F1 is its four foldable panels. This tonneau will become shorter than the tri-fold while you fold it wide open and lean on the cap. As a result, you'll have better visibility for the third brake light.
Installation
Edge: Both
The BAKflip F1 tonneau cover was installed with a clamp instead of a drill. It sits flush inside of the truck bed and has a stake hole pocket for installing other attachments.
The MAX4 tonneau cover sits inside the truck's bed rails; however, its rails remain a few inches higher than the truck bed.
Instead of stake hole pockets, this truck bed cover fits with a rack and other mounted accessories. The tonneau also doesn't need any drilling as it needs to be secured through a clamp.
>> Gator EFX Hard Fold Tonneau Cover Reviews
BAKFlip F1 vs BAKFlip MX4: Which one should you choose?
It's a bit hard to recommend one item as both the F1 and MX4 are highly functional and offer an aesthetic look.
Both of these hard folding tonneau covers are strong, durable, and have a weight carrying capacity. So instead of their capabilities, it's wise to consider your needs and preferences to pick the right one for your working environment.
Considering the price, the F1 is slightly more expensive than the MX4 as well as other BAK folding truck bed covers. Still, it's preferable for heavy-duty contractor needs.
However, if you mostly drive the truck on uneven terrain, then you should go for the BAKflip F1 tonneau cover.
Conversely, if you want a matte black finish and don't do lots of camping, opt for an MX4 tonneau cover. This hard folding tonneau cover is also a perfect choice for the truck owner who needs a tonneau with a higher weight capacity at a cheaper price.
When it comes to protection from water, the BAKflip MX4 is preferable due to its special leakage-resisting design.
Read also: Roll N Lock Bed Cover Problems And Solutions
Final words: BAKFlip F1 Vs BAKFlip MX4
In the end, you can expect more than the information we have covered in this BAKflip F1 vs BAKflip MX4 debating guide.
From a small overview to similarities and comparisons on the whole aspects, we don't leave anything to confuse while deciding. Hope now you know which hard folding tonneau cover is to go for and what to expect from them.
Lastly go with your budget, preferences, and computability, and forget worrying about durability, protection, and convenience when choosing from two of the best.
Read also: Best Weather Stripping For Tonneau Cover