Going with a reputable brand or top-selling item is a shortcut way to picking the best tonneau cover for the truck bed.
However, it is not always effective, especially when deciding between two high-end models such as the Ultra Flex and the Bak Flip MX4.
In this case, an undercover ultra flex vs bakflip max4 comparison guide can help you carry on and pick the most appropriate tonneau for your truck. 
That's why we compare both the Undercover Ultra Flex and the Backflip Max4 in plenty of aspects so you can pick the best one.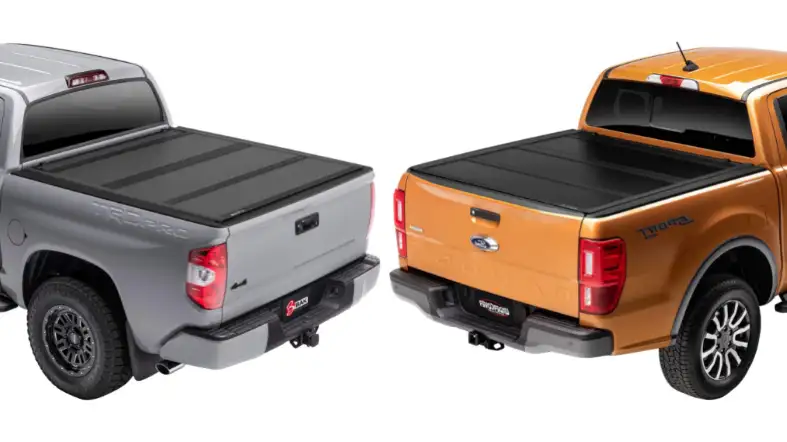 The Undercover Ultra Flex Tonneau Cover
Undercover Ultra Flex is the latest model of the undercover tonneau cover series. It's a hard folding truck bed cover that has plenty of incredible features to offer improved functionality.
This tonneau cover allows you to secure it in several positions efficiently, making it convenient for hauling tall cargo.
Undercover Ultra Flex is a low-profile tonneau and it doesn't stand out amongst other OEMs. It has a premium quality corrosion-resistant aluminum panel and can endure up to a 400-lb load.
The integrated railing system of the ultra flex tonneau makes the drainage issue simple during heavy rain. Thus, the cargo and bed remain safe and dry throughout the journey.
An impressive feature includes LED lights to get better visibility during the night. The best part of this ultra flex tonneau is that its installation process is straightforward.
The BAKFlip MX4 Tonneau Cover
The Bakflip MX4 tonneau cover is highly popular among truck owners. This bed cover is made of lightweight aircraft-grade aluminum for easy operation. It comes in a sleek matte finish with a tough design to protect the vehicle without damaging the style.
Apart from its appearance, this tonneau cover will impress you with its high-end performance during wild weather. Its aluminum panel protects the vehicle from harsh UV rays while rubber seals and a built-in drain keep the load and bed dry at any cost.
With a combination of clamp installation and an EZ-lock system, this tonneau cover will offer a convenient experience during regular use.
The tonneau also offers full access to the bed, thanks to its dual-action tailgate. Thus, it's extremely easy to load and unload on this backflip mx4 tonneau.
Undercover ultra flex vs bakflip mx4 – Comparison in Different Features
Folding Nature
Edge: UnderCover Ultra Flex
Both undercover and bakflip tonneau cover come in folding designs. Still, its folding style makes the ultra flex more convenient than bakflip.
UnderCover Ultra Flex folds up in a straight position without touching the cab of the truck. It also allows folding back to the vehicle's cab. The lock system of this tonneau makes it safe for any tough area.
Conversely, the bakflip MX4 tonneau cover folds back against the cab of the truck on the foam rubber bumper. This way the backflip tonneau ensures the third brake light visibility on both standard and short truck beds.
Read More: Undercover Ultra Flex Tonneau Cover Vs Undercover Armorflex
Materials
Edge: Both
Both the hard and soft-folding tonneau covers are constructed with durable aluminum panels and have a matte black finish. As a result, these tires are resistant to scratches, marks, and UV rays.
However, ultra flex has carpet under the panel to deliver extra cargo protection.
Under Panel Design
Edge: UnderCover Ultra Flex
With a combination of rustproof aluminum rails and a black powder coat, the BakFlip MX4 offers a sleek and stylish look to its compatible truck bed.
In the case of under-panel design, UnderCover Ultra Flex comes in an additional desirable construction. It has a fully carpeted under panel to provide soft toughness and security to the chattels and goods.
Ease of Use
Edge: Both
The Tri-folding Ultra Flex tonneau cover is comfortable to operate as it offers full bed access and allows it to open from either side. With multiple folding positions, ultra flex is also preferable for better truck bed access, thanks to its l rail connector. 
The LED light on the rail side of this ultra flex makes it suitable for more luminous night journeys. The elevator bolts of the BakFlip MX4 make it a more eye-catching and best-selling item from the brands. 
The equipped belt of this tonneau keeps it secure to the truck bed and allows you to drive the car for a long time without locking it to the truck bed. However, the bakflip requires some extra tools to install and remove from the truck bed.
Read More: Undercover Truck Bed Cover Problems & Solving Guide
Water Resistance
Edge: UnderCover Ultra Flex
The UnderCover Ultra Flex has a water-resistant rubber seal all around, making it highly waterproof. It also has a water drainage channel to keep the truck bed and loads from getting wet on a rainy day.
The rooftop of this tonneau is also waterproof to ensure hassle-free usage. For BakFlip MX4, it's a heavy-duty and uniquely designed truck bed that is also waterproof.
But it can get leakage on the side of the rail during heavy rain. Its flap is made of plastic rather than rubber, which doesn't offer much protection against rain.
Read More: Extang Xceed Vs Bakflip MX4
Security and Durability
Edge: Both
The UnderCover Ultra Flex cover is UV resistant and provides theft protection. It is also rust-free to deliver a hassle-free cleaning and maintenance experience.
Bakflip, on the other hand, comes with struts to offer almost 100% bed access. Its strut contains rod clips that enable locking the tonneau while not in use. The tonneau also allows you to close it with the tailgate.
Unfortunately, the Back Flip MX4 doesn't have a locking system, but it can still hold up to 400 pounds. And survive for a long time in any weather.
Undercover Ultra Flex Vs Bakflip Mx4 – Which One Is Better For You?
Between the Undercover Ultra Flex vs BakFlip MX4, the Ultra Flex is preferable. The reason is that it offers vehicle-friendly construction and fits completely flush. Despite this, ultra flex ensures drill-free installation, while you may have a tough time with bakflip. 
However, Bakflip won't disappoint you, especially if you use it mostly for commercial purposes. Though it's a bit pricey, this tonneau holds up better and doesn't get destroyed over time, making it a sensible choice.
FAQs
Can BAKFlip MX4 Go Through A Car Wash?
Of course, you can wash your truck while keeping the bakflip on it. This tonneau won't get scratched, but rough washing is harmful to any truck bed cover.
How Much Can A BAKFlip MX4 Tonneau Cover Hold?
The Bakflip tonneau cover is made of heavy-duty aluminum with a tough construction, making it capable of withstanding up to 400 lbs. It's a decent number for any truck owner who often carries cargo and other loads.
Is Undercover Ultra Flex Waterproof?
Not a hundred percent, but Undercover Ultra Flex protects against rain very impressively. Along with its rubber seal and drain of the tub, this tonneau cover doesn't let water enter the truck bed.
Final words
In short, both undercover ultra flex and bakflip mx4 tonneau covers are durable, secure, and ensure reliable protection. But when it comes to picking the best tonneau cover, the smallest differences need to count. 
That's why we made a large comparison in this undercover ultra flex vs bakflip mx4 guide to help you separate them conveniently. Hope now you can go for the right tonneau cover following your needs after checking the compatibility.